I LOVE having my home decorated for each season.  It gives me such a cozy, welcoming feeling.  I don't always like the work that it takes to get it that way, though. This year I've had such a hard time getting things decorated.  Yesterday I was able to create this Unique Fall Wreath and get my front porch decorated.  Not only is this wreath unique but it's easy and inexpensive.  Two of my favorite things when I create.  Come read  how I did it.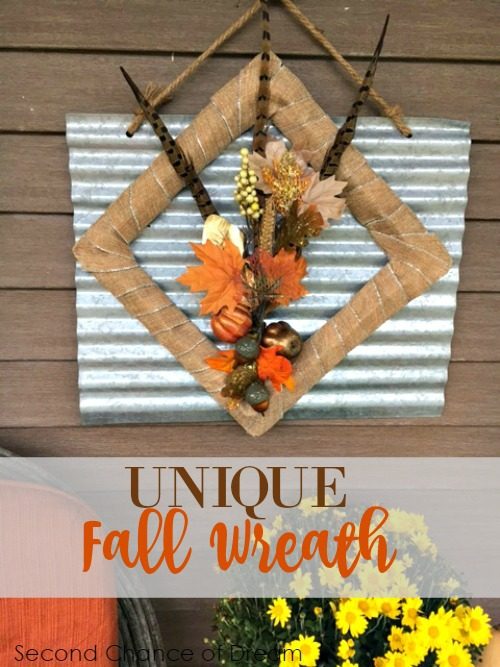 I was in Walmart one day and saw this hanging metal piece  and decided to buy it knowing I'd find something to do with it.  Do you ever do that too? I then saw a square metal frame and thought it would be perfect to wrap with burlap ribbon, so grabbed that too.  Then I got the brilliant idea to put the two together.
Supplies Needed for this project:
Hanging metal piece
Square wire frame
1 Fall pick that is your feature pick.
Another pick that coordinates to use to fill in as needed.
Burlap ribbon (my project I only needed one)
Glue Gun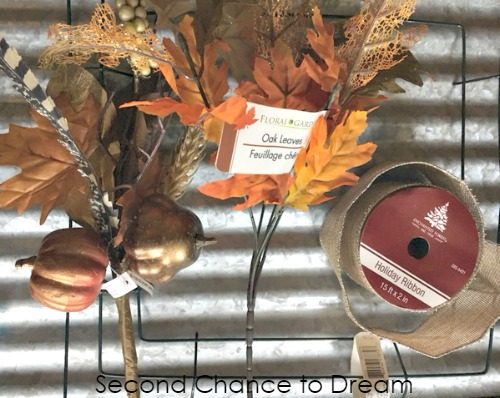 The first step to creating this unique fall wreath is to wrap the wreath with the ribbon.  The corners proved more difficult than I thought but I got it done.  You'll have to adjust the ribbon to make it as flat as possible.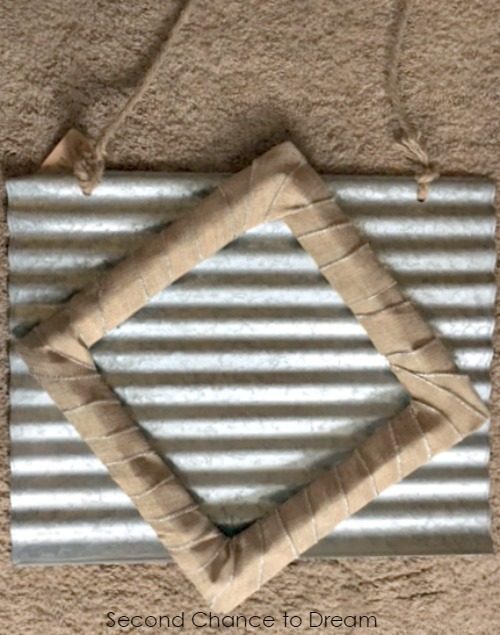 Next I added my feature pick.  I stuck the pick under the  wrapped frame so the bottom of the pick didn't show.  I added a few pheasant feathers that my boys got while pheasant hunting.  I also cut the extra pick and added a few leaves where it looked empty.  Once I got it arranged the way I wanted it to I hot glued the pick to the metal frame.  I then glued the metal frame to the hanging metal piece.  I thought it might be more difficult to glue them but it wasn't.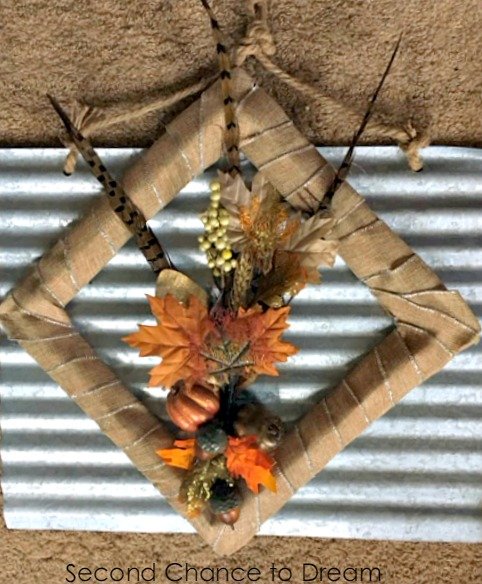 Then came the fun part, finding a place to hang it.  The outside wall right by my front door is really BORING!  It definitely needs something there to spruce it up. That's where my unique fall wreath found a new home.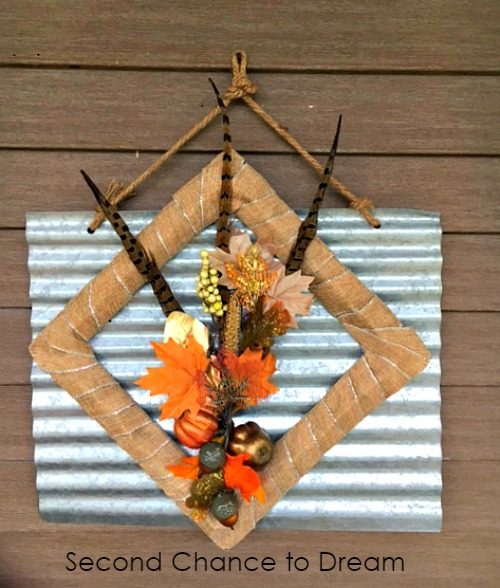 I have a willow bent chair that sits by the front  door.  I borrowed a table from a different part of the porch and put a basket of gourds on it as well as a mum.  Instant cozy! Don't you agree?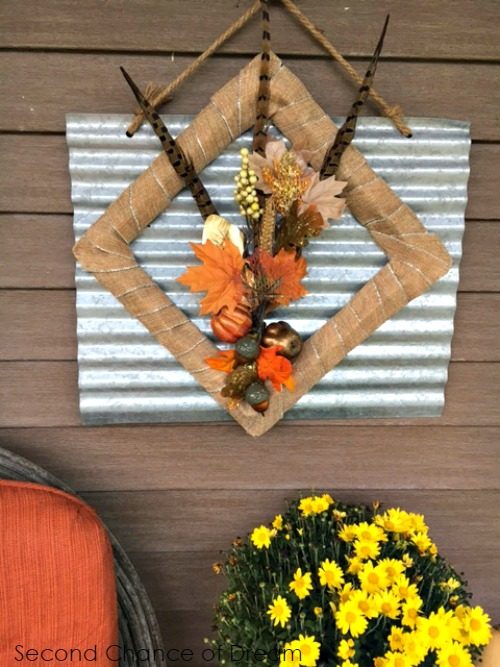 It's so fun to walk up to my front porch now.  I love it!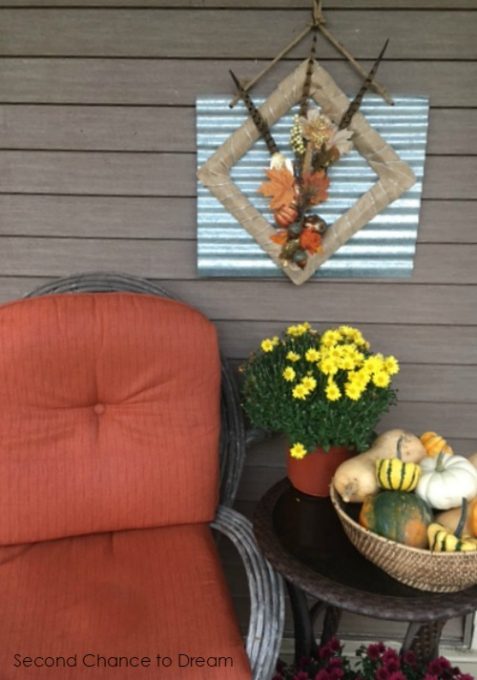 Remember that if you only like one part of something I shared, then take that part and make the creation yours.  You don't have to have the exact things to make your house cozy and welcoming either.
Doing this project helped get me motivated to finish the rest of my house and get the crates of decor out of my house.
Need some more ideas?  Check out the following two posts on Easy Fall  Outdoor DIY.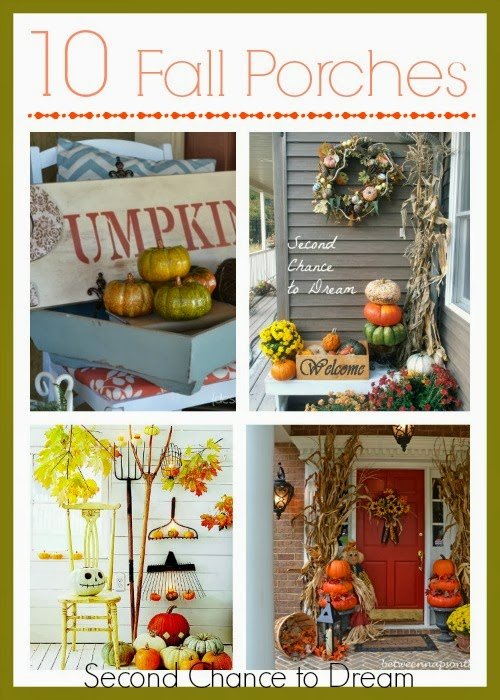 (Visited 424 times, 5 visits today)