Because I'm on a quest to remove chemicals from my body one way I'm doing this is by switching my laundry detergent.  I have found all free clear to be the perfect detergent for me.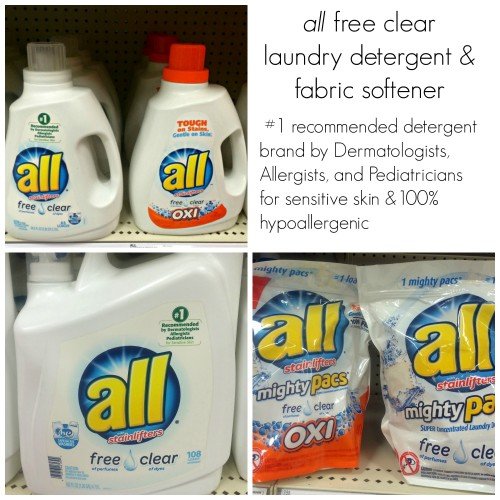 all free clear  is the #1 recommended detergent brand by Dermatologists, Allergists, and Pediatricians for sensitive skin.
It's tough on stains yet gentle enough for the whole family. Plus, it's safe for use in standard and HE machines. It rinses clean and has a gentle, hypoallergenic formula. Powerful Clean. Gentle on Skin.
all free clear  is also 100% hypoallergenic.
all free clear  detergent (liquid and mighty pacs), fabric softener and dryer sheets have received the National Eczema Association (NEA) Seal of Acceptance™.
If you are trying to live a cleaner lifestyle, this is the laundry product for you.
Doing laundry can be very overwhelming if not done daily.  Flylady  says, " A load a day keeps the chaos away!"  To keep up on your laundry it's important to create a laundry routine.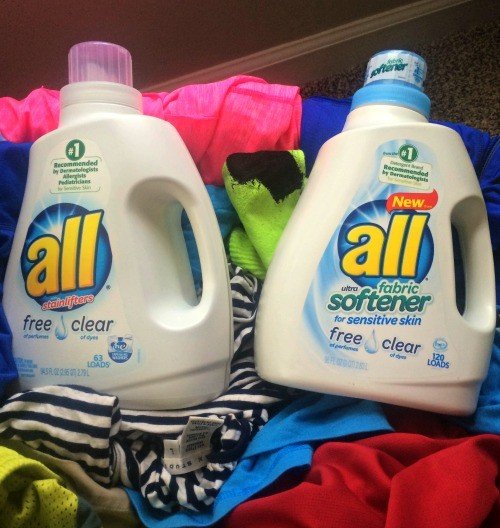 Create a laundry routine:
Gather all clothes and put them in the laundry room.
Separate  into colors (light and dark, towels, whites and bleach piles)
Turn the clothes right side out and unroll the balled up socks.
Check for stains and add prewash treatment.  Put laundry in washer, add soap & fabric softener .
When Laundry is washed, put into dryer. Set  a timer, so you know when to change the loads.
Fold clothes immediately out of the dryer.
Hang anything that needs to be hung as soon as the dryer stops.  This will save you lots of wrinkles.
Put Laundry away as soon as it is folded.
Then start the next load into the dryer.
Laundry can be managed with all free clear 
(Visited 253 times, 1 visits today)