With a new year coming and goals and resolutions are being made, Stephen is back to share with us the Top Ways to Go Green.
Top Ways to Go Green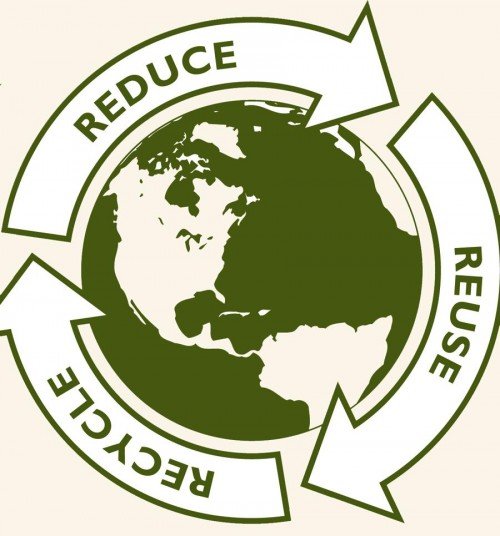 That environmental protection, the conservation of natural resources, and safeguarding against the greenhouse effect have all become political lightning rods is unfortunate, as they are truly issues that affect everyone. Regardless of where you stand on the issue, it should be easy enough to understand that natural resources are finite, not limitless, and that humans can and do have an impact on the local and global environment.
Though the idea that Man can shape, impact and even damage the world around us may seem daunting to some, it does come with a silver lining; if our actions can negatively impact our environment, then so too can our actions have a positive impact. If you feel that you would like to do your part but don't know where to start, stop hesitating and start acting today. After all, going green can not only help save the world, it can help you save money too. And that should be reason enough for anyone!
Getting involved couldn't be easier, and it starts with the three Rs: reduce, reuse and recycle. Every little bit helps so do your part!
Reduce
The fundamental principle that guides conservation is lowering your impact on the world around you. Walk softly, use less, and don't leave a mark. The easiest way to do this is to reduce your consumption – eat less food, use less resources, and reduce your dependence and over-reliance on disposables. But how do you achieve this on a day-to-day basis? Well, the options are nearly limitless, in fact. Consider walking, biking, or even using public transportation instead of driving; you'll be using less gasoline in the process. Or go paperless by taking advantage of mobile wallet applications; companies like T-Mobile and Apple (Apple Pay) make it easier than ever to ditch the old way of doing things. Whatever method works best for you, make a concerted effort to ask less of the world around you, and you'll be doing your part to make it better.
Reuse
In some cases, as a part of everyday life, you will need to use something that will eventually need to be replaced. After all, not everything can be designed with permanence in mind. In such situations, you can still act to lessen your impact on the environment by reusing the item instead of discarding it after one use. The more times that you use an item, the less frequently you have to replace it. And that ultimately helps lessen your carbon footprint. So what's a good example of something that should be reused rather than thrown out? Surely you can't be expected to wash paper plates, right? A simple change that you can make right away is reusing plastic or paper bags as trash bags around the house – it will prevent you from having to purchase trash bags, and puts bags that would have gone to waste immediately to secondary use.
Recycle
Many people fail to realize that recycling is not the first choice when it comes to going green – it's better to reduce your consumption of materials, and if necessary, reuse items to lower your environmental impact. And this is because even though recycling can help conserve natural resources, the process itself can result in a large carbon footprint. Think of the various mechanisms that must be in place to get aluminum cans from your front yard to the smelting plant – the trucks and electrical requirements – and you can see how recycling can yield diminishing returns. With that being said, if recycling helps reduce our need for natural resources like metal and wood, it's just as easy to see how positive recycling can be for the environment. Ultimately, the best way to go green is by reducing our need for goods. If you're in doubt, just remember that in nearly all cases, it's better to recycle than not.
Stephen Reynolds is a freelance journalist who covers shopping, entertainment and all things lifestyle. He is also an editor at www.UpwardOnward.com.  Follow him on Twitter at @sreynoldswrites.
I'd love to have you follow along. You can subscribe to my RSS Feed or sign up to receive daily Emails delivered to your inbox . You can also follow along viaFacebook, Google + or .Twitter.




(Visited 281 times, 1 visits today)