Halloween will be here before you know it, and with it comes Halloween parties! It's never too early to start preparing; after all, a simple smoke machine in the corner isn't going to cut it for discerning guests (and children!). If you want to impress in today's world of ever-connected, ever-present, always-on-the-move individuals, you've got to think outside of the box! These spooky and creative Halloween party ideas will make your house the talk of the neighborhood – or office, college campus, parent-teacher association… you name it!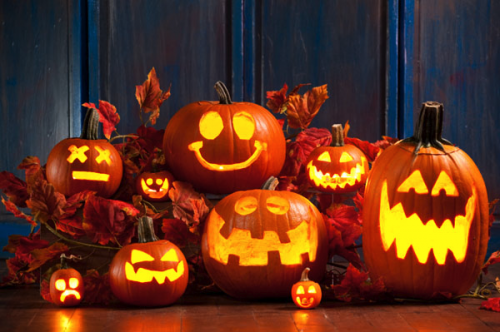 Games
Get the Party Started! One way to ensure that your party goes off without a hitch is with games. Young and old alike enjoy a fun, social and engaging game, so why not take advantage of this? Remember, the worst thing that a party can be is boring. Don't risk having people aimlessly make their way from room to room with nothing to do. A game can be an ice breaker, time waster, and main attraction all in one. But what sort of game should you play? A personal favorite of mine – and one that we played in my family as a kid – is a game called "Guess the Monster Part.  It's perfect for children and adults, as it plays into that universal feeling of vulnerability and discomfort associated with touching slimy, squishy, unknown things. In this case, those various things are "monster parts," otherwise known as assorted candies! People reach into closed boxes to find various body parts – eyes, intestines, teeth – and then have to guess what they actually are. What they actually are includes cold spaghetti, grapes and candy corn!
Food
The Essentials When it comes to Halloween parties, you have to account for two types of foods, regardless of whether you're hosting an adult party or a kid-friendly party – sweet and savory. It goes without saying that you'll need a wide assortment of candies, desserts, pastries, and other decadent items. Remember, at Halloween, everyone has a sweet tooth – even your friend who eats nothing but kale and spinach the rest of the year!
But it's important that you don't forget the savory items too! The best thing to bring someone down from a sugar high is a little bit of salt. In addition to potato chips and the BBQ wieners you'll inevitably have simmering in the Crock-Pot, you might want to consider some regional fare – if you live in Southern California or Texas, consider having a taco bar or catering your party with a local taqueria. Do you live in Maine? Why not consider having a lobster roll station? Buy pre-cooked, chilled lobster in bulk, mix it with a small amount of mayonnaise, celery and green onions, and let your guests create their own feast!
Costumes 
It's a Halloween Party! A Halloween party wouldn't be complete without costumes. Which means if you're hosting, it's important that you let your guests know what is expected of them. If your prior experiences have been anything like mine, you'll know that a certain percentage of your guests will come sans costume. Don't let that happen! Send out an invitation ahead of time (yes, a Facebook invite will work but real invitations are better) letting everyone know the time, place, and dress requirements. Some people will choose to ignore it, but at least you've done your due diligence. Plus, while some people will choose to ignore it, others won't, and your party will be packed to the gills with costumed guests – which is exactly what you want!
Make Your Halloween Party One to Remember
Hosting a large holiday party can be intimidating if you've never done it before. Will people show up? Will they enjoy themselves? Will there be enough food? It doesn't have to be stressful though; with these Halloween party ideas, you can plan your party with confidence. And if you still don't know what to prepare, or are looking for other  creative Halloween party ideas, visit the Kraft website. When it comes to party foods, they're kind of the biggest name in town! Good luck with your Halloween party this year! I, for one, am still trying to figure out what costume to wear. Any ideas? I'm debating between the relevant pop culture icon of the moment, or something. classic and timeless. It will probably be something I'll cringe about at next year's party.
Thank you Stephen Reynolds for another great post.
Stephen Reynolds is a freelance journalist who covers shopping, entertainment and all things lifestyle. He is also an editor at www.UpwardOnward.com.  Follow him on Twitter at @sreynoldswrites.
Here are some ideas for some DIY Halloween decor.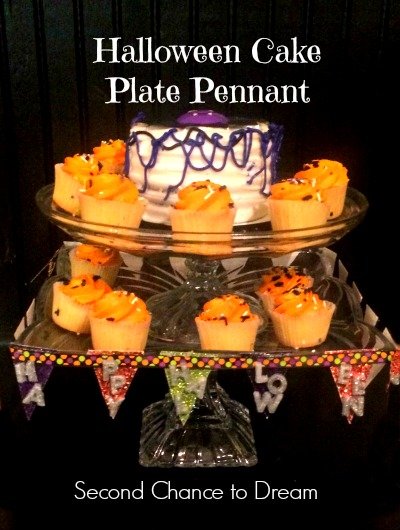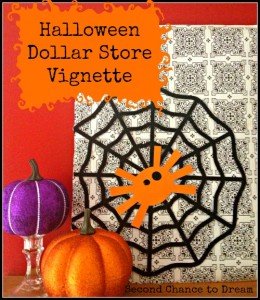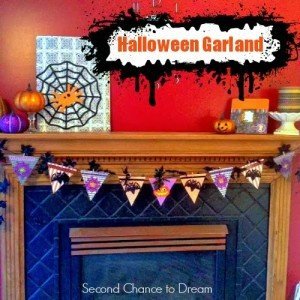 Quick & Easy Halloween Garland
I link up to the following Link Parities:
It's Overflowing
, 
DIY Showoff
,  
Titi Crafty
,
The Girl Creative
,
Interior Frugalista
/
Under the Table and Dreaming
, 
Skip to my Lou
, ,
Keeping it Simple
, 
Between Naps on the Porch
,
 Thrifty Decor Chick
,
I Should Be Mopping the Floor
,
Craft
,
The Hankful House
// 
Tip Junkie
, 
Sugar Bee Crafts 
, 
Not Just a Housewife
A Bowlful of Lemons
,
Coastal Charm
, 
Growing Home Blog
, 
Timewarp Wife
,  
New Nostalgia
, 
Yesterday on Tuesday
, 
The Gunny Sack
///
Inspiration Exchange
, 
The DIY Dreamer
, 
Gingersnap Crafts

 
, 
We are that Family,
Raising Homemakers

 
,
Women Living Well
NY Melrose Family
,  
Someday Crafts
Family Home and Life
, 
Life with the Crust Off
,
Crystal & Comp,
Live, Laugh, Rowe
, 
Imparting Grace
,  
Saving 4 Six
,, 
Artsy Fartsy Mama
, / 
The Shabby Nest, 
Chic on a Shoestring,
Craft O M
aniac
, 
One Project Closer
,
The Best Recipes Blog
, 
Filled Fridays
,
The
Thirty Sixth Avenue
,
Six
. 
Link Party Palooza
//
 Sister's Stuff
, 
Bowdabra Blog
, 
Cheerios and Lattes
, 
Funky Junk Interiors
,
Be Different, Act Normal
, Too Much Time On My Hands, 
Made From Pinterest
(Visited 262 times, 1 visits today)