Hey, guys! My name is Matthew and I'm the resident DIY Fanatic at HomeDaddys.com. I'm super stoked to contribute this fun tutorial to Second Chance to Dream. Barb's blog is awesome and my wife and I totally copied her sports themed cupboard door project as a gift for my father in law.  So when you guys are done with this tutorial you should totally go check that one out as well as some of Barb's other amazing projects.



I'm sure everyone is caught up in 4th of July Fever right now so, in keeping with tradition, I thought I'd show you how to make some nifty Ceramic American Flag Panels for your homes. As far as patriotic decor goes, I think this is one of the most versatile projects you can tackle. Sure, they might just be stenciled ceramic wall tiles but they can be used for a ton of things when you're done. You can hang them from your wall, display them on your mantelpiece, use them as decorative trivets or even lay them down as pavers in your garden. And best of all, this particular display of American Pride is super easy to make on a tight budget. Here's how to do it.
What you need:
3x Ceramic Wall Tiles Measuring 10" x 14"
Rustoleum Satin Heritage Red Spray Paint
Rustoleum Satin Cerulean Blue Spray Paint
Rustoleum Satin Shell White Spray Paint
Sand Paper
Star Stickers
Glass Drill Bit (Optional)
Since we're going to be distressing these panels with sandpaper, it's pretty important that you choose a tile with a pattern that will match the American Flag theme in the places where there's no paint. I went with these Daltile Alabaster Sand Tiles from Home Depot. I know the pricing is listed by the case but your local store should also carry a stock of individual replacement tiles. I think I ended up paying about $5 per-tile when I got mine.
Depending on what you intend to do with your finished panels your paint choice might also be important here as well. I happened to have some Rustoleum Satin paint leftover from a previous project so I used that. If you're going to be using your panels outside or as trivets I highly recommend a similar sort of tough outdoor spray paint. That way you can be sure your carefully stenciled paint job won't be ruined as soon as it faces a rain storm or a hot pot of pasta. If you're just using them as wall art, you should be able to get by with something cheaper or more delicate, like that chalkboard paint that everybody seems to love these days.
All in all the total budget for this project should be less than $40. That includes the costs for spray paint and painter's tape and even then, it's about the same as a set of those cheap printed canvas panels that big box stores sell as wall art. The only difference is that these panels are much cooler and made of ceramic, which is infinitely more useful.
Instructions:
The finish on ceramic tiles is pretty slick and that can make it difficult for the paint to stick to them. Therefore it's smart to do a bit of prep work before you start laying down your base coat. In a perfect world you would hand-paint on a primer but I decided to be lazy and just scuff up the finish with 220-Grit sandpaper instead. I didn't get as consistent coverage as I would have with a primed base layer, but I think it ended up looking okay.
After your tiles have been sufficiently sanded and/or primed, take them outside and lay down a base layer of Shell White.
Let them dry in the sun overnight. Yes, that is a long time for paint to dry. However, you're going to be applying and forcefully removing painter's tape in the next step, so it pays to be extra cautious. If you're impatient you'll end up ripping off some of the paint when you try to peel off your tape, and that will make you sad.
So once your tiles are totally dry, bring them back inside (duh). At this point you should drill your hanging holes into the tiles if you so desire. You'll need to use a ceramic/glass drill bit with a power drill in order to prevent cracking. I'm not going to tell you how to use one of these drill bits, since there are a million tutorials for this on the Internet already. For instance, here's a good how-to on ceramic drilling from How Stuff Works.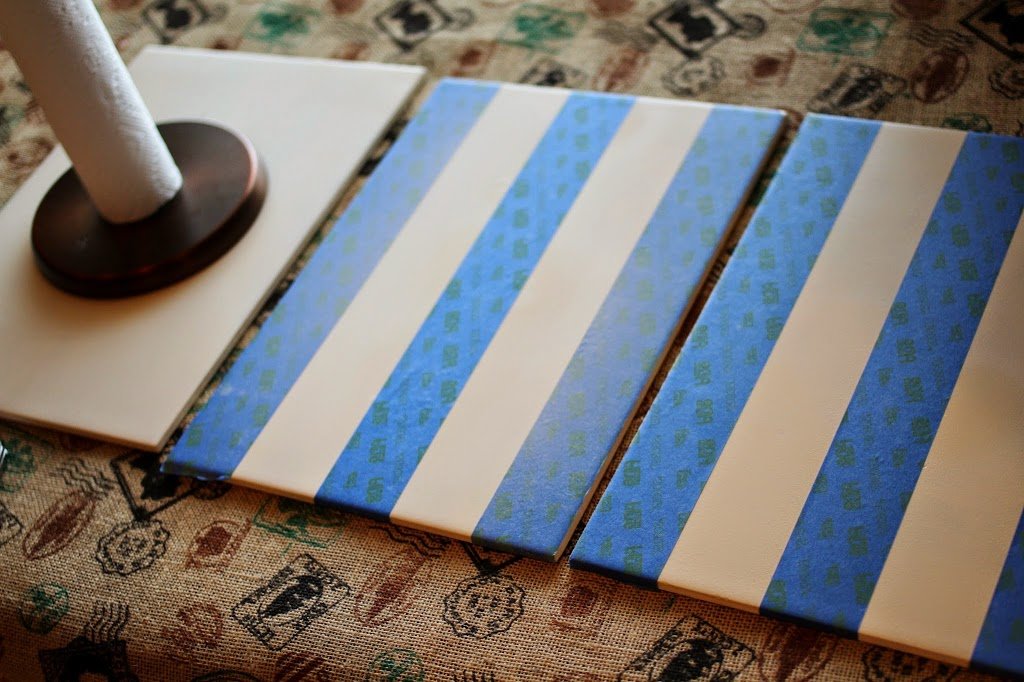 For the striped panels, put down two strips of 2" painter's tape flush with the edges of the tile face. Then use a measuring tape to mark two inches in from the edge of these tape strips on the tops and bottoms of each panel. This will ensure that the third strip of tape you run down the center is A) not crooked and B) centered evenly between your other strips. Make sure that all your tape edges are flat to prevent paint bleed and then set these panels aside.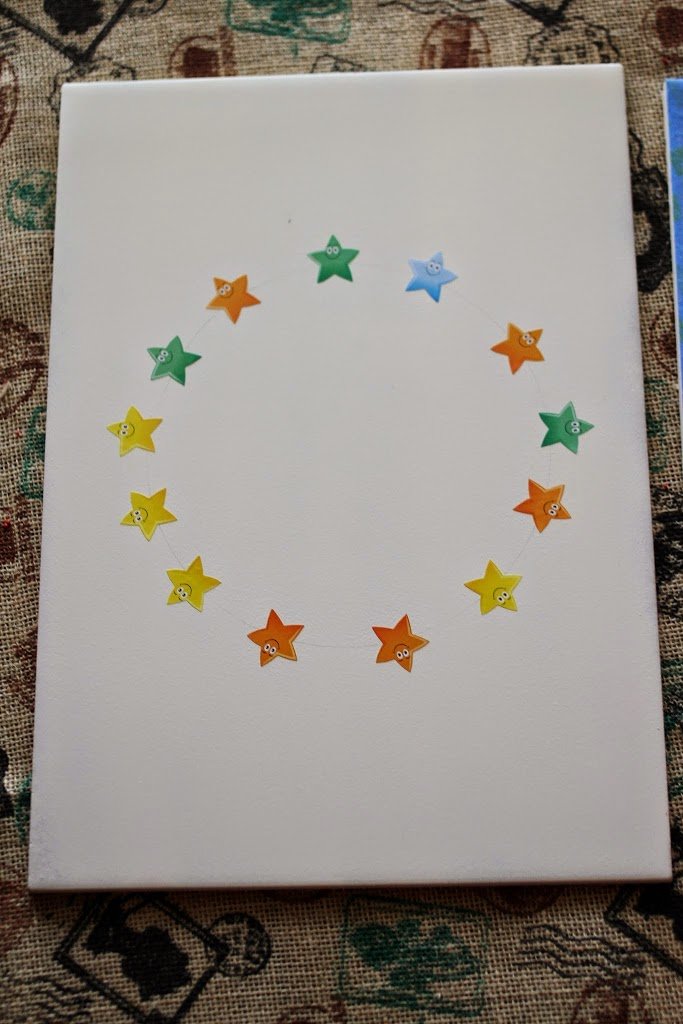 For the field of stars panel, I found it helpful to use a guide to help me place my stickers in the traditional circle design found on colonial American Flags. So grab a large circular object – a paper towel holder, in my case – and place it in the center of the panel. Use your measuring tape to ensure that your horizontal and vertical margins are even and then trace the circle with a pencil.
There are 13 stars on the original flag. Place one star sticker at the top of the circle and then use a pencil to mock up the locations of the other 12 stars equidistantly around the circumference of the circle. You can measure it if you want but I just eyeballed mine. When you've got a decent layout marked up, lay down the remaining star stickers. Using military terminology here, the finished design should have stickers at exactly 12 o'clock, nine o'clock and three o'clock. There should be two stars at the bottom at 5:30 and 6:30.
With all your stickers placed, take the ceramic panels back outside. Spray the field of stars blue and spray the striped panels red (duh). Then let them dry for four to six hours.
When the panels are done drying, peel off the tape and use an X-Acto Knife or a pair of tweezers to remove the stars. Man, those sure do look pretty, don't they? It's almost a shame we're about to scuff them all up.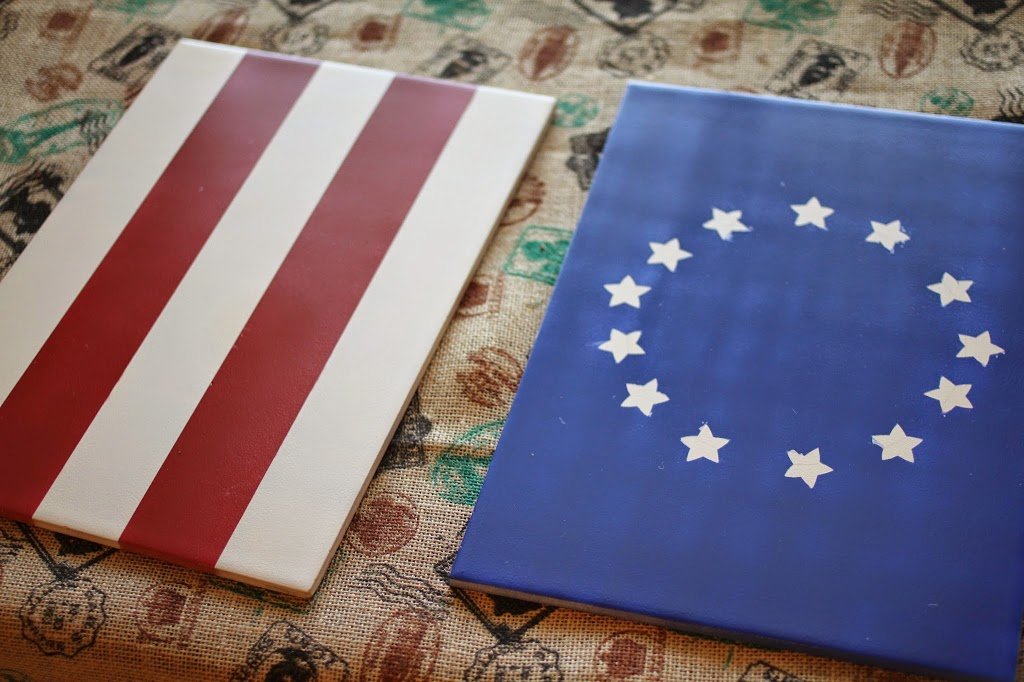 Oh well. You gotta do what you gotta do. So grab some fine-grit sandpaper (220-Grit ideally) and star scuffing the edges of the panels and some spots along the stripes. Don't go overboard here, you just want to give them the appearance of being weathered and worn down by the ages.
Once you're done scuffing, you're pretty much done! You have two options here. You can leave the panels as-is and display them inside or you can be extra-careful and apply a layer of clear protective polyurethane to preserve that paint job you just spent 20 minutes destroying. It's totally up to you. I think the paint holds up just fine on its own but I don't see any harm in taking precautions.
Now that you're finished, find a cool place to display your American Flag Panels and let those bad boys fly. Then take a picture and share it on Pinterest and your other social networks so Barb and I can get Internet Famous. See, everybody wins in the end here.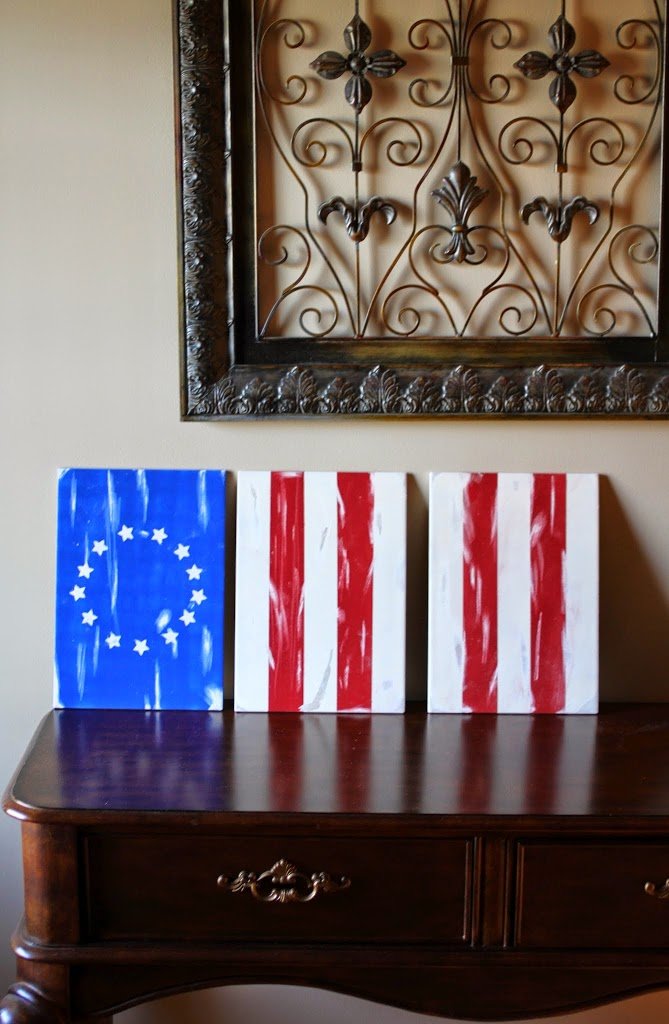 I sincerely enjoyed sharing this tutorial with all of you. If you liked the project, please share it with your friends and swing by HomeDaddys to see even more cool stuff that I've built. If you happened to stumble across this article online, take some time to check out the other cool stuff Barb has done on Second Chance to Dream. I guarantee you won't be disappointed.
Thanks, everybody! I hope you have a great 4th of July!
Matthew Lyons is a self-proclaimed handyman and blogger for HomeDaddys.com. An Oregon native, he now lives in Eastern Texas with his wife and son. He knows at least a dozen different uses for ceramic tiles, including one that's only legal in Myanmar.
Thanks, Mathew!  Make sure you go and check out Matthew's site.

(Visited 868 times, 7 visits today)