Hi Everyone!  I have a GREAT need for a little bit of normal life right now. Today is day 10 of sitting in the hospital from 8 in the morning until 8 at night.  I need to try and use my brain in a productive way so I'm going to try blogging a little bit.  Things are looking up but it's very slow and steady.  I'm excited to share with you a guest post from Emma Banks.  Emma is a  lifelong do-it-yourself enthusiast, she is always looking for new, easy ways to get things done, especially when it comes to cleaning.  She blogs to share her own ideas, and learn new ones from those that she meets.  I'm excited about her topic today.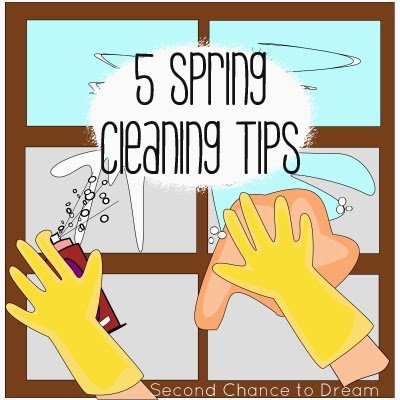 I am a DIY kind of girl. I like making my kids Halloween costumes, make candles out of old teacups from thrift stores, and my husband and I made our wedding centerpieces on our own. It's fun and it's affordable. Now that spring is around the corner, it's time to get all that cleaning out of the way so when the sun is finally shining and the days get longer, you can spend your family fun time outside enjoying the day. When it comes to cleaning and organizing my house for the spring, I automatically go to DIY ideas.
1.  Try natural cleaning ideas. We all know that household cleaning products can contain a lot of nasty stuff. Take a look around your kitchen. From diluted (or undiluted) white vinegar to baking soda, rubbing alcohol or lemon, there are tons of concoctions for you to create. My favorite magic cleaner is when I clog the sink. I pull the drain stopper up, cut off any gross stuff (let's be honest, usually my hair brushing leads to a clogged sink), pour baking soda down it, put in some salt, and then pour vinegar. The vinegar will bubble, and you can let it sit. Repeat if necessary.
2.  If you're looking for an easy all-purpose house cleaner you can always use Coca Cola. You can use it to remove grease or bloodstains from clothing, remove rust, clean a burnt pan, or even clean your engine. There's a pretty cool
list of uses for Coca-Cola
that includes some useful ideas, but I certainly won't be drinking it anytime soon…
3.  Spring cleaning also means getting rid of all of the extra clutter. But the hardest part is always where to start. Try thinking about what you hoard and areas that are typically prone to collecting clutter in your home. I know I hold on to too many coffee mugs, plastic bags from the grocery store, and plastic containers and Tupperware that can easily be cut down. We also, or I should say my husband, used to have a bit of a clutter problem with the office desk and living room. I bought him a few organizers from
Personal Creations
last year – no more missing remote controls. These 
aren't
 exactly DIY projects, but certainly were certainly necessary.
4.  Go through your food. If it's expired then you know what to do. If it 
hasn't
, try to prepare it that week. Also, go through your canned and boxed foods; I know that's what really clutters for my family. Try to create some meals using what you already have. For me that usually means tuna casserole with boxed pasta, canned tuna, and one too many canned peas. Option two tends to be Mexican with canned black beans, corn and salsa. You can also use leftover tortilla chips. Add some cheese, and you're good to go. Bam – you just saved yourself a trip to the grocery store!
5.  After cleaning everywhere in your house, you may want to use some natural scents. Sure, you can buy some air fresheners or scented candles, but I love making my own. Choose what smells good to you. You can create your own with citrus, herbs, pine, vanilla, cinnamon, or almost anything really. All you need is a mason jar. There's a great DIY tutorial at the
Yummy Life
if you're interested in giving it a go. Another fun thing my family does is use some classic soup cans, thank you Andy Warhol, and use them to hold handmade candles.
There are lots of little projects to help you clean up your house; you just need to get started!
Thanks Emma for sharing these great tips. I can't wait to get home and start cleaning my home.  You can find out more about Emma at Smile as it Happens.

I link up to the following Link Parities:
DIY Showoff,  Titi Crafty, The Girl Creative,Under the Table and Dreaming, Skip to my Lou, Craft O Maniac, Keeping it Simple, Between Naps on the Porch, Thrifty Decor Chick, I Should Be Mopping the Floor, Craft, The Hankful House// Tip Junkie,/Sugar Bee Crafts , Not Just a Housewife  A Bowlful of Lemons, Coastal Charm, Growing Home Blog, Timewarp Wife,  New Nostalgia, Yesterday on Tuesday, The Gunny Sack///Inspiration Exchange, The DIY Dreamer, Gingersnap Crafts , We are that Family, Raising Homemakers , Women Living Well  NY Melrose Family,  Someday Crafts  Family Home and Life, Life with the Crust Off, Taylor House//  Live, Laugh, Rowe, Imparting Grace,  Saving 4 Six,, Artsy Fartsy Mama, , Sparkles and Stove,  /  The Shabby Nest,  Chic on a Shoestring,   A Night Owl,  One Project Closer,,The Best Recipes Blog,  Creative Connection,  Filled Fridays,The Thirty Sixth Avenue,Six. Link Party Palooza// Sister's Stuff, Bowdabra Blog, Cheerios and Lattes, Funky Junk Interiors, Be Different, Act Normal, Too Much Time On My Hands , It's Overflowing, Made From Pinterest
Thanks for stopping by. I'd love to have you follow along and subscribe to my RSS Feed or sign up to receive daily Emails delivered to your inbox . You can also follow along via Facebook.
(Visited 666 times, 1 visits today)