Happy Friday everyone!!! I'm so excited for the weekend.  I was on jury duty all week and I'm telling you what I have a whole new level of compassion for people on juries.  Especially, high-profile ones like Casey Anthony.  They are a LOT of stress!!!  I learned a lot.
I needed to create something after my week and thought I'd share with you my newest printable.  With Halloween next week, I'm looking ahead to Thanksgiving.  Side note, I think it's extremely important to teach our kids thankfulness and this printable is a great reminder for them as well as ME!  Feel free to grab a copy of it.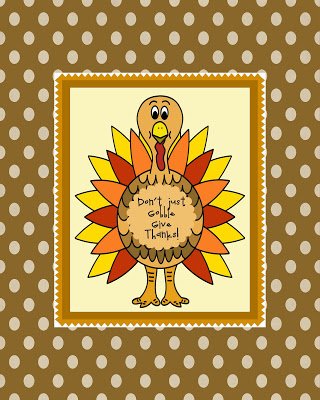 Download an 8 x 10 copy
 here.
Make it GREAT this weekend!
Free Printable Give Thanks Scripture Cards
I'd love to have you follow along. You can subscribe to my RSS Feed or sign up to receive daily Emails delivered to your inbox. You can also follow along via Facebook or Twitter.



(Visited 706 times, 5 visits today)