How are your goals coming? Did you make progress on getting them down on paper. I have to confess, I don't have mine on paper yet. I'm sure I could come up with several excuses but I'll spare you. I will have them wrote down by tonight at midnight. I'm holding my self accountable. I want to practice what I preach. So feel free to ask me if I did it.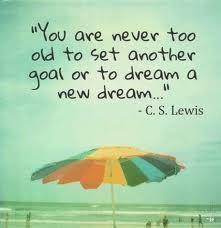 This weekend my sisters and our families got together. During our drive I put on a CD I have by John Maxwell. It's called "Putting Your Dreams to Work". I thought it was the perfect CD to listen to with my previous posts on dreaming. If you missed those posts you can find them here:
Dreaming 101
Dreaming 102
and
Turning Your Dreams into Goals
. He had some good points and I thought I'd share them with you.
I listened to Chapter 4-6 and it picked up where I left off in my last post.
He shared how important it is to have "staying power" with your dreams and goals. Ways to do that are:
1. Take into account your temperament. If you are a sanguine who get really excited about things and are a great starter and a not so good finisher, take that into account. If your phlegmatic then you need to do it slow and steady. Be true to your personality bent.
2. Keep your eye on what is important to you and do not lose sight of what you want. Keep your dreams and goals in front of you.
3. Overcome the fear of being different from other people. A lot of times your goals and dreams take you out of your comfort zone.
4. Resist the apathy that comes with aging. ( I have experienced this in my life and see it all the time.)
He went on to talk about the importance of having a strategy to accomplish your dreams. Wishing won't do it. Fairy Godmothers won't either. Some questions he asked were:
1. Where are you presently? (your reality)
2. Where do I want to go? (my dream)
3. What will my dream look like when I reach it? How will I know I've reached it?
How to accomplish your dreams:
2. Do something today that relates to your dream.
3. Do something everyday that relates to your dreams.
Doing this will probably require you to remove non essentials from your life. Time management will be crucial if you are to reach your dreams. It will also be important to remain flexible and expect problems. It is really hard to achieve your dreams being inflexible. And you can almost guarantee that you will have problems.
This is just a short overview. There are several things we can do. Like do something today that relates to your dream. What are you going to do today? I'm going to set down and get those goals down on paper.
Dreams come true when set on fire with passion. ~ John Maxwell
UPDATE: I am excited. It's 10:20 and I have my goals down on paper!! If you haven't done it yet, just do it!


Thanks for stopping by. I'd love to have you follow along and subscribe to my RSS Feed or sign up to receive daily Emails delivered to your inbox . You can also follow along via Facebook.
(Visited 322 times, 2 visits today)