I mentioned yesterday that I would show you my spring decor and how I used the free subway print.
Here is a picture of my mantel:
All of my accessories were very inexpensive. The candle holder and tulip bouquet were bought at Goodwill. The wrought iron bird and green frame were purchased at TJ Maxx.
And here is the bookcase vignette: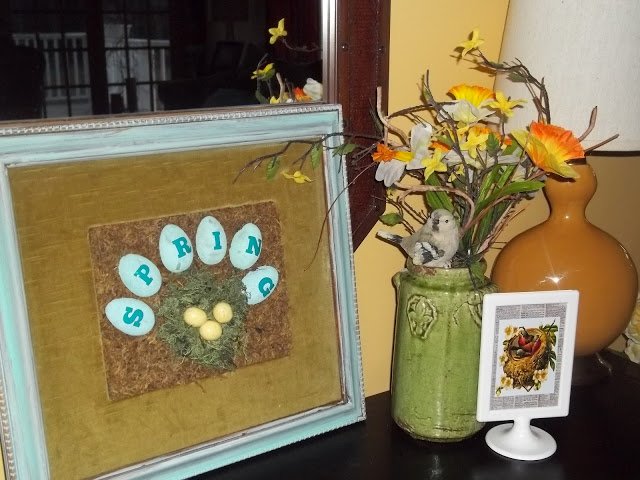 My apothecary jars were purchased at TJ Maxx. The frame I used for spring was bought at a garage sale. The eggs and moss were purchased at Dollar Tree. The vase was a splurge at 15.00 at Old Spud Warehouse and the white frame was purchased at Ikea.
Here's the decor on my end table: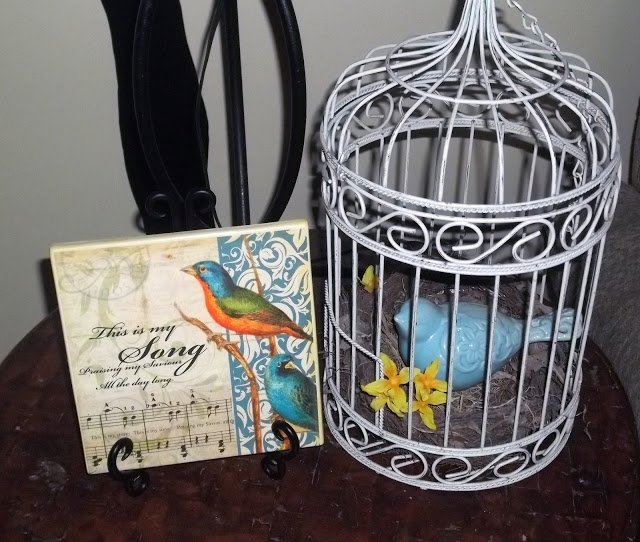 I've had the birdcage for years and I just purchase the bird picture at Family Dollar for 2.00. It even came with the plate stand.
And look what I found outside my deck door today!! So hard to believe two weeks ago we got 30 inches of snow.
"In the spring I have counted one hundred and thirty-six different kinds of weather inside of four and twenty hours" ~Mark Twain
That's how it's been here in Northern Michigan but I'm loving what we have today.
My house is feeling spring like. I love the rebirth of spring.
"I think that no matter how old or infirm I may become, I will always plant a large garden in the spring. Who can resist the feelings of hope and joy that one gets from participating in nature's rebirth?" ~Edward Giobbi
What does your house feel like to you?
Thanks for stopping by. I'd love to have you follow along and subscribe to my RSS Feed or sign up to receive daily Emails delivered to your inbox . You can also follow along via Facebook.
(Visited 238 times, 2 visits today)