Today, we're diving in and sharing tips for keeping your word to yourself!
Life is a whirlwind of commitments, responsibilities, and obligations, leaving us with little time to focus on our own goals and dreams. Amidst the chaos, we often end up neglecting the promises we make to ourselves, unintentionally pushing our aspirations to the back burner. But fear not! Keeping our word leads to a sense of self-fulfillment..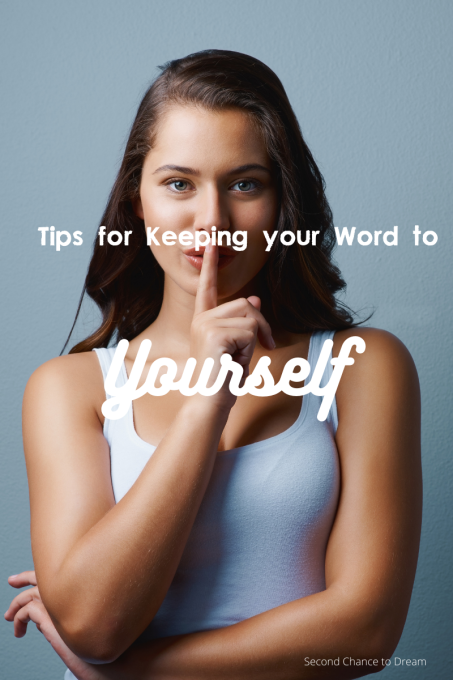 First things first, making a promise to yourself is like planting a seed of possibility. Pursuing a passion, adopting healthier habits, and embarking on a new adventure can all be shaped by keeping your word to yourself.. They represent the dreams and aspirations we hold dear, acting as guiding stars on our personal journeys.
Now, let's talk about the joy of keeping those promises! Picture this: you set a goal to learn to play the ukulele. You dedicate a few minutes each day to strumming those cheerful strings, gradually mastering chords and tunes. As time goes by, you notice progress. Each step forward boosts your confidence, and that tiny ukulele becomes a symbol of your commitment to yourself. Not only are you making music, but you're also nourishing a relationship with yourself built on trust and reliability.
But what happens when we break our promises? Hey, it's okay, it happens to the best of us! We're human, after all. Yet, every broken promise presents an opportunity for growth. Reflect on what led to the slip-up, learn from it, and embrace the chance to recommit. Remember, life's a marathon, not a sprint, and it's never too late to reignite your dedication.
Keeping our word to ourselves is more than just achieving goals; it's about honoring our worth and nurturing a positive self-image. When we fulfill our promises, we reinforce the idea that we are capable, reliable, and deserving of success. This newfound self-trust can spill over into other aspects of our lives, inspiring confidence and encouraging us to take on new challenges.
So, how can you ensure you stay true to keeping your word to yourself? Here are a few playful tips to help you along the way:
Make it fun:
Turn your commitments into enjoyable activities! If you're working on your fitness goals, crank up the music and dance while you exercise. Find ways to infuse joy into the process.
Celebrate milestones:
Reward yourself when you achieve milestones along the journey. Treat yourself to a small indulgence or celebrate with friends who support your endeavors.
Accountability buddies:
Share your promises with a trusted friend or family member (or a life coach) who can cheer you on and help you stay accountable. A little encouragement goes a long way!
Self-compassion:
If you stumble on your path, be kind to yourself. Remember that setbacks are part of the journey. Dust yourself off, learn from the experience, and keep moving forward.
So, dear readers, let's embrace the power of keeping our word to ourselves. Let's nourish the relationship we have with our dreams, aspirations, and ourselves. In doing so, we'll unlock a world of possibilities, build unshakeable self-trust, and live a life filled with purpose and fulfillment.
Until next time, promise yourself the moon, and then reach for the stars!
Keep shining,
Barb
(Visited 13 times, 1 visits today)