I know it's only Christmas and we have a LOT of winter left but that doesn't keep me from dreaming of summer weather and lounging and enjoying my garden space.  If you are the same way you will enjoy this post on how to turn your gardening into a relaxation haven.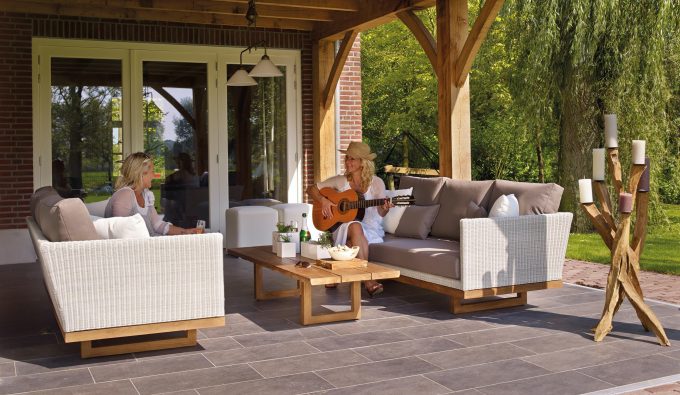 Your garden is the perfect place to host parties and have barbecues in the summer, but it's also a great location to relax. Enjoying the fresh air and being surrounded by nature can alleviate anxiety and reduce your stress levels, which is why it's so important to make the most of your outdoor space. If you want to enhance your garden, take a look at these top tips to create your very own relaxation haven:
Add Seating
To ensure you're able to relax and unwind, you'll need to install comfortable seating in your garden. A permanent seating area means you can always enjoy being outside, without dealing with the hassle of moving garden furniture in and out of storage.
A built-in bench can be a great feature in any garden, while sunken seating makes a fantastic focal point. By designing your seating area so that it surrounds a fire pit or table, you can ensure it's the perfect place for entertaining too.
Incorporate a Water Feature
The presence of water is extremely relaxing, which makes it a great addition to your outdoor haven. Whether you grab some pond supplies or install a miniature fountain, there are numerous ways to incorporate water into your garden. By maintaining the flow of water, you can prevent it from freezing in cold weather, which means you can enjoy the sight and sound of your water feature all year round.
Build a Garden Room
A dedicated garden room gives you the freedom to enjoy your outdoor space, while also offering some protection from the elements. With electrical power and heating, you can ensure that your new space is warm and cozy at any time of year. Many people choose to use their garden room as a multi-purpose space, so you could even incorporate a home office or gym into your new addition.
Use Outdoor Heating
To really make the most of your outdoor space, it's important to mitigate against cold weather. This will enable you to enjoy being in your garden during the colder months, so it pays dividends in the long-term. Outdoor heating is an effective way of making your garden more comfortable and user-friendly, particularly if it's coupled with a patio awning or a pagoda. Of course, it isn't just during Fall and Winter that you can take advantage of your outdoor heating. As the temperature falls on Spring and Summer evenings, you can enjoy relaxing outside with a little extra warmth.
Install a Patio or Deck
Having a covered patio or deck gives you a multi-purpose space that you can use at any time. Whether you want to practice yoga or mindfulness at the start of your day or entertain friends and family with an alfresco meal, having a weather-proof space makes it easy to make the most of your garden.
Transform Your Outdoor Space
If redesigning your garden seems like a big task, there's plenty of help available. With handy online guides, you can tackle the project alone or access help from professional landscapers. The right planning and preparation streamlines the work and means you'll be enjoying your new relaxation haven sooner than you think!
(Visited 42 times, 6 visits today)