There are times in life when it's HARD! Do you know what I'm talking about?  The times when you feel like life is swallowing you up and your enemies are ready to devour you.  Your enemies are different than mine  but the solution for both of us is to cling to Jesus and hang on tight and let HIM fight the battles for us.  Because life is really hard right now I needed to find some scriptures to cling to so I am sharing them with you just in case you need them.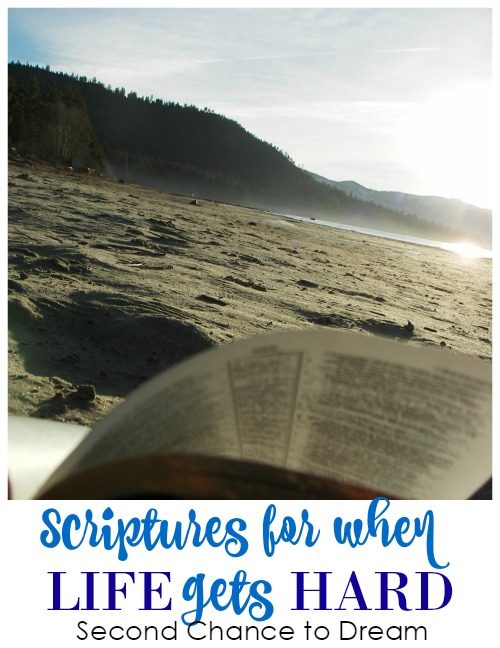 My eyes are always on the Lord, for he rescues me from the traps of my enemies.  Psalms 25:16
Be strong and courageous, do not be afraid or tremble in dread before them, for it is the Lord your God who goes with you. He will not fail you or abandon you." Deut. 31:6
Have I not commanded you? Be strong and courageous! Do not be terrified or dismayed (intimidated), for the Lord your God is with you wherever you go."  Joshua 1:9
When the righteous cry [for help], the Lord hears and rescues them from all their distress and troubles. Ps. 34:17 AMP
Do not fear them, for it is the Lord your God who is fighting for you.' Deut. 3:22
"Do not fear, for I have redeemed you [from captivity]; I have called you by name; you are Mine!  "When you pass through the waters, I will be with you; And through the rivers, they will not overwhelm you.  When you walk through fire, you will not be scorched, Nor will the flame burn you.  Isaiah 43: 1,2
"Even from eternity I am He, And there is no one who can rescue from My hand; I act, and who can revoke or reverse it?" Isaiah 43:13
Though I walk in the midst of trouble, You will revive me; You will stretch out Your hand against the wrath of my enemies, And Your right hand will save me". Psalms 138:7
"When the enemy comes in like a flood, the Spirit of the Lord will lift up a standard against him." Isaiah 59:19
"Now I know that the Lord saves His anointed; He will answer him from His holy heaven with the saving strength of His right hand". Psalms 20:6
fear not, for I am with you;  be not dismayed, for I am your God; I will strengthen you, I will help you, I will uphold you with my righteous right hand. Isiah 41:1
"Plead my cause, O Lord, with those who strive with me; fight against those who fight against me. Take hold of shield and buckler, and stand up for my help. Also draw out the spear, and stop those who pursue me. Say to my soul, "I am your salvation." Psalm 35:1
"The eternal God is your refuge and dwelling place, And underneath are the everlasting arms; He drove out the enemy from before you, And said, 'Destroy!'  Deut. 33:27
Do not say, "I will repay evil"; Wait [expectantly] for the Lord, and He will rescue and save you. Proverbs 20:22
"Be strong and courageous; do not be afraid nor dismayed before the king of Assyria, nor before all the multitude that is with him; for there are more with us than with him. With him is an arm of flesh; but with us is the Lord our God, to help us and to fight our battles." 2 Chronicles 32:7
For I will contend with him who contends with you." Isaiah 49:25b
"I will go before you and level the mountains; I will shatter the doors of bronze and cut through the bars of iron. Isaiah 45:2
"The Lord will fight for you, and you shall hold your peace." Exodus 14:14
These scriptures will go on 3 x 5 cards so that I can read them over and over.  I can NOT fight this battle with out clinging to His word.
Are you needing Peace in your life?  Here are some scripture cards already made for you.  You can find them here.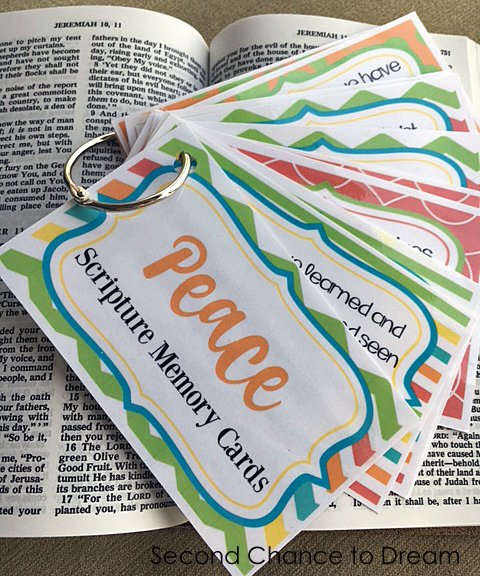 Do you struggle with your value and worth?  Then you need the Who I am in Christ scripture cards.  This is who Jesus says you are whether you feel it or not.
(Visited 428 times, 1 visits today)