Kaitlin Krull from Modernize is sharing some creative DIY Christmas Centerpieces with us today.  She's getting my creative juices flowing! There are some really cute ideas here.
DIY Christmas Centerpieces
Now that we are at the end of November, it is officially acceptable to think about decking the halls in preparation for Christmas. While we at Modernize know that decorating the rest of your home is important, of course, the piece de resistance lies in the center of your holiday dining table. Around the table, your family and friends will gather to celebrate the tastes and traditions of the season, so the dining room decor had better be good. Here are some of the best holiday centerpieces, both traditional and modern, that you can make yourself and wow your guests.
Seasonal flowers
If you want to stick with traditional floral arrangements for your holiday centerpieces, there are a few great standbys to choose from. For a red and green theme, choose any of your favorite red flowers, such as roses, carnations, or gerbera daisies. To stick with seasonal varieties, poinsettias and holly are perfect wintertime choices—but beware that poinsettias can be lethal to animals. If you want to branch out (pardon the pun), a few sprigs of mistletoe and other red berries will brighten up your bouquet and give it a creative twist.
via Minimalisti
Greenery/woodland centerpieces
For a living centerpiece that doesn't contain flowers, choose soft fir branches with long needles and other pine garlands. Arrange your centerpiece in a vase if you like, but don't be afraid to get creative and use a horizontal cutting of a tree stump as your base, and arrange your centerpiece on top. For longer, rectangular dining tables, choose a long box or log from your backyard and arrange your greenery lengthways along the table. Pine cones, red berries, and even bare branches work perfectly as additional arrangement decorations and tie your woodland theme together.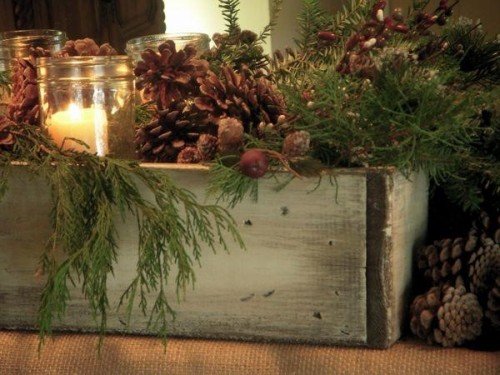 via Hydrangea Home
Candles
Candles are traditionally used to brighten up dining room tables and to set the mood for dinner parties, but they can be decorated and adapted for the holiday season as well. Make your own snow from sea salt, baking soda, or even paper towels and sprinkle in the base of a hurricane or glass pillar jar. Set a few white or red candles on top and watch your tabletop transform instantly into a winter wonderland. Or continue your woodland theme with candles placed in a piece of driftwood (this menorah is a beautiful centerpiece, whether or not you're celebrating Hanukkah this year) or birch bark wrapped around pillar candles.
via My Easy Recipes
Food centerpieces
The Christmas season is absolutely chock full of tastes and smells that evoke happy memories of holidays past, so embrace the senses with a food-themed centerpiece that will leave mouths watering. Decorate your table with cranberries and chestnuts in jars, oranges spiked with cloves, and cinnamon bark wrapped around candles. If you want to showcase your DIY baking skills, make your own gingerbread house, tree, family, or sculpture to place in the middle of the table. Bonus points for edible arrangements that can double up as dessert!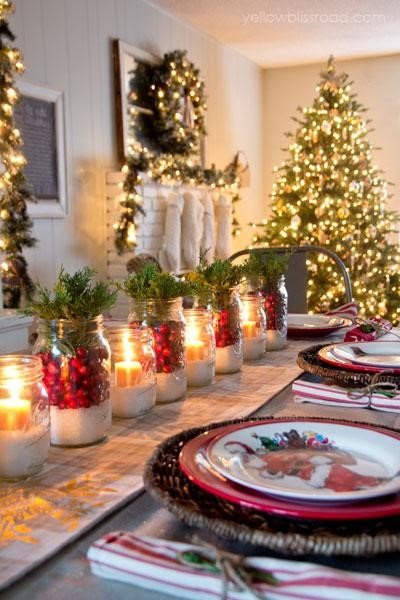 via Country Living
Other centerpieces
If none of these centerpiece ideas is quite unique enough for you, it's time to put your own DIY skills to the test. Scour your Christmas decoration boxes for leftover baubles and nutcrackers to arrange on your table any way you like. Make your own Christmas themed felt garlands to lay across the table, or craft a trio of Christmas trees from paper, felt, or even old books. The possibilities really are endless when it comes to your imagination, so get creating!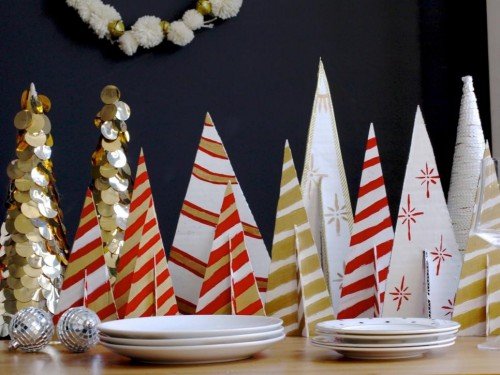 via HGTV
Thank you, Kaitlin, for sharing these cute DIY Christmas Centerpieces. Make sure you go visit Modernize and check out lots of home improvement ideas on their site.
I'd love to have you follow along. You can subscribe to my RSS Feed or sign up to receive daily Emails delivered to your inbox. You can also follow along via Facebook, Google + or Twitter.







(Visited 1,105 times, 11 visits today)