I have been missing in action this week. Twice a year my large family gets together.  Once in July and then again in December.  We just finished up our July visit with one family still here.
Here's a family picture we just took.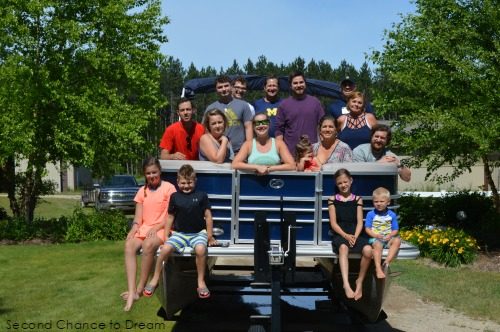 During the July visit we play a lot of outdoor games and my daughter asked if I could make some DIY Yardzee dice to add to our game selection. Yardzee is a large size version of Yahtzee.  I was all over that idea and sent my hubby to the hardware store for some wood.
He bought 2- 8 ft. 4 x 4 pieces of untreated wood and cut them into squares. After they were cut he sanded them for me to make sure we didn't get splinters while playing with them.
 I had my hubby cut 5 sets of 6 dice.  I wanted a set for each of my kids who don't live at home.  I had him make 6 dice for each one of us so we can also play Farkle by adding the extra dice.  If you don't think you'd ever play Farkle then you only need 5.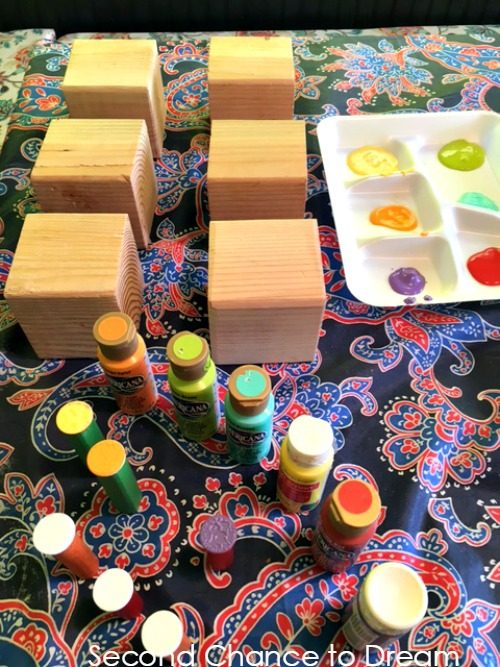 Choose the acrylic paint of your choice.  I love color so mine were painted with fun colors.  I painted a set of dice with a stencil I cut with my Cricut.  That worked OK but was kinda messy and I had to wash a few of them off.  When my daughter in law wanted to paint hers I came up with a much better solution.  I found some blocks that were long and round and I found some foam circles with stickers on them. We glued the stickers to the block and had an instant pouncer.  You can buy  Pouncers
at the store but we were a little tired so came up with an alternate solution so we didn't have to run to the store.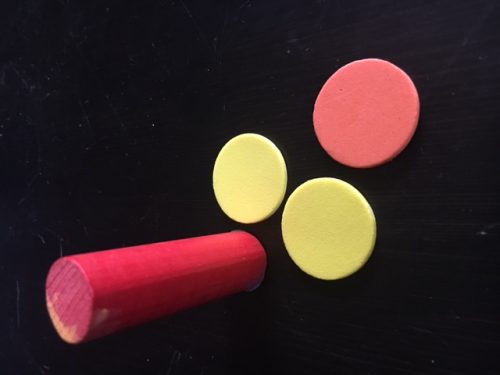 You may have to blow dry some of your dots if you don't want to wait for them to dry.
I sprayed a coat of Clear Acrylic Spray
 over the dice once they were completely dry to protect the paint from coming off with all the use.
Then the fun began.  We played MANY games of Yardzee and created family memories.  Yardzee is also a great way for younger kids to work on their multiplication as well.
Print out the score cards and Laminate
.  Use Retractable Dry Erase Markers to keep score.  You can use dry erase markers but my daughter in law said that retractable ones were a must.  She was the score keeper.
I bought a 5 gallon bucket at Walmart to store the dice in and created labels with my Cricut with each families name on them.  When we aren't playing with them we store the cards and markers in the bucket as well.
Don't have a Cricut?  Remodelaholic has a label you can personalize. I would suggest printing those out on Sticker Paper
.
An easy, inexpensive way to create hours and hours of family fun!!
Do you have any fun yard games you and your family play?
I'd love to have you follow along. You can subscribe to my RSS Feed or sign up to receive daily Emails delivered to your inbox . You can also follow along via Facebook, Google + or Twitter.







(Visited 3,498 times, 2 visits today)