The lesson I'm sharing isn't a fun one but it's a critical one if we want to grow into vibrant, ALIVE Christians who live an abundant life.  I shared in my post Hindrances to Prayer that I would be back  to talk about The Dangers of unbelief.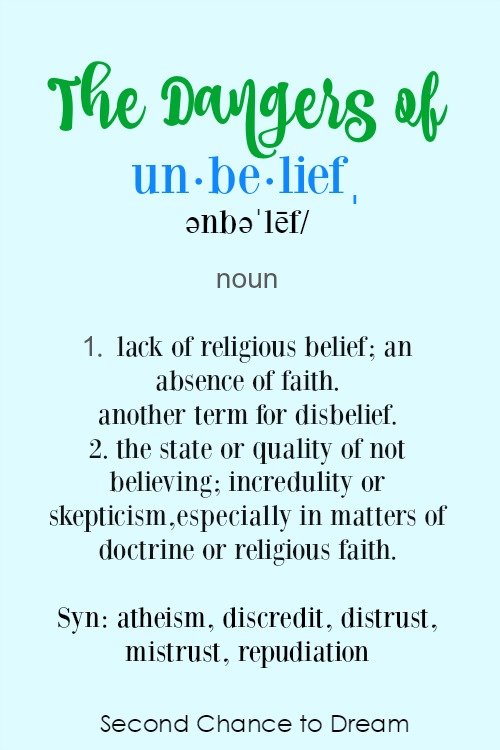 The dictionary defines unbelief as:
un·be·liefˌ ənbəˈlēf/
noun
lack of religious belief; an absence of faith.

another term for disbelief.
        2. the state or quality of not believing; incredulity or skepticism,especially in matters of doctrine or religious faith.
Syn: atheism, discredit, distrust,mistrust, repudiation
Ugh!  I don't like those words and would really like to believe that I don't have them in my life.  God doesn't like those words either.  Unbelief is a sin.  It's a sin that grieves God.  It grieves him because our choice to not believe what He says keeps a wedge between us and He wants fellowship with us.  It hinders our relationship.  We aren't going to go to Him with a problem if we feel like He really isn't going to answer us.
Satan has deceived us in this area.  Just like Eve he says to us, did God really say that?  Will God really answer that prayer?  He didn't answer it before or He didn't answer someone else's prayer so why would he answer mine.  Ever hear those lies?
Let's look at some examples of unbelief in the Bible.
"And when Jesus had finished these parables, he went away from there, and coming to his hometown he taught them in their synagogue, so that they were astonished, and said, "Where did this man get this wisdom and these mighty works? Is not this the carpenter's son? Is not his mother called Mary? And are not his brothers James and Joseph and Simon and Judas? And are not all his sisters with us? Where then did this man get all these things?" And they took offense at him. But Jesus said to them, "A prophet is not without honor except in his hometown and in his own household." And he did not do many mighty works there, because of their unbelief."  Matthew 13:53-58 ESV
When we don't believe God we can stop the "mighty works" of God. Mt.  13:58 – "He did not do many mighty works there because of their unbelief").
This does not mean that unbelief is stronger than God.  It merely means that God respects unbelief as much as He does belief.  God is NOT going to force you to believe if you do not want to believe.  A lot of times it is not that people want to disbelieve, it's just that they are unable to overcome their unbelief.  Unbelief is the fastest way to stop the hand of God.
OK, at this point I might be feeling a little wiggly in my seat and have a desire to head to feeling guilty or I might be listening to the lie I don't have enough faith, I can't live victorious, but that is a lie.
All Believers have been given a measure of faith when they became Christians.
2 Peter 1: 3 His divine power has given us everything we need for a godly life through our knowledge of him who called us by his own glory and goodness.

2 Peter 1:1  NIV To those who through the righteousness of our God and Savior Jesus Christ have received a faith as precious as ours:

Romans 12:3 NIV For by the grace given me I say to every one of you: Do not think of yourself more highly than you ought, but rather think of yourself with sober judgment, in accordance with the faith God has distributed to each of you.
If we are not getting results in our lives as Christians, the issue is not with our faith but with our unbelief.
For example, a demon was causing a certain boy to have seizures. The boy's father brought him to the disciples, but they couldn't cast the demon out (Matthew 17:14-17; Mark 9:17-23, AMP).
Jesus said they couldn't cast the demon out because they had unbelief (Matthew 17:17-21, AMP).
The lack of faith wasn't the issue; the disciples had cast many demons out before this incident (Matthew 10:1; Mark 6:13; Luke 17:5, 6).
They had unbelief because the situation seemed way too hard for them. They were focused on what their senses were telling them (what they were seeing and feeling).
We can have faith and unbelief simultaneously
Mark 11:23 "Truly I tell you, if anyone says to this mountain, 'Go, throw yourself into the sea,' and does not doubt in their heart but believes that what they say will happen, it will be done for them.
We can know unbelief is present in our lives if any of these are evident in our life:
Fear. We fear God might not come through.  We don't believe what God's word says.  We let fear rule our lives in certain situations.
Worry. We focus on negative thoughts or expectations. We try and figure out the answer and become obsessive.
Care.  when we become consumed with the problem rather than the solution.
When faith and unbelief  are evident at the same time, we are double-minded.
James 1:7-8 That person should not expect to receive anything from the Lord.  Such a person is double-minded and unstable in all they do.
A double-minded person is unstable and cannot receive from God.
Unbelief can show up in our lives in these ways:
Ignorance. When we are ignorant, we simply don't know any better.
Disbelief. When we are in disbelief, we have been taught wrong doctrine and are holding on to our religious traditions.
Natural unbelief. When natural unbelief is present, we are focusing on what our five senses are telling us. What we are seeing with our natural eyes and what we are feeling.
Matthew 17:21 AMP But this kind does not go out except by prayer and fasting.
Jesus isn't talking about casting out the demon but casting out unbelief.  When we fast and pray we are reprogramming our minds to believe  God's Word instead of our senses. We fast and pray to rid ourselves of unbelief.
So how do we live a single minded life?
Abraham demonstrated single-mindedness when he believed that God would give him a son in his old age.  
 Romans 4: 18,19 Against all hope, Abraham in hope believed and so became the father of many nations, just as it had been said to him, "So shall your offspring be. Without weakening in his faith, he faced the fact that his body was as good as dead—since he was about a hundred years old—and that Sarah's womb was also dead.
Unbelief will stop when we quit focusing on fear and focus on God's word.
If we focus on God and His promises, we will learn to believe He means what He says He does and our faith will grow.
Romans 10:17 So faith comes from hearing, and hearing through the word of Christ.
We have to get into the word.  It can't be a verse a day keeps the devil away anymore. We need to have a hunger and thirst for His word.  When we get hungry we eat. When we're weak spiritually we need to eat and drink the Word of God consistently
We also need to speak the word out loud. Faith comes by hearing. Romans 10:17
Lets' not let satan take us out through unbelief!  Let's confess our unbelief and call it what it is, SIN! Let's dig into the Word and allow the fellowship with Christ to happen so that the abundant life can be ours.
Action Steps:
Pray and God to show you a situation in your life right now where unbelief is ruling?
Confess and repent the unbelief
Take the above situation where God showed you your unbelief and find promises from the word of God and write them on a 3 x 5 card.  Meditate on them, speak them out loud, memorize them.
How has unbelief stopped you from dreaming?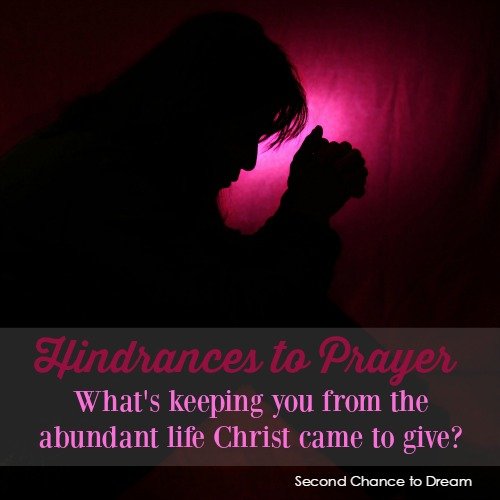 I'd love to have you follow along. You can subscribe to my RSS Feed or sign up to receive dailyEmails delivered to your inbox . You can also follow along viaFacebook, Google + or Twitter.





(Visited 932 times, 1 visits today)