Do you have a party you will be hosting soon?  I have some fun ideas for an inexpensive Western Themed Party. These ideas would be perfect for a birthday party, Graduation open house, Family Reunion,  or a summer BBQ.  Come see the ideas I did for my husbands business convention.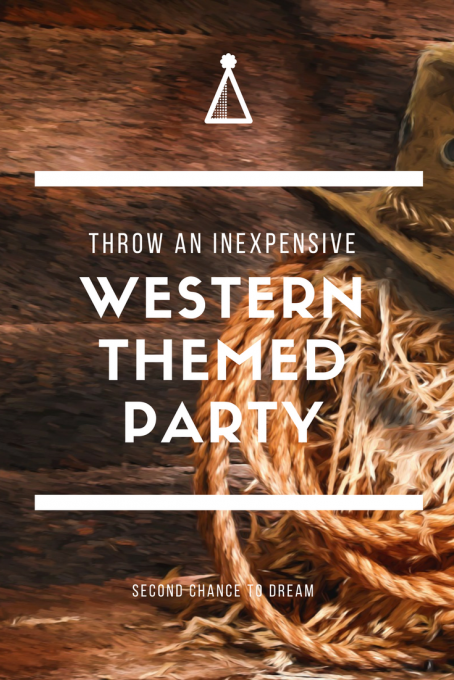 My husband's company has an annual sales convention that celebrates the top producers for their production for the previous year and unveils where the sales award trip will be held for the upcoming year.  My job is to help add a festive touch to the meeting and help promote the trip all on a small budget.  This next year, the trip will be in Scottsdale AZ. I thought a Western Themed Party would be perfect for Arizona.   To help me with the decor I  head to my favorite online party decor shop- Oriental Trading.  They have lots of Western Themed decor to choose from.
Inexpensive Western Themed Party Ideas
Every year we leave a goody bag full of water and snacks in the agents' room.  Don't you always want a snack and everything is closed?? I knew when I saw these cow print bags at Oriental Trading that I needed them. Aren't they so cute?  I found this free personalized WANTED invitation here at Greetings Island.  I personalized one for each agent with the trip information and then filled them with lots of snacks.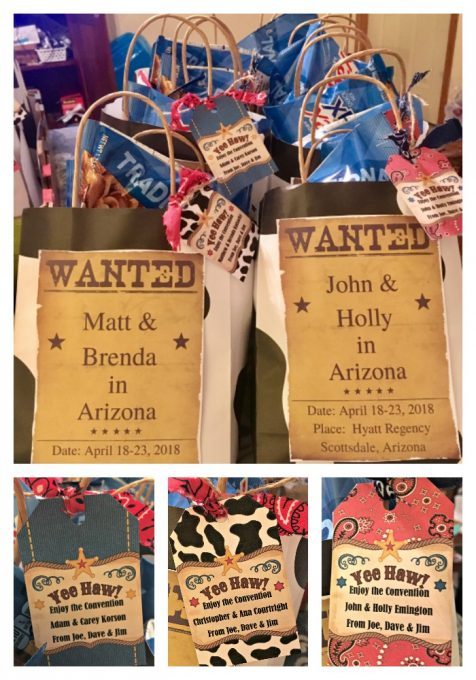 I also bought this western tag from ArcticParty Prints and personalized one for each agent and tied it to the bag with a piece of jute and cut up bandanna.
You can't have a party without table centerpieces!  I found a variety pack of 12 bandannas on Oriental Trading. I laid them on the table and then  I added a mason jar full of flowers.  I wrapped some jute around the mason jars for some added texture.  I bought the cowboy hats at Oriental Trading as well and put them on the table for each person.
We had some fun with some photo booth props.  I made some Western Themed photo props which you can see below and we took some pictures.  To use those all you need to do is download them, print, laminate and cut out.  I taped them to a wooden skewer.   If you don't want to take the time to cut them out Oriental Trading has some as well. Oriental Trading also had some cute furry mustaches that I used as well.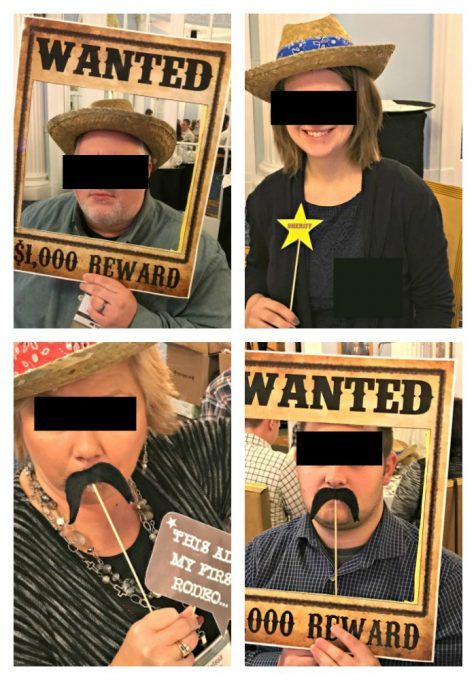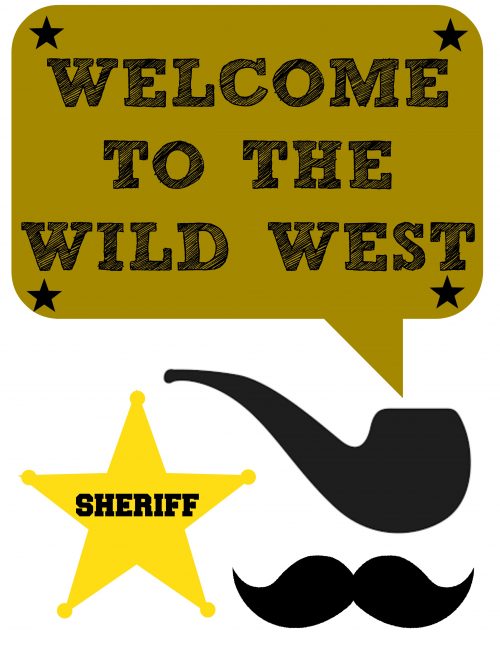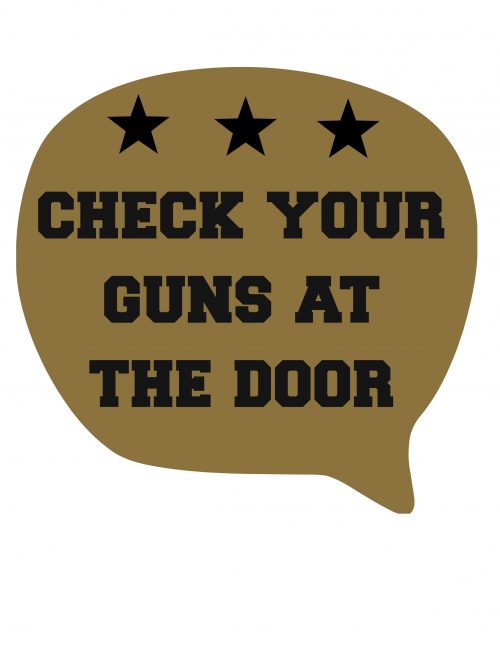 Download the photo booth props here.
If you look closely at the columns you will see some cactuses.  I purchased those at Oriental Trading as well. They look slightly out of place in the ornate room we were in but the room was beautiful!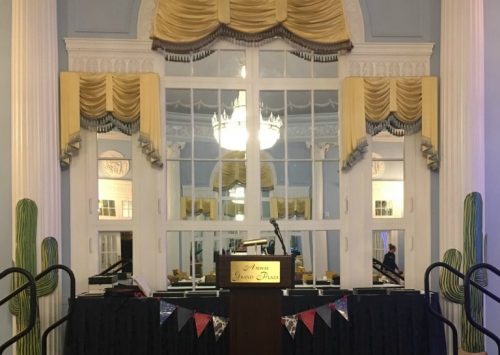 On the table, I hung a pennant banner that I made and laminated.  I punched holes in the corner and then tied them with jute and a bandana that I cut into pieces.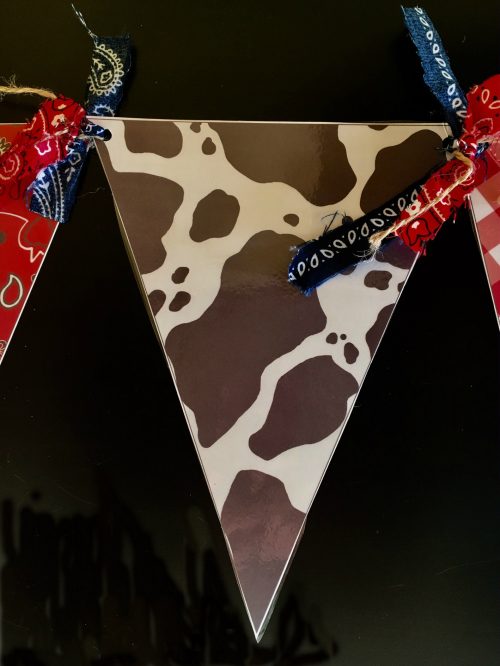 I have included the pennant banner for you to download and print. You can mix and match or you can make them all the same.  There are 6 designs to choose from.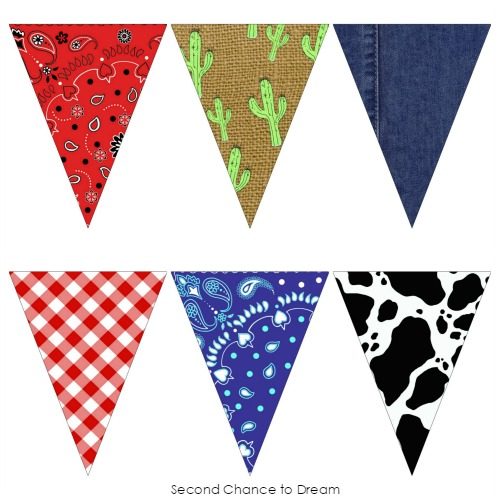 Download the pennant banner here.
I purchased the digital paper from the ArtBoxDesigns.
I didn't use them for this event but I created some water bottle labels/silverware wraps that I'm sharing with you.
Did you find any inexpensive Western Themed Party Ideas?  I hope so!
Note:  I was given product from Oriental Trading in exchange for this post, but Oriental Trading IS my FAVORITE Party store!
I'd love to have you follow along. You can subscribe to my RSS Feed or sign up to receive daily Emails delivered to your inbox. You can also follow along via Facebook, Google + or Twitter.





(Visited 23,112 times, 108 visits today)