How's your vision?
It's time for a vision checkup! Every so often it's important to stop and evaluate how we're doing and since the first quarter just ended now is a great time for a vision checkup.
Do you have 20/20 vision? Are you in the zone focusing on your dreams and goals?
Or are you nearsighted? You can't seem to see and focus on the things in life that are important. You are drowning in life's problems.
Are you far-sighted? Are your dreams and goals far away? Kinda living in la-la land? Someday I'll get to those goals and dreams! Procrastination is ruling.
 What can you do today to sharpen your vision?
~Review your goals? What areas are you doing well in? What areas need focus and fine-tuning?
~Write goals down if you haven't? Here's a free printable goal sheet for 2022.  It's never too late to set goals.
~Summer's coming! In northern Michigan, summers go by so quickly that if we aren't intentional they are gone before we know it.  Here is a summer goal sheet to help you live intentionally.
~How's your marriage? Is he getting the leftovers?  Pick an area you want to focus on and keep it in front of your eyes!  Here are 35 things I've learned in 35 years of marriage if you need some ideas on what to focus on.
~How are your children doing? Really doing? Because I have so many kids (6 kids & 5 grandkids)  I feel like a plate spinner sometimes! Actually a lot of times. I help this child, then this one needs something, etc. then this plate has crashed and I have to go back over here. It really takes a clear vision to do it right.  I really want to be more intentional in how I interact with them.  So I'm working on that.  One thing I do, do is pray for them. Here is a 30-day prayer calendar for praying for your children if you want to focus in that area.
~ How's your health? This is an area I rarely focused on, unfortunately! That has changed. I have spent some time working on detoxing and cleaning up my body. I plan on continuing to focus on that area.
Where there is no vision the people perish. Proverbs 29:18
I pray that the eyes of your heart may be enlightened in order that you may know the hope to which he has called you, the riches of his glorious inheritance in his holy people. Ephesians 1:18
I have just released a Vision Board Kit to help create a vision board that represents your goals and dreams.  You can visit here to purchase.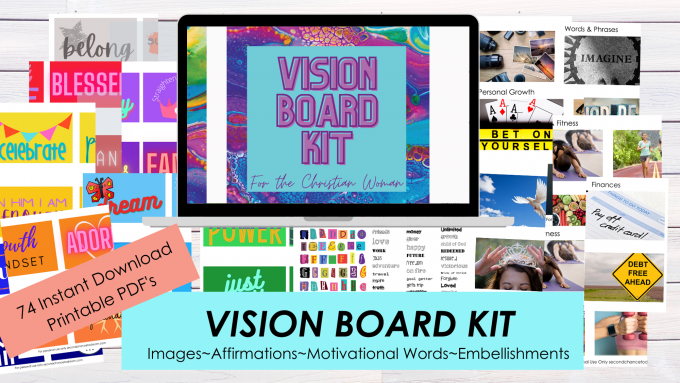 I'd love to have you follow along. You can subscribe to my RSS Feed or sign up to receive daily Emails delivered to your inbox. You can also follow along via Facebook, Google +, or Twitter.
(Visited 406 times, 1 visits today)