Is it possible to look chic and be warm? It is possible to stay stylish and keep warm at the same time, with some clever styling hacks. You don't have to give up a cute outfit in order to keep warm. Here's how to do it.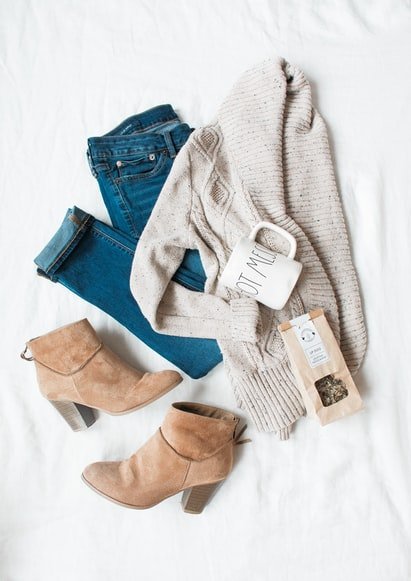 Base Layers
Dressing for cold weather is about layers. Big layers don't always equal warmth. 
Your base layer should be thin and fitted, so the warm air gets trapped close to the body. Ideally, you want these layers to be made of natural, breathable fiber, like wool. Your second layers, such as cute fall shirts, should also be thin and fitted to keep the heat close to your body. You can then add a third, bulkier layer on top, like a chunky sweater. 
Silk works very well as a base layer, as it keeps the warm in without adding bulk. A bodysuit and tights are a good base layer too. 
You could also add some color or print to a base layer to make your outfit more interesting too if you prefer a bolder look. 
Styling Hacks
After your base layers, you can use some styling hacks to make your outfit stylish. Try some of these hacks:
Tuck in light or medium shirts and sweaters. More fabric close to your body will keep you warmer. 

Chuck the center of a chunky sweater into your skirt or pants to create more shape.

Choose a chunky belt to balance the volume of a bulky sweater.

Wear over the knee boots with wider trousers and skirts for an extra layer and some texture.

Mix the styles of your clothes to make your look more interesting. For example, wear a chunky sweater with tailored pants. 

Add some texture with faux fur, leather, patent, or knits. 
Accessorize
Accessorizing in the winter can be pretty different from accessorizing in the spring and the summer. There are lots of cute ways to add accessories to your cold-weather outfits to make them look cute. 
Swap your usual dangly earrings for a statement stud earring, so your longer earrings don't get tangled in scarves or turtleneck sweaters. 

Roll up your sleeves to show off cute base layers. 

Tuck your pants into your boots instead of cuffing them. Tucking them is warmer, but you still get a polished look. 

Swap out your usual winter booties or chunky boots for a boot that is still suitable for winter, but is more stylish. Look at brands like Uggs, La Canadienne, or Aquatica for boots that are both chic and practical. 

Add socks to keep you warm. Make them chicer by choosing a complementary color or print to your outfit. Leave your socks peeking out over the top of your books for a cute apres-ski look. 

As well as gloves and a hat, wear a blanket scarf. These scarves can be worn as a shawl over your coat if you're outside, or over your outfit, if you're indoors but still feeling chilly.
(Visited 80 times, 2 visits today)