It is incredibly important to have a bedroom that brings you complete relaxation and allows you to de-stress at the end of the day. A peaceful bedroom means that you will sleep better and that in turn means that your body will be able to repair itself properly, and you'll feel much more energized and productive in the morning. A bedroom that doesn't feel very peaceful will lead to a poor night's sleep, and even if you don't realize that you kept waking or moving, that is the result. Read on to find out some of the best ways you can create a peaceful bedroom so that you sleep better for one thing, and always have a sanctuary to retreat to for another.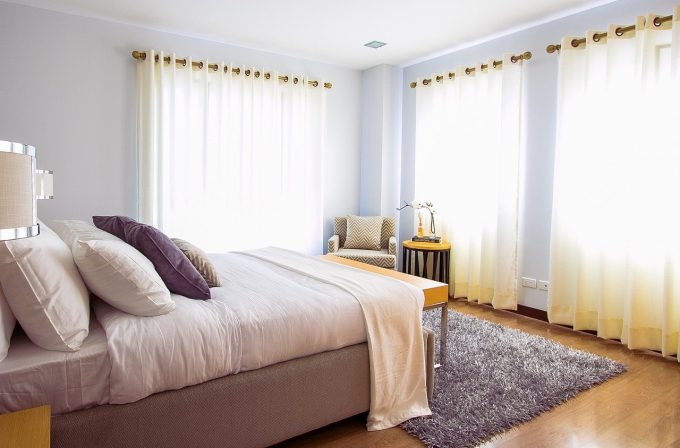 Tidy Up
If you only go into your bedroom at night and then leave it again in the morning and forget all about it in between, it's easy to also forget how messy it might be. However, spending some time tidying up, picking clothes up off the floor, clearing your bedside table, making sure your bed is made and the pillows are straight, dusting off the surfaces, and so on, can make a big difference. 
 Even if you don't pay much attention to the mess and don't think it's affecting you, your subconscious will think about it. Your mind will be as cluttered as your room. By decluttering, organizing, and removing anything you don't need, ensuring that your space only contains the most useful items, you should be able to rest much more easily.  
Ceiling Fan 
Installing a ceiling fan in your bedroom is an amazing way to make it more peaceful. Standard fans are noisy, and they often spread a lot of dust around, making the room untidy again and making it hard to breathe properly. Ceiling fans or chandelier fans are much quieter, especially modern ones, and they are cleaner too. 
 A bedroom that is too hot is never going to be a peaceful place. You'll always be moving around, trying to get comfortable, and you won't want to spend much time in there at all. With a good ceiling fan cooling things down and making the room feel like a calm place, you'll find you enjoy your bedroom much more. 
Make It Dark 
If you want a peaceful bedroom that makes it easy to relax in and get to sleep in, then it needs to be as dark as possible. Any kind of light can easily confuse the body's circadian rhythm, and when that happens, you might find it's hard to sleep – this is because the body is producing fewer 'bedtime hormones'. After all, it doesn't realize that it's night. These hormones are means to help you wind down to sleep, and if you're not producing them because your bedroom is too bright, you could be in trouble. 
 Installing blackout curtains will help when you want the room to be dark, but removing any kind of screen or electronic device will make things a lot better and ensure your bedroom is peaceful not just because it's dark but also because you won't be distracted and stressed either. 
I'd love to have you follow along. You can subscribe to my RSS Feed or sign up to receive daily Emails delivered to your inbox. You can also follow along via Facebook or Twitter.



(Visited 62 times, 1 visits today)