Do you have a project that's been sitting for weeks and not progressing?
We've all been there!
When you start a project, you will feel excited and all pumped up because you are excited by doing something new.
If you start dwindling and progress is slow, it's time to ask yourself these questions.
are you expecting your project to be flawless and perfect?

have you forgotten the reason why you started in the first place?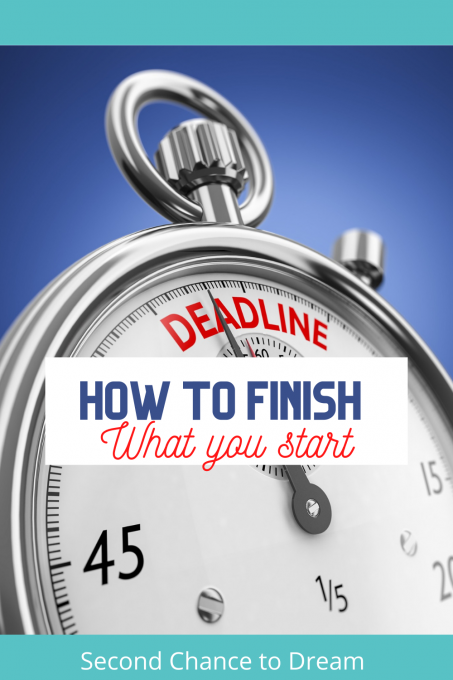 I'll share 6 strategies to help you finish what you started:
✅#1 Rediscover your 'Big Why'. Remind yourself why you started this project. The best reasons are intrinsic. This means the project is meaningful to you in some way. 
✅#2 Pick one thing to work on-We often give ourselves too many things to do and become overwhelmed. Choose ONE thing that you've been procrastinating and make a commitment to complete that task in the next week.
✅#3 Do a little every day. It doesn't matter if you type 5 sentences or finish 5 chapters. Just doing a little bit every day will add up to a finished project over time. Don't skip days! Something I do that really helps me is to set my timer for 15 minutes.  I can continue after my time goes off if I want but I have to do at least 15.
✅#4 Organize your project and your ideas. This means having a rough guideline to guide you as you work through it. If you can see the big picture, you have a direction to work towards. Here is a FREE project to do sheet to organize your ideas.
✅#5 Pick a song that fires you up that you play while you're working. This will trigger your brain to know when that song comes on it's time to hit it.
✅#6 Create a reward for yourself once you've completed it. Research says the human brain responds to reward stimulus and this can be a great way to build habits.
Completing a meaningful project can be the most satisfying feeling in the world.
🌴Do you have a project that has been sitting around for too long? Which strategy will you adopt to get it moving today? 😊
👉
Need a FREE goal-setting worksheet? Download it here.
Here are a couple of other posts that will inspire you!
I'd love to have you follow along. You can subscribe to my RSS Feed or sign up to receive daily Emails delivered to your inbox. You can also follow along via Instagram, Facebook, or Twitter.


(Visited 187 times, 3 visits today)