People spend too long seeking out company from friends, family, and even strangers. They find it impossible to be alone, and this has a severe impact on their self-esteem. While nobody wants to be alone, they must learn how to be alone and how to enjoy their own company. 
No matter who you are, the idea of doing this sounds intimidating. After all, why would you want to spend time by yourself when you could hang out with others? The truth is, there are benefits to being alone, whether you're an introvert or an extrovert. Everyone needs the opportunity to wind down and to feel comfortable with themself before they can feel comfortable with others. If you're not sure how you can do this, here are ten ways to enjoy your company. 
Understand Your Strengths 
Everybody has their strengths, but not everybody understands their strengths. This could be the main issue when struggling to enjoy your company. If you are unaware of what you are good at, you'll never have the drive and inspiration to pursue this in your own time. 
For many, they consider themselves good at playing an instrument, writing, or playing video games. But these are not the only things you can be good at. Your strengths might even lie somewhere different. Rather than be the center of attention, you're better off as an observer. So, you can observe instead of seeking interaction, and you can feel comfortable doing so, too. 
Create a Comfortable Environment 
If you want to feel more at ease by yourself, creating a comfortable environment is one of the easiest ways to do so. A comfortable home will immediately make you feel calm, as you can relax at home or wherever you are – such as the park or a cafe. 
If you're at home, clean the house, tidy up, wash the dishes, and then get ready to relax. A clean home gives you one less thing to worry about, so you can settle into your day more comfortably. Take it a step further by investing in cozy clothes like Calvin Klein sweatpants and tank tops, put on some music, and light a few candles. 
Pamper Yourself a Little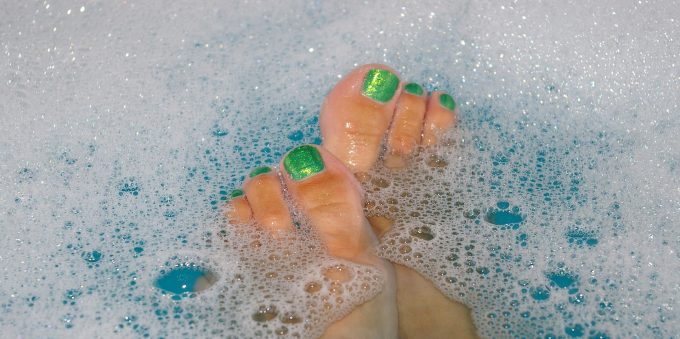 Once you've cultivated a comfortable environment, you can start thinking of ways to pamper yourself. Everyone deserves a little TLC now and again, and being alone gives you the chance to treat yourself as kindly as you like. 
Everyone has a different self-care routine, so your preferences depend on what you're used to. Still, you can run yourself a bath or give yourself a manicure. If you don't like this sort of pampering, you can do anything you like. Catch up on the book you've been reading, finally beat that Boss Level on your game, or get to the bottom of that plot hole that's been driving you up the wall. 
Unplug and Switch Off

Although our smartphones and devices have made it easier to feel connected even when we're alone, embracing radio silence now and again can do wonders for our mental and physical wellbeing. If you find yourself constantly opening apps and closing apps, only to repeat the cycle, maybe it's time to unplug and switch off. 
Taking a break from your screens and devices might feel like the end of the world, but it's a crucial element for learning how to be alone. You don't have the crutch of strangers on social media to keep you entertained; you're forced to find entertainment within, whatever this might be. 
Work Through Your Thoughts and Fears 
One thing that gets to people when being alone is the fear of getting stuck in their heads. When they are around others, they can switch off the nagging voices that would otherwise distract them. Instead of these anxious, depressive thoughts, they can have fun and forget about them. 
This isn't so easy when you're alone, but it needn't be a bad thing. Being alone allows you to work through these thoughts and fears. You can face up to your problems and find ways to work through them. Some people do this by journaling, which gives them better clarity, whereas others will draw, paint, or make music. Everyone has their way of coping, so look for yours. 
Think About Where You Want to Be 
Inspiration and motivation are two things that feel perpetually out of reach, even if you have that drive to do something, the feeling can be fleeting, and you immediately fall back into your usual routine. But, you can take this opportunity to think about where you want to be and how you are going to get there. 
While you won't be able to make immediate progress towards your goals, you can still work out how you are going to achieve them. Try to do this when inspiration strikes, as this can give you positive rewards, and it will make it easier to develop discipline. 
Stop Waiting for Other People
Suppose you have things that you've always wanted to do, but you don't want to do them alone. Instead, you're waiting for a friend or your partner to join you in the adventure, but they keep rescheduling. You might not want to go alone, but sometimes, you have to. 
You shouldn't wait around for others to have these experiences, as there's the risk you'll miss out on so much. So, if you want to go skydiving, do it. If you want to get into shape, stop waiting for a gym buddy. It might be intimidating at first, but that's a good thing, and it will show you that you can be by yourself and still succeed.  
Be Kinder To Yourself 
It's easy to fall into the trap of negative self-talk, which can be one reason why people don't like being alone. Try replacing this negativity with positive self-talk so you feel more at ease with yourself and can actually enjoy your own company. 
Even if you don't consider your self-talk that bad, it can quickly become a bad habit that's difficult to escape from. So, if you catch yourself being self-deprecating, stop yourself and replace it with something kind. 
Evaluate How Far You've Come 
Another thing that might bother you when you're by yourself is comparing your progress to others. You could be ashamed that you're not as far in life as your friends or even people you don't know. But, as long as you finish what you start, you have nothing to be ashamed of. 
Everyone moves at a different pace, and some people get lucky in life. Don't let this get you down, as it can hinder your progress. 
Do Something
When you're trying to be, it's tempting to sit on the sofa and binge your favorite shows. There's nothing inherently wrong with this, at least not at first. However, you shouldn't mindlessly consume content. You need to do something. 
This something can be a challenge to discover, especially at first when you're unsure how to enjoy your own company. With enough focus and effort, you'll find the secret to being alone, and this will make you feel more confident when you need to be by yourself. You might even decide to enjoy your own company even if you have the chance to hang out with others. 
Happy Alone
This isn't to say you should adopt a hermit's lifestyle and never hang out with friends and family ever again. You should still socialize as often as possible, learn to enjoy alone time. Once you uncover the secret to enjoying your own company, you'll find yourself more at ease and at peace.
I'd love to have you follow along. You can subscribe to my RSS Feed or sign up to receive daily Emails delivered to your inbox. You can also follow along via Instagram, Facebook, or Twitter.


(Visited 560 times, 3 visits today)