Front yards, back yards, your front door, and the entrance to your home can be magical places. English country gardens have a certain romance and design to them, but you can bring a touch of magic to any style of garden. Here are some simple and fun ideas to bring the mythical and magical to your outdoor spaces and inside the front door too.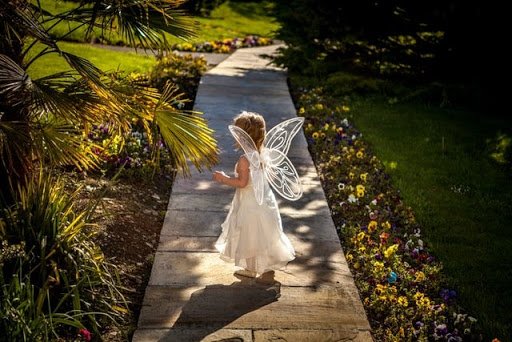 Photo by Daniel Kempe on Unsplash
Where to start
Look for small nooks and crannies, and think about the style of magical creatures that you want to add. This is a lot of fun for your own children, grandchildren or even your friend's children too. If you want to do some research, then you should maybe spend some time searching Pinterest for ideas. Pinterest has lots of different themes to choose from.
Scout positions
Look for the little nooks and crannies that you can add small fairy doors, homes, and signs too. You could create small villages or a guided path to your front or back door. 
Create or buy
You most likely will want to buy some flowers to compliment your new fairy garden. Here are some great plants that add some magic and color:
Moss

Polka-dot plant

Lavender

Gray lavender cotton

Succulents

Wood sorrel

Herbs like thyme, rosemary, oregano 

Ivy 

Ferns
There are some great tutorials on YouTube for building a fairy house too.
Your front door might need to be dressed up too.  You could opt for a mythical looking iron door from Forever Custom Iron Doors. Dressed up with some homemade wreaths made with flowers and plants from your garden. You can also find a whale range of beautiful, weather-proof ornaments of fairies, dragons, and other magical creatures to be placed. 
Lighting
Many of the pre-made fairy homes have lights that can be used at night, but you can also opt to add your own outdoor fairy lights to light the area around the fairy or mythical creature space.  Just make sure that the lighting you choose is suitable for outdoor usage. 
Practical Magic
One of the best things about creating a space like this within your garden spaces is that it really will welcome wildlife. The small homes and little doorways are ideal for birds, insects, and other little visitors. The extra plants not only create colors and magic, but they will encourage pollinators like bees and butterflies to visit. That, in turn, will encourage birds too. 
Seasonal fun
Once you have everything placed and planted, there are still seasonal additions you can add. You can add pumpkins, toadstools, and other fun items in the Autumn months. When the festive holiday season arrives, you can add some elves, reindeer, and fake snow too. 
A fairy garden or a mythical creature garden is relaxing to look at, and add something pretty and magical to your outdoor spaces. Children especially will enjoy the idea that your garden is filled with magical creatures that they have created a special home for.
(Visited 110 times, 1 visits today)