Today Sarah Lasko is back to share with us 3 ways to make your outdoor space a sanctuary.  My front porch is definitely my sanctuary to hang out on during the summer.  It allows me to fully relax and just be!  There's nothing better than sitting on my porch listening to the waterfall with a glass of wine.  See the collage below of my front porch.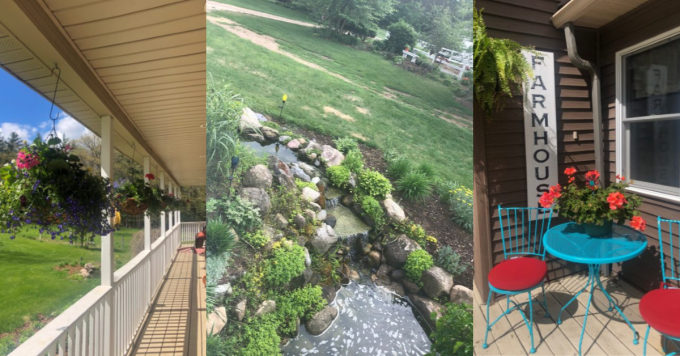 We all know the importance of having a place to call 'your own'. Everyone needs a specific space for reflection and mindfulness. Studies have shown that practicing mindfulness (deep breathing, letting thoughts come and go, etc.) for just a few minutes each day can improve your sleep, reduce stress, and even help to manage pain. 
But, whether you want to engage in a mindful morning routine or you just want to get away for a few minutes with a cup of coffee, there's no better place to feel more at peace with yourself and the world than on your private outdoor deck/patio. 
Now that summer is just about here, it's more important than ever to get outside. So, if you've been feeling overwhelmed and stressed lately (especially due to the impact of the Coronavirus pandemic), let's look at a few ways you can transform your deck, and turn it into a place of peace and stability you can look forward to each day. 
Make Sure It's Safe
If you don't typically spend a lot of time on your deck, it might be because you don't like the way it looks, or maybe it's been neglected for too long. Before you do anything to spruce it up, make sure it's safe. 
Over time, wooden boards can rot and become weak. Railings can break. Working with a deck contractor can help you to ensure everything is safe, and let you know if you need to make any repairs or install a new deck, altogether. 
Pack On the Pillows
Most people who have a deck have some kind of outdoor furniture on it. But, you can really bring that furniture to life by adding a lot of pillows. They provide a pop of color, insinuate comfort and peace, and invite people to sit and enjoy themselves. Whether you're using your deck as a private sanctuary or as a place for entertaining, piling the pillows on chairs, sofas, etc., will create a much more inviting space. Check out how to make all-weather pillows for your outdoor space.
Add Illumination
Sometimes, there is nothing better than being able to step outside at night and quietly reflect on your day to alleviate stress. Make sure your deck space allows you to do so comfortably. One of the best ways to do that is to add some type of lighting. 
Keep in mind that your exterior lighting doesn't have to be the same brightness as the interior. In fact, hanging up small tinkle lights or outdoor globe string lights can create a peaceful, intimate atmosphere that encourages quietness and reflection. Your deck should be able to be enjoyed at any time, so don't be afraid to get creative with your outdoor lighting solutions. 
Needless to say, we've all been dealing with uncertain times over the last few months. Spending your summer outside, enjoying the beauty of your backyard from your deck is a great way to bring back a sense of normalcy, and feel more like yourself once again. Keep these tips in mind to turn your deck into a place you can't get enough of. 
Thanks, Sarah! You will definitely want to check out these 16 Outdoor DIY Tutorials  to make your outdoor space a sanctuary.
Cheap Ideas to Add Color to your Outdoor Decor.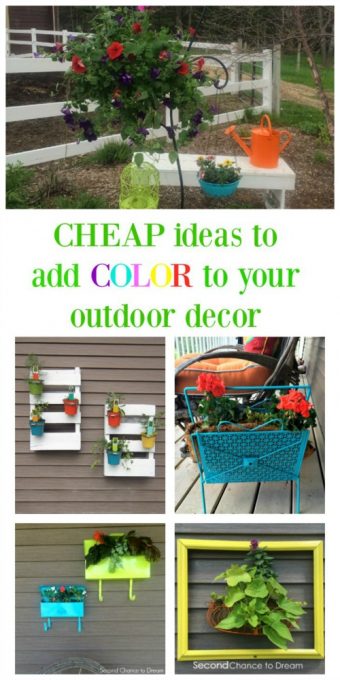 I'd love to have you follow along. You can subscribe to my RSS Feed or sign up to receive daily Emails delivered to your inbox. You can also follow along via Facebook, Google + or Twitter.
(Visited 132 times, 1 visits today)