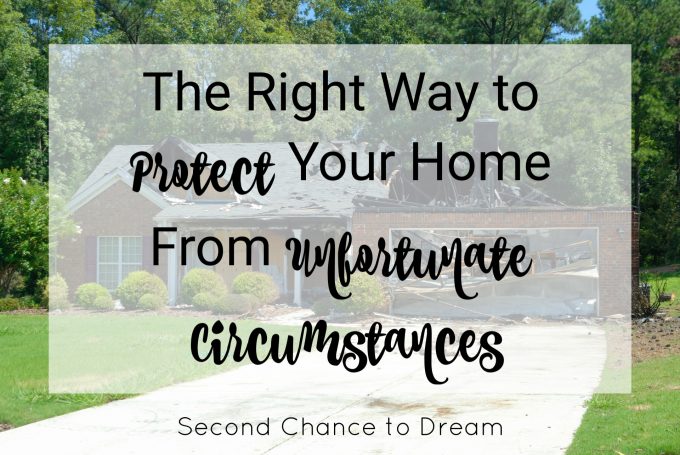 By Carla Lasko
It might not be often that life throws a curveball at you, but when it does, you'll wish you'd have seen it earlier. One of the most unfortunate circumstances that we could face is if our home suffers from some kind of incident. This could be due to circumstances outside of our control (such as adverse weather conditions) or it could be something that might have been prevented if we took a little more time to secure our home to ensure it's safe.
So to give you some advice, here are a few tips on how to correctly protect your home from unfortunate circumstances.
Make sure your home is protected from burglars
The last thing you want is to have your home invaded by burglars when you least expect it. Fortunately, it's often very easy to deter thieves by having the right countermeasures. Home security can be fairly simple to manage as long as you're well-informed and have the right equipment. For instance, cameras around the perimeter of your home can be a deterrent and keeping your shrubs trimmed so that thieves don't have an easy place to hide is a great strategy to go with your cameras. Fences are also another deterrent and motion-sensing lights can put off thieves from trying to get into your home.
Keep an eye on weather conditions and prepare your home in advance
It's always a good idea to keep an eye on the news so that you can be prepared for any upcoming adverse weather conditions such as storms or even hurricanes. By staying up to date, you can plan in advance to protect your homes such as installing shutters to prevent windows from breaking or stocking up on supplies so that you don't risk running out of clean water and food.
Ensure you know the contact numbers for emergency services
However, if you do eventually suffer from some kind of weather-related damage or even just an accident with your appliances, then it's important to know the contact numbers for emergency. This can include a water damage restoration service like TRILINK Restoration or even your insurance company to help you claim compensation for some of the damages caused by natural disasters and other unfortunate situations. You probably don't need to go as far as having the numbers saved on your phone, but it's worth looking around for local emergency services especially if you live in an area that is prone to natural disasters or adverse weather.
Keep up to date with maintenance tasks
Lastly, it's vital that you stay up to date with any important maintenance tasks in your home. This includes cleaning out hard-to-reach areas of your home like crawl spaces and clearing out your roof of any debris especially after a storm. These maintenance tasks should typically be done on a regular basis to ensure that the overall structure of your home isn't compromised. You should be looking out for pest invasions, leakages, roof damage and other external issues that should be fixed as soon as possible.
I Know You'll Enjoy These Other Posts.  Be Sure To Check Them Out.
4 Easy Ways to Make your Small Space Look Large
I'd love to have you follow along. You can subscribe to my RSS Feed or sign up to receive daily Emails delivered to your inbox. You can also follow along via Facebook, Google + or Twitter.


(Visited 214 times, 2 visits today)