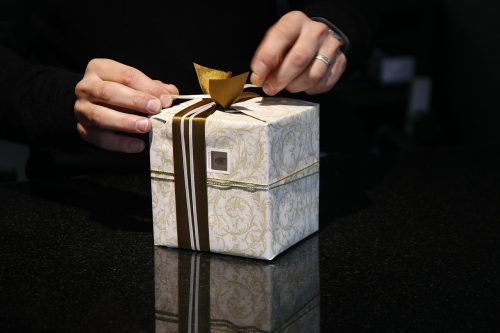 Please let it be something meaningful! 
We've all been there. That last-minute rush to buy a birthday or Christmas present. The need to buy a gift for somebody we barely know. There's no time or scope to buy anything particularly meaningful, so we go for that generic item we think/hope they might like. It's simple; it's functional, and it's boring!
And we have all been on the other side of the coin. That moment when we unwrap a present ourselves, only to find we have been given something that makes little sense to 'who we are.' Probably bought by the person we last gave a useless gift to (sweet revenge), we smile appreciatively and then start to formulate in our mind that listing we are going to put on eBay later on in the day.
So, let's say no to useless/boring/meaningless gifts. For whoever you need to buy for, it is possible to make the gift more meaningful.
Ask the person what they want.

There's no simpler way to make sure you actually get the person something they will value. They will be happy to receive something useful, and you will be happy that you haven't disappointed them. Easy!
Speak to the person's friends and family.

If you would rather surprise the person than flat out ask them, then speak to those who know them the best. They will tell you what the person is into, and you can buy something more meaningful for the individual in question as a result.
Give a gift card.

Okay, so we realize this can easily be seen as one of those last-minute mindless presents, but not when you know what the person is into. Don't give a supermarket gift card or something equally general and generic, but choose from a range of

custom gift

cards

according to the person's hobbies and interests. It shows that you have actually spent some time considering the individual, and not just gone for the usual cop-out option.
Give something homemade.

Don't give in to rampant consumerism. Giving the person a gift you have made yourself is generally cheaper than a store-bought item, and can be considered meaningful because you have actually spent time preparing the gift yourself. It's still worth knowing what the person is into, of course, but there are some homemade gifts that most people will appreciate, including

essential oil gifts

for those pamper nights and edible items that (assuming you have culinary skills) can be enjoyed by nearly everyone.
Donate to a charity.

If you know the person has a passion for a particular cause, make a donation in the person's name. This is way better than giving something to a person who has nearly everything they want anyway and will give you both that personal reward knowing that you have gifted something to those people

who genuinely need something

extra in their lives.
And those were just our ideas. Gift-giving isn't easy, but it is possible to give something a little more meaningful, even when you're in a last-minute rush. Let us know your thoughts too. Christmas is coming up, so we would all benefit from knowing how to give a more meaningful gift at this time of the year. Let's hope we receive something meaningful too!
I'd love to have you follow along. You can subscribe to my RSS Feed or sign up to receive daily Emails delivered to your inbox. You can also follow along via Facebook, Google +, or Twitter.





(Visited 476 times, 1 visits today)