Are you looking at buying a new home that you love, and that home happens to have a pool? Do you think that a pool could make your life more enjoyable, maybe even complete? Maybe you're thinking of installing a pool in a property that you already own.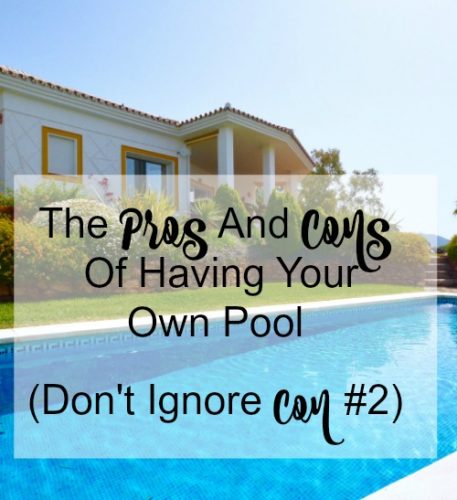 This isn't a decision that you should take lightly. Knowing whether a pool is right for you or not first is a must. In this article, you'll find the pros and cons of having your own pool, so you can make an informed decision and not one that will haunt you for the rest of your days. Read on to learn more!
Pro 1: You Can Have Hours Of Fun With The People You Love The Most
The most obvious pro to having a pool is being able to have hours of fun with the people you love. Whether you're inviting your friends and extended family over, or you're simply spending time with your immediate and closest family, you can spend hours swimming, floating, splashing, and relaxing by your pool. Your pool can make it almost impossible to get bored.
Con 1: Swimming Pools Can Be Difficult To Maintain
It's worth remembering just how difficult swimming pools can be to maintain before you decide to splash the cash. You'll need to make sure that everything is kept as clean as possible, and that you have the right chemicals to stop algae and bacteria from forming. If you don't maintain your pool properly, you can bet that the people swimming in it are going to get very sick. You need to be prepared to stay on top of your pool maintenance.
Pro 2:  Your Kids Will Likely Want To Bring Their Friends Over
When you have kids, there's nothing worse than not really knowing where they are or who they are with. When you have a pool, you're more than likely going to become known as the 'cool house'. This means you'll probably know where your kids are the majority of the time, and you'll be able to get to know the people they are spending time with, too.
Con 2: You'll Want To Supervise Your Kids At All Times
If you have kids, especially young kids, then it's imperative you supervise them at all times around the pool. It takes literally seconds for something terrible to happen. Your child could fall in – and lots of tragedies have happened this way. You must have eyes in the back of your head, and you're going to want to make sure you have a high-quality fence and other security equipment to ensure that your pool is off limits when you can't be there.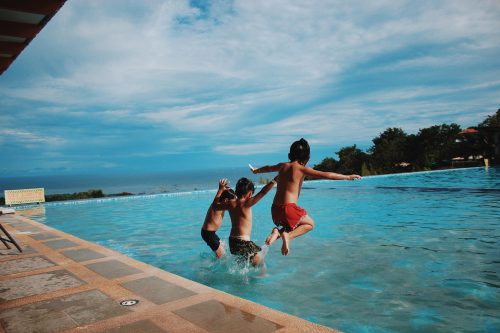 Pro 3: They Can Be Perfect For Parties And Entertaining
Your pool can be the perfect place for parties and entertaining. No need to find another venue when you have your pool. You can host your very own pool parties, which will be the perfect way to get all of your friends together or celebrate a child's birthday.
Con 3: Swimming Pools Are A Huge Investment
You have to remember that swimming pools are a huge investment. Both your time and money will need to go into your pool if you're going to keep it in the best possible condition. You won't just have to fork out the initial cost of the pool; you'll have to pay for chemicals, cleaning services, and repairs. It really is a long-term investment, and the costs never stop.
Pro 4: They Can Look Great
You can't deny that a pool can look great outside of your home. It can make your home look like a true luxury home, especially if you have a company like ABC Home & Commercial Pool Services take care of your maintenance for you. Having a professional company look after the pool will ensure it's clean and healthy for people to use. You'll need to be willing to spend more money, but you'll save a ton of time and hassle. You'll have far more peace of mind too!
Con 4: There's No Guarantee You'll Get A ROI If You Sell Your Home
When it comes to selling your home, there's no guarantee that you'll make a return on your investment. Installing a pool because you think it's going to make your home more valuable is completely the wrong thing to do. You might get lower offers for your home, as some people even see owning a pool as a con. They might not want a pool as it could put their kids in danger. The only reason you should get a pool is to enjoy it with the people you love. Don't get one to make a profit!
Pro 5: They Can Encourage You To Stay In Shape
A pool could be just what you need to encourage you to stay in shape. Of course, if you're not already the active type, you probably shouldn't rely on a pool to get you moving. However, if you enjoy staying active as it is, a pool can give you something to switch up your routine. You'll have fun while exercising, be able to work on your swim technique and become a fitter and healthier version of yourself. You could also use it to teach your kids to swim and keep them fit and healthy, too.  
Con 5: Your Utility Bills Will Shoot Up
Don't be surprised when your utility bills shoot up due to the pool. They will likely get substantially higher, so make sure you account for this before deciding to have a pool installed. How much can you realistically afford? Make sure you figure this out and then figure out how much your pool is going to cost you.
There you have them: the pros and cons of owning your own pool. For some, a pool will be a dream come true. For others, it can be a nightmare. Make sure you think about things carefully before you decide what to do!
I'd love to have you follow along. You can subscribe to my RSS Feed or sign up to receive daily Emails delivered to your inbox. You can also follow along via Facebook, Google + or Twitter.







(Visited 646 times, 1 visits today)