By Aurora McCausland
As parents, all we want is for our children to be happy and healthy. That's often a lot easier said than done, but that doesn't stop us from trying our best. We find ourselves going to drastic measures, sometimes, to make sure that our children are well provided for and developing at a normal rate. One thing that seems to be a constant struggle for most parents, is nutrition. When it comes to your kids, it's hard to reason with them and explain that broccoli and spinach are great for their bodies, when what they really want is leftover Halloween candy and cereal. Sometimes, you have to accept the lesser of two evils, but it's entirely possible to have snacks your children love that you also feel good about feeding them. Here are a few favorite snack ideas to keep stocked in your fridge and pantry to keep your kids happy and your conscious clear.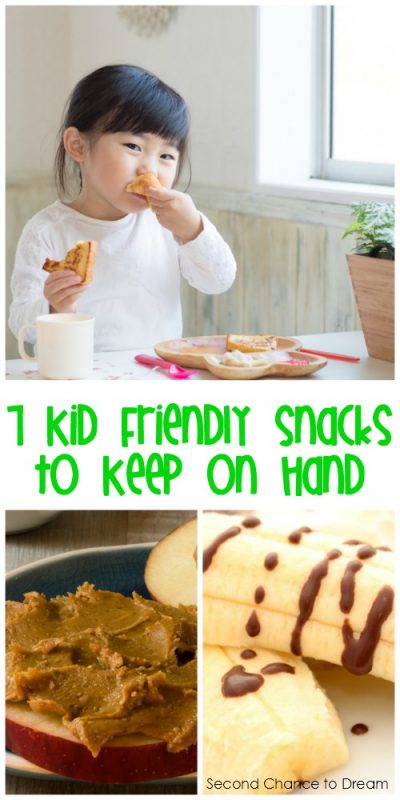 Chocolate dipped bananas
A fun treat and especially good frozen for these upcoming summer months are chocolate dipped bananas. You can usually get away with only dipping a small portion of the banana in chocolate. The easiest way to do this is to stick a popsicle stick through the bottom of the banana, dip it in chocolate, and lay it on parchment paper on a cookie sheet in the freezer and allow the chocolate to harden.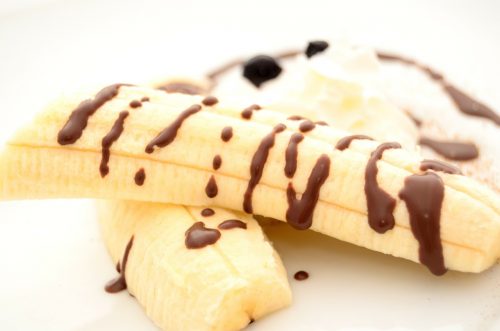 Frozen yogurt fruit bites
Take an ice cube tray, and put some of your child's favorite fruits into each cup. Fill the cup the rest of the way with yogurt, and then freeze. This is a great source of calcium as well as a fun way to eat fruit.
PB&J Apples
Kids love when you have a fun and creative way to eat some of their favorite snacks. Instead of a traditional peanut butter and jelly sandwich, swap out the bread with apple slices. Take a whole apple, and cut it into slices by width, and then cut out the core in each slice(you can also core the apple before slicing if that is easier for you).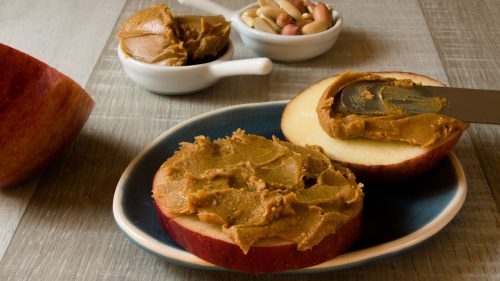 Donut apples
Another fun way to eat apples! Cut apple slices just like you would for the PB&J Apples, and then cover the top of the slice with peanut butter or another type of sauce topping. You can also sprinkle the slices with sprinkles, to further promote the donut illusion.
Mini pepper pizzas
If you put enough cheese on it, your kids will probably eat vegetables. Take a mini pepper and cut it in half. Top each half with spaghetti sauce, cheese, and other pizza toppings like pepperoni, or whatever else your children like. Toss them in the oven until the pepper is soft, but not quite wrinkly.
Mini zucchini pizzas
Speaking of mini pizzas, zucchini is another great vegetable to pretend is a pizza. Zucchini has a very mild flavor, so it isn't hard for children to eat if you dress it the right way. Cut thick slices(so it's easy to hold onto), top with all of the pizza toppings, and then put in the oven(350 degrees should be fine) and cook it until you can easily poke a fork all the way through the zucchini slice.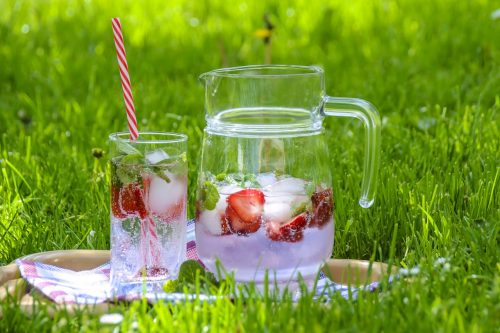 Fruit water
It's no secret that kids love juice. Despite its fruity origins, fruit juice really isn't a healthy option for your kids. Most, if not all, of the fiber of the fruit, is stripped during the juicing process, leaving you with a tasty and somewhat sugary drink(most fruit juices also have added sugar!). If you have a hard time getting your child to drink just plain tap water, you can try infusing water with fruit and seeing if your children will drink this instead! It will have a sweet, understated flavor with none of the sugar juice. You can try different fruit flavors until you find something that your kids like! Berries and oranges are great for giving off flavor through the water. Place all of the cut fruit in a pitcher of water and leave it in your fridge overnight, for best results.
I'd love to have you follow along. You can subscribe to my RSS Feed or sign up to receive daily Emails delivered to your inbox. You can also follow along via Facebook, Google + or Twitter.







(Visited 730 times, 1 visits today)