Do you love smoothies?  If so you're going to love this post on 10 Scrumptious Smoothie Recipes along with some tips on how to prep for them. 
Smoothies are a great way to watch your food intake as well as get breakfast or lunch in on those crazy busy days.  Here are some smoothie recipes that I rounded up for you.  I'm sure you'll find one or two you'll love to try.
10 Scrumptious Smoothie Recipes
This power smoothie recipe was a huge help to me when my son was in a really bad snowmobile accident.  I had NO appetite but I knew I needed to eat something to keep my energy up.

 Strawberry Mango Coconut Smoothie by Reuse Grow Enjoy

 Fresh Melon Smoothie by Greta's Day
Orange Banana Yogurt Smoothie by 3 Boys and a Dog
Raspberry Chocolate Chip Skinny Smoothie by Momma Rambles
Here are a couple ideas that will help you be organized and prep your smoothies. Making smoothie packs speeds up the whole process.
Make your own Greek Yogurt Smoothie Packs by Robyn's World
My garden can grow kale like a champion and I have an abundance growing in my garden.   Make sure you check out this post on freezing fresh kale for those winter smoothies.
Freeze Fresh Kale for Winter Smoothies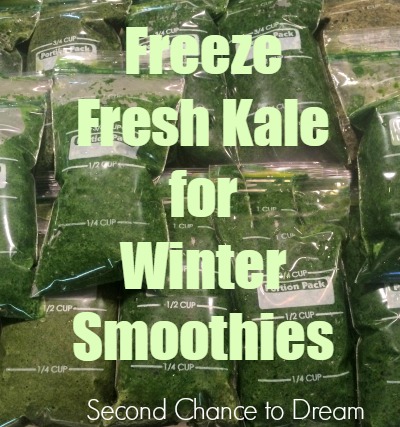 I'd love to have you follow along. You can subscribe to my RSS Feed or sign up to receive daily Emails delivered to your inbox. You can also follow along via Facebook, Google + or Twitter.
(Visited 225 times, 2 visits today)