There are various ways to teach your kids value.  Not just the value of money, but the value of life.  The idea of gardening with your kids and nurturing it while it flourishes to its full form is invaluable.
Kids who spend time in the garden, growing and tending to their plants, become fascinated with how it all works. Not to mention the incredible bond that can be created through gardening with your kids. In this generation, with endless gadgets consuming our time, it's  important for kids to have a meaningful family connection.  There is nothing like time in the garden to promote values and bonding time that will last a lifetime.
Where exactly can you and your kids start this process? Even if you don't own a garden you can still create a garden and involve the same structure. The upkeep of plants and garden items brings a sense of pride and ownership. Even before the idea of a pet, see if it's possible for your children to tend to a few plants.
When children participate in gardening, the labors of your harvest will have a positive effect on their body. Kids benefit from a little more physical activity and sunshine they'll receive while playing and working in the garden. Activities like moving soil, digging and pushing a wheelbarrow can promote strength and an overall increase in fitness.
Let's go through some steps on how to get started on gardening with your kids!
Find or create an empty spot
Make planting easier, prepare the spot by preparing the soil and shoveling it with your children.  Some may prefer to get this done alone, but if you have a child that's a little older, it's a great part to do together. To create a spot, buy some soil and some flower pots to get started.
Find the right plants
Plants in a garden you're planting with your child should be easy to grow plants that flourish without much upkeep and bloom without fertilizer. Using only water and sunlight will be much healthier for your children and the plants. This allows also for quicker grow time showing progress and keeping your children more involved.
One of the best ideas is to grow vegetables. These are easily attainable from a pack of seeds and show stages of progress which is ideal for young kids. Some great starter vegetables are:
Radishes
Salad greens (lettuce, spinach, arugula and corn salad)
Green beans
Onions
Strawberries
Peppers
Bush zucchini
Tomatoes
Educate them on how to plant
Kids are quick to want to get their hands dirty and learn right away what to do. Use this as a leverage to get them to plant everything you've bought and explained carefully how and why you are doing what you're doing. Allow them to feel the pride and hard work from planting.
Teach them how to water & take care of the plants
When all are planted, water them well. Understand the growth cycle of each plant as to educate your children properly. Know the weather of upcoming days so you can plan when to water and to make sure your kids are around to be a part of the process.
Play with your Kids
In all the work and structure of gardening, there needs to be time for fun. There are a lot of ideas of having a play time in the backyard or in the garden. Water pool games, badminton, and other activities are suitable. But one of the best ways to have a rest is setting up a ping-pong table in the backyard. You can make it out of anything or purchase one, used which is usually inexpensive. You can get some equipment ideas from TheTwinSpin blog.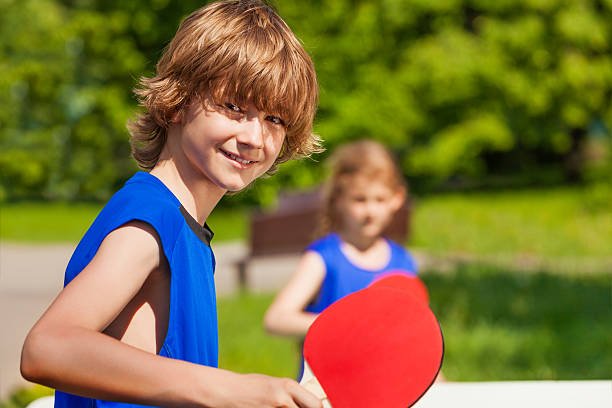 Ping Pong is a great sport and lends itself to more enjoyment outside. It teaches great hand-eye co-ordination and is a large community of players. In most cases, paddles and other stuff is not expensive and can be ordered from Amazon and other online stores.
Capture the moments on video/pictures
In an age of social media, it's cool to take on the filming and capturing of your children's planting moment in the garden. Allow them to see and others over time the hard work and effort put in. Plus, it works as a great teacher to your kids on what to do or not do.
These are just a few steps to get your gardening underway. Through all of these, you will see that you child is starting to build stronger characteristics which include, attention to detail, working with their hands, knowledge of plant science, confidence, self-sufficiency, and love of other forms of life.
Now onto some great tips, you and your kids can do together!
Create a portfolio
Using a photo album, add tags to it each season. Then, make it detailed by adding information. Involve your kids by adding drawings and keeping them informed of what is being done. Let them create their own portfolio as well and have it be a routine to update every week.
Decide on a space
Take your kids and find the perfect spot to build your garden. Take pictures and work together to dig out soil and clean the area. It's a great bonding experience and adheres to the idea of importance with a project.
Make it a daily routine
Stress the importance of keeping up the daily task of gardening. While gardening takes patience, it's uplifting to children to see you take appreciation in something you've started together. Make sure they are keeping tabs and learning daily about their plants or vegetables they've planted themselves.
Water, Water, Water!
This is one the kids can do themselves but it's crucial to keeping your garden alive. During the season, you should be watering your plants every day (unless there is rainfall). Make it a routine that you and your kids go out together and have them water all plants while telling you what they are.
Involve your children in gardening and see how much they grow and appreciate life. Take them away from screens and noise, to a place outside where together you can build and grow vegetables, plants, and trees. The values they will learn will last a lifetime, teaching the generations to come to the incredible idea of gardening.
Here are some of my other fun gardening posts.  I know you'll want to check them out!
Here is a gardening project I did with my granddaughter.  Herb Garden in a Recycled Water Trough
How to keep your kids entertained this summer
I'd love to have you follow along. You can subscribe to my RSS Feed or sign up to receive daily Emails delivered to your inbox. You can also follow along via Facebook, Google + or Twitter.
(Visited 543 times, 1 visits today)