I just finished teaching a lesson yesterday in our women's Bible study about God as a Rewarder. In the process of studying for the lesson, I was amazed to learn how much God really does want to reward us and also the reason we don't always feel rewarded.  Read on to learn what I learned.
Definition of re·ward:
something given or received in return for a deed or service rendered
a sum of money offered esp. for help
profit or return
something received in return for good or evil; deserts
Synonyms: Prize, payment, compensate, benefit, bonus, bounty
Here are a few verses that talk about how God wants to reward us:
Hebrews 11:6 And without faith it is impossible to please him, for whoever would draw near to God must believe that he exists and that he rewards those who seek him.
1 Samuel 26:23 The Lord rewards every man for his righteousness and his faithfulness, for the Lord gave you into my hand today, and I would not put out my hand against the Lord's anointed.
Genesis 15: 1 After these things the word of the Lord came to Abram in a vision: "Fear not, Abram, I am your shield; your reward shall be very great."
The ultimate reward we receive as a believer is an eternal life. If that is all we received from Him that would be more than enough.
But I believe God wants to reward us not just eternally, but here and now and every day.
I took some time to pray and seek God and ask Him what the ladies and I really needed to hear on the topic of Him as a rewarder and this is what He I believe He showed me.
I so desperately want these women to believe, to see and to receive my rewards.
So, I asked Him why we don't believe, see or receive.
1. Unbelief- We don't believe He will give us rewards
We've hoped for rewards, but haven't gotten them when we wanted them so we give up on them. We shut that desire down because we think we can't have, or shouldn't have it.  God reminded me that there are times He's not ready or we're not ready.  He's working on levels in ways we can't always see. He's working but we give up and then hardness of heart starts and you think I'm not for you.
God wants our heart first and foremost and sometimes there is some chiseling or pruning that must take place first before the reward comes.  He wants to know I want him, not only what He can give me. Sometimes if I receive the reward too soon, then it's all about me, what I did!  His timing is always perfect!
 2.  We're given rewards but we don't see or recognize them
Our expectations can be set on things we want (worldly things) and He gives the reward in another way and we don't always see it or recognize it. We aren't in tune with what he's doing. We are living our own life in our own way, going about things in the way we want when He's over there with His hands wide open wanting to give to them.  Sometimes we are focused on seeking our own rewards, not His.
3. We don't take the rewards He does give us
There are lots of reasons we don't receive His rewards.  They range from the belief that I don't deserve them.  I have been given enough, I'm to be content with what I've been given.  Or, for those of you who have abuse in your past you are terrified to receive those rewards, because what are they going to cost you.  Sometimes those desires being awakened for More we don't always know what to do with them.  We feel frustrated and then take them and stuff them all back into the corners of our heart.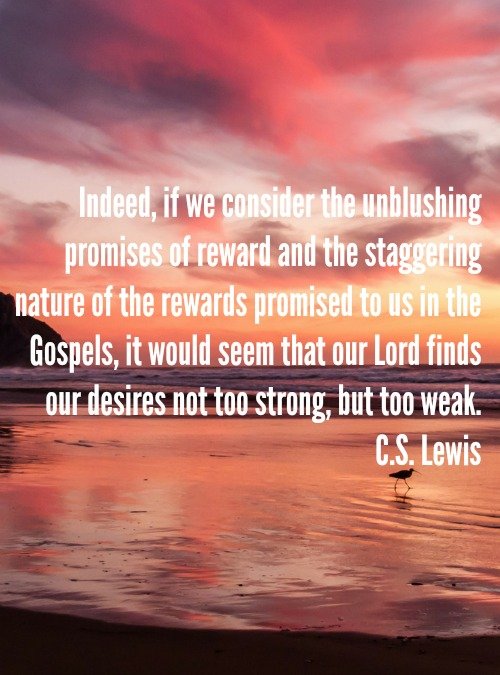 God wants to give us more!  
Eph. 3:20 Now all glory to God, who is able, through his mighty power at work within us, to accomplish infinitely more than we might ask or think.
 Why does God want to give us more?  So that you are alive and show that life to the world.  He created you to be alive, vibrant image bearers of himself.
Indeed, if we consider the unblushing promises of reward and the staggering nature of the rewards promised to us in the Gospels, it would seem that our Lord finds our desires not too strong, but too weak.  C.S. Lewis
Where do you find yourself in these 3 areas?    I'd love to hear any comments you might have.
You might enjoy this post on Fighting Fear when it tries to suck you under.
I'd love to have you follow along. You can subscribe to my RSS Feed or sign up to receive daily Emails delivered to your inbox. You can also follow along via Facebook, Google + or Twitter.
(Visited 372 times, 2 visits today)