We've all heard the famous phrase that you shouldn't judge a book by its cover – but one question that a lot of us are asking ourselves is whether or not that applies to our homes as well as our reading material. Can you tell anything about a house's occupants by the way that their home looks on the outside – and is it just as important for the outside of your home to be just as beautiful as it is functional? If your answer to both of those questions is 'yes', read on for some tips on how to make the outside of your home gorgeous again.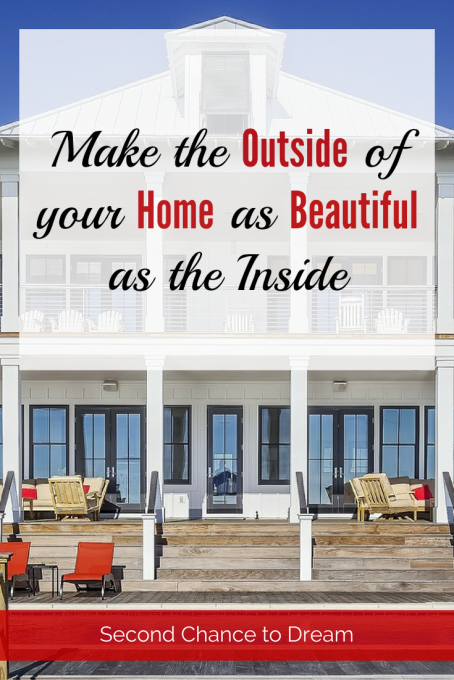 Add A Coat Of Paint
First of all, if the paint job on the outside of your house is starting to look more than a little lackluster, it's time to update that. You might think that you have to repaint everything the same color as it's always been but why not modernize it a little? You don't need to keep your front door black or white – pick your favorite color and paint it glossy red, sunshine yellow or grass green instead, to add a little fun and personality to the outside of your home. Likewise, make sure that your walls are always freshly painted – there's nothing like graying whitewash to make a house look behind the times and dingy. If you have a front gate, it's a good idea to remove the rust and repaint every couple of years, and you should also make sure that your front wall is free of cracked and peeling paint.
 
Get Landscaping
If you're lucky enough to have a small green space outside your home then you may as well keep it looking good and up to date. Plant fragrant plants alongside the path to the front door like honeysuckle and even lavender so that anyone approaching your home is greeted by a pleasant aroma – you'll also find that you enjoy it every time you go out or come home. If you have trees in your front garden you need to make sure that they don't end up blocking out the sun and making your home too dark. Services like http://www.treeservice-fortworth.com/ can always help you to figure out what exactly you should do with your trees. When it's fall, make sure that you clear away any fallen leaves.
Image source
Focus On Your Paving
Finally, it's time to make sure that your front path and driveway are paved neatly. A lot of us think of this as something that isn't particularly important but the truth is that not only does fresh paving and new bricks look good, but it also makes the front of your house a whole lot safer for anyone who's approaching it – you don't want anyone to end up tripping over a rogue paving slab or brick, after all. It's also a good idea to make sure that it's non-slip and there's a little texture there so that it doesn't get slippery when it starts raining.
Thank you, Kristian Howell, for the great information!
I'd love to have you follow along. You can subscribe to my RSS Feed or sign up to receive daily Emails delivered to your inbox. You can also follow along via Facebook, Google +, or Twitter.




(Visited 631 times, 1 visits today)