The hustle and bustle of Christmas is here. Everywhere we look there are people celebrating and there's an excitement in the air. I love the Christmas season. I love the lights and the color Christmas brings. I love the smells of Christmas.  I love Christmas!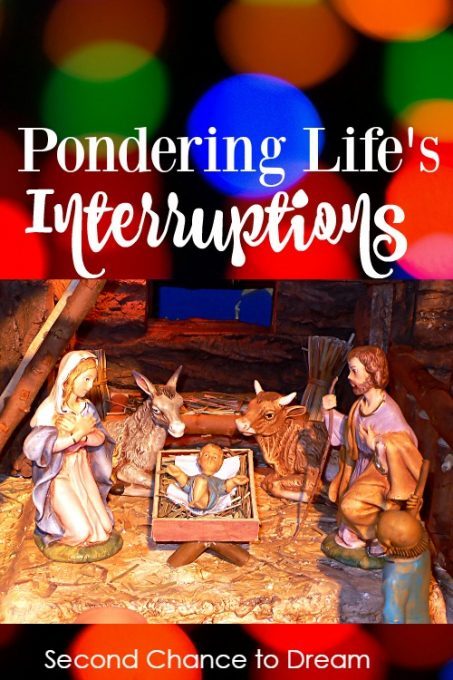 Every year at Christmas I try to sit down and imagine what life was like when Jesus was born.  I don't want to lose the meaning of Christmas and it's easy to do with all the hustle and bustle. This year my pondering came after waking up very early in the morning.  (I get my best stuff from Jesus at that time.)  As I was sitting in the dark in front of the Christmas tree I started imagining what was going on in the culture at the time of Jesus birth.  We know the Jews were waiting for the prophesied Messiah.  They wanted a King who would come to save them! But they got a baby who was born in a barn, not a palace.  Not quite what the Jews were expecting.
My mind went quickly to Mary.  When Mary was a little girl what did she dream of becoming as she grew into a woman?  Did she imagine that her life would take such an unusual turn? Did she ever expect that an angel would come to her and tell her she was going to have a baby by God himself?   Was she terrified and freaking out as the angel spoke to her?  Was she panicking and trying to figure out how was she ever going to explain that she was pregnant by God? How was she going to tell Joseph. Her whole reputation was going to be ruined.
I can't imagine the fear that must've been going through Mary's mind. Were there times over the course of the pregnancy where she stopped and said what the heck?  Did I just make this all up?  Did God really tell me I'm carrying the His son?  Did she resent this life interruption or did she cling so tightly to the angels words spoken to her that day that she rested solely upon the honor that God called her to?
What were Mary and Joseph's expectations for life? I'm guessing a surprise pregnancy from the Holy Spirit wasn't on their list of life goals.  What if she had thrown a fit and said I don't want to do it?  Or pretend she didn't really hear Him correctly?  It made me stop to think about all the things in my life, my interruptions.  Is God in my interruptions?  Did He really just ask me to do that? Is He asking me to step waaaaaaay out of my comfort zone to do something that seems impossible for me to do?  Am I being obedient?  Am I looking at my surroundings or am I clinging to the promises God has given me? My life hasn't gone the way I dreamed it would as little girl.  There have been many, many interruptions.  God hasn't caused all the interruptions in my life, my sin has caused some, but I can say that He hasn't wasted any of the interruptions that have taken place in my life.  He's used them in mighty ways to bring glory to Him.
What about you?  Are you fighting the interruptions in your life? Is God calling you to something you are refusing to do?    What are your expectations towards life's interruptions?  Take some time this weekend to sit down and look at the interruptions in your life and see if you can see Him working in the midst of those.  Take some time, too, to ponder Jesus gift for you at Christmas.
If you are struggling with being overwhelmed this Christmas Season please read The Great Expectations of Christmas.
(Visited 478 times, 1 visits today)