Peace despite our circumstances is something most of us desperately want and if we are Christians, we have been given an abundance of peace to tap into.  Come learn about the Gospel shoes of peace that are available to us.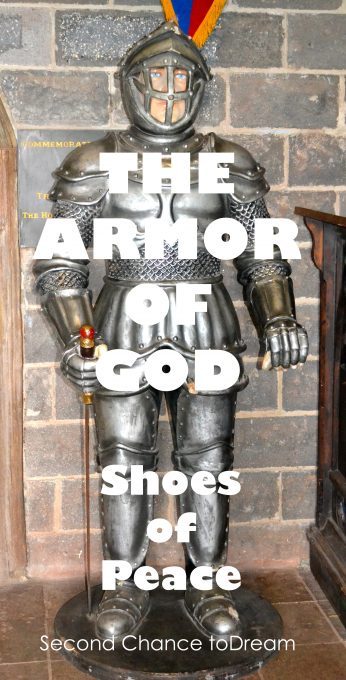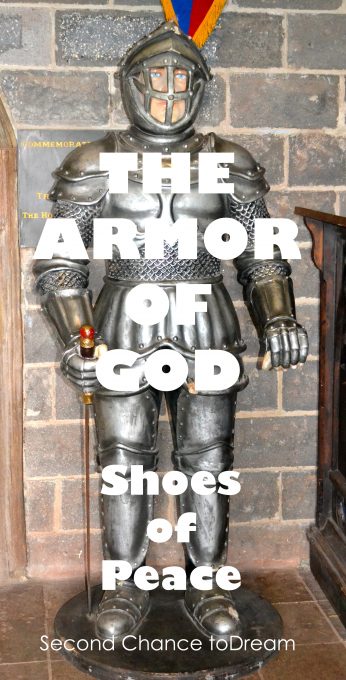 and having strapped on your feet the gospel of peace in preparation [to face the enemy with firm-footed stability and the readiness produced by the good news].  Eph. 6:15 AMP
During the time of the apostle Paul, the shoes worn by the soldiers of the Roman Empire were called caligae. They were specifically designed to keep soldiers' feet steady during a battle.  They had nobs on the bottoms, similar to cleats on a soccer or football shoe.  It allowed them to stand firm while fighting and not slide all around.
The word preparation used in Ephesians 6:15 comes from the Greek word hetoimasia. Vine's Complete Expository Dictionary of Old and New Testament Words  uses  the word hetoimasia in this context: "The Gospel itself is to be the firm footing of the believer."
The Gospel brings peace to the believer. Peace steadies our soul.  It provides a foundation for us. If our mind is peaceful we are much more alert to the battle going on around us.  We can handle things that come against us much better than when we are wrought with anxiety. When we are anxious we aren't alert to the fiery darts coming at us and have a much greater risk of being wounded by those darts.
 "Stand your ground, putting on the belt of truth and the body armor of God's righteousness. For shoes, put on the peace that comes from the Good News so that you will be fully prepared." Ephesians 6:14-15 NLT
What is one area in your life that you NEED God's peace?
________________________________________________________________________________
We keep our peace by knowing and remembering 2 things:
God is in charge

God is very good
The reason that we are anxious is because we don't always trust that God is in control or that He has our best interest at heart.   We believe the lies the enemy whispers to us, that God isn't for us, that He won't come through. We then rehearse those over and over believing the lies over the truth.
God is in charge:
"You saw me before I was born. Every day of my life was recorded in your book. Every moment was laid out before a single day had passed. How precious are your thoughts about me, O God. They cannot be numbered!" Psalms 139:16-17 NLT

"Looking away [from all that will distract] to Jesus, Who is the Leader and the Source of our faith [giving the first incentive for our belief] and is also its Finisher [bringing it to maturity and perfection]." Hebrews 12:2a AMP
God is very good
"The Lord appeared to him from far away. I have loved you with an everlasting love; therefore I have continued my faithfulness to you." Jeremiah 31:3 ESV

"He who did not spare his own Son but gave him up for us all, how will he not also with him graciously give us all things?" Romans 8:32 ESV

"Then Christ will make his home in your hearts as you trust in him. Your roots will grow down into God's love and keep you strong. And may you have the power to understand, as all God's people should, how wide, how long, how high, and how deep his love is. May you experience the love of Christ, though it is too great to understand fully. Then you will be made complete with all the fullness of life and power that comes from God." Ephesians 3:17-19 NLT
How would your peace increase if you believed that God is in charge and the He is good?  Would your peace increase?  If you struggle to believe that journal and ask God to show you why and then work it through with Him.
________________________________________________________________________________
Pursuing Peace:
 "For Whoever desires to love life and see good days, let him keep his tongue from evil and his lips from speaking deceit; let him turn away from evil and do good; let him seek peace and pursue it. For the eyes of the Lord are on the righteous, and his ears are open to their prayer. But the face of the Lord is against those who do evil." 1 Peter 3:10-12 ESV
What does it look like in your life to seek peace and pursue it?
________________________________________________________________________________
 "Do not be anxious or worried about anything, but in everything [every circumstance and situation] by prayer and petition with thanksgiving, continue to make your [specific] requests known to God. 7 And the peace of God [that peace which reassures the heart, that peace] which transcends all understanding, [that peace which] stands guard over your hearts and your minds in Christ Jesus [is yours]." Phil 4:6-7 AMP
What causes peace to guard your hearts?
________________________________________________________________________________
"Let the peace of Christ [the inner calm of one who walks daily with Him] be the controlling factor in your hearts [deciding and settling questions that arise]. To this peace indeed you were called as members in one body [of believers]. And be thankful [to God always]." Col. 3:15 AMP
What are we to do in the last sentence?
________________________________________________________________________________
Write down 3 things that you are grateful to God for despite whatever difficulty is going on in your life right now.
________________________________________________________________________________
If you're struggling to grasp peace in your life, here are some truth statements that you can rehearse instead of the lies.  Read these morning and night OUT LOUD and see if your life doesn't change.
By faith, I put on the shoes of peace today. Anywhere my foot steps, I am protected by God's powerful peace! 

Jesus gave me His very own peace…the peace that He had when He walked this earth. I refuse to give up my gift of peace regardless of the circumstances I find myself in. (John 14:27)

God Himself will keep me in perfect peace as I fix my mind steadily on Him. (Isa. 26:3)

The Lord of peace gives me peace at all times and in every way. He is always with me. (1 Thes. 3:16)

I will turn away from evil and do what is good. Today, I will seek out rest and peace and actively pursue it! The Holy Spirit will teach me how to do this. (1 Peter 3:11)

The peace of Jesus rules my heart. Peace is my mode of operations. Everything I do and say flows from a heart and mind at peace in Christ. (Col 3:15)

I refuse to be bullied by fear and anxiety. When confronted by these bullies, I simply stop and talk to God about what I'm struggling with. He restores by peace. (Phil 4:6)

No matter what happens to me in this world, in Christ I have the peace of Heaven. Christ has overcome this world and deprived it of its power to harm me. (John 16:33)

Just like Jesus, I speak to the raging waters over my life and say, Peace, be still!  I speak peace over my body, my thoughts, my spirit, my family and my future, in Jesus Name.  (Mark 4:39)

I am at rest with Jesus today. By faith, I have entered the rest of God and will experience that rest throughout this entire day. (Heb 4:3)
 Peace is available to us!  We need to choose to strap those shoes of peace onto our feet and steady our stance.
Check out the other posts on the Armor of God:
The Breastplate of Righteousness
Printable Scripture Memory Cards on Peace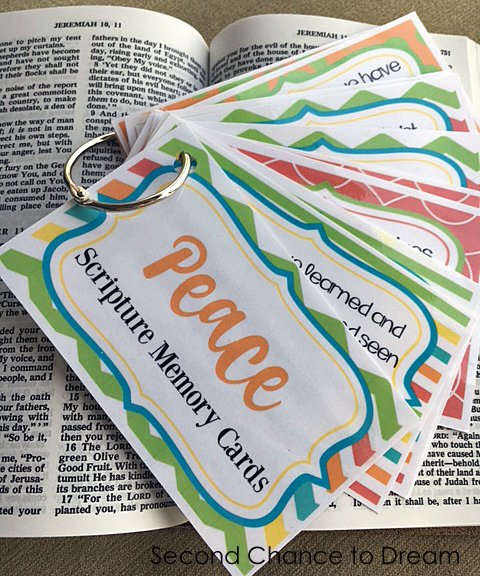 I'd love to have you follow along. You can subscribe to my RSS Feed or sign up to receive daily Emails delivered to your inbox . You can also follow along via Facebook, Google + or Twitter.





(Visited 599 times, 7 visits today)