The next piece of the Armor of God is the Breastplate of Righteousness.
"Therefore take up the whole armor of God, that you may be able to withstand in the evil day, and having done all, to stand firm. Stand therefore, having fastened on the belt of truth, and having put on the breastplate of righteousness…" Ephesians 6:13-14 ESV
Before a soldier went into battle he would dress himself in his armor.  The breastplate  would protect the vital organs of the body: Heart, liver, lungs, and stomach. Any of these places, if pierced could be fatal blow and lead to death. When we became a Christian we were given Christ's Righteousness to protect us, to wear and access at all times.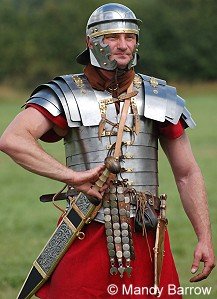 What is the definition Righteousness?
the quality or state of being righteous.
righteous conduct, fairness, honor, justice, respectability.
the quality or state of being just or rightful.
There are 3 ways we tend to live out righteousness.
Option 1: Self-righteousness 
We can choose to rely on our own righteousness which the Bible defines as filthy rags.
"We are all infected and impure with sin. When we display our righteous deeds, they are nothing but filthy rags." Isaiah 64:6a NLT
We can NOT earn our own righteousness.
Option 2: No righteousness
We realize our own inability to save ourselves or be good enough but still refuse to turn to the Savior Jesus Christ. We feel that our mistakes are too great that God could never forgive us.
Option 3: Christ's Righteousness 
Receive Christ's righteousness as our very own. His righteousness becoming ours as a gift, not worked for or earned, but simply received as a gift from God by faith in Jesus.
"For the wages of sin is death, but the free gift of God is eternal life through Christ Jesus our Lord." Romans 6:23 NLT
"If at the outset we try to do anything, we get nothing; if we seek to attain something, we miss everything. For Christianity begins not with a big DO, but with a big DONE." – Watchmen Nee
We can not learn to walk in righteousness until we learn to sit.  We need to sit and soak in all that Christ has done for us. We are to take on and live all that He has done with us.
Ephesians 2:6 And God raised us up with Christ and seated us with him in the heavenly realms in Christ Jesus,says that we are seated with Christ in the heavenlies.
Then we get up and do what He instructs us to do.
As we go along in our christian walk Satan will come at us in the following ways:
Satan's Fiery darts of Accusations:
"And I heard a loud voice in heaven, saying, "Now the salvation and the power and the kingdom of our God and the authority of his Christ have come, for the accuser (the devil) of our brothers has been thrown down, who accuses the day and night before our God." Revelation 12:10 ESV
He comes at us telling us we are sinners, that we will never get it right, but is that the truth? NO!  We are covered in the righteousness of Christ if we are a believer.  When God looks at us He sees Jesus.  We need to flash that breastplate at satan and remind him who we are
Allow sin to go unchecked:
If he doesn't get us hung up with accusations hen he will try to get us to allow sin to go  unchecked in our lives.  He will get us to compare ourselves to someone else saying, "I'm not as bad as her.  I don't do those things".  While doing that we ignore the sin in our lives, which is right where he wants us.
"Come and listen, all you who fear God, and I will tell you what he did for me. For I cried out to him for help, praising him as I spoke. If I had not confessed the sin in my heart, the Lord would not have listened. But God did listen! He paid attention to my prayer. Praise God, who did not ignore my prayer or withdraw his unfailing love from me." Psalms 66:16-20 NLT
Girls lets not ignore the mighty weapon that we have in our possession.  The very righteousness of Christ is ours.  If you are struggling ask Christ if you can borrow His righteousness.  If you don't have energy ask Him for some of His.  If you really don't like your husband today, you can ask Jesus for His love and grace.  It's ours for the asking!  Let's not waste this mighty work.
What are some of the main accusations/lies that Satan throws at you in regards to righteousness?
Is there an area of sin/unrighteousness that you have been allowing In your life that Jesus wants you to confess to Him?
Please check out the previous posts on The Armor God.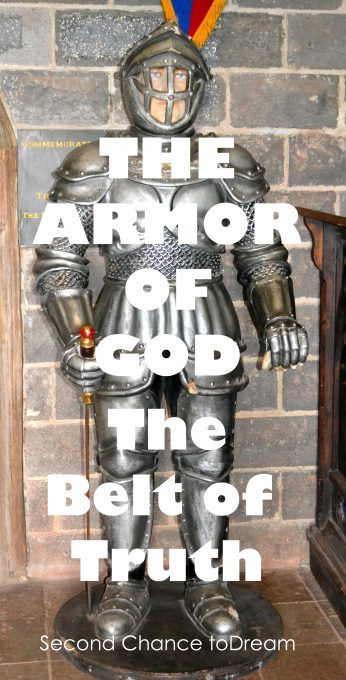 I'd love to have you follow along. You can subscribe to my RSS Feed or sign up to receive daily Emails delivered to your inbox . You can also follow along viaFacebook, Google + or Twitter.







(Visited 1,130 times, 2 visits today)