Today we will be discussing the second part of The Belt of Truth.  I have to be honest, it's hard to take a 45 min. lesson we teach on Monday and shrink it down to 500-750 words in a blog post.  So to do it justice I'm breaking it down into two parts.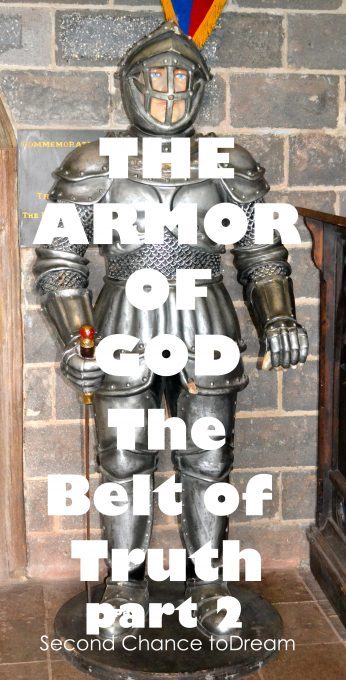 Last week we learned talked about the history of the Roman soldiers belt, the purpose for the belt, what truth is and why we need to be girded in the truth as Christians.  As well as practical ways to get into God's word
What is the purpose for us as Christians to put on the belt?
Ephesians 6:14 KJV Stand therefore, having your loins girt about with truth, and having on the breastplate of righteousness;
to encircle or bind with a belt or band.
to surround; enclose; hem in.
to prepare (oneself) for action: He girded himself for the trial ahead.
to provide, equip, or invest, as with power or strength.
 1.  We are to gird ourselves in the word of God. 
We talked about this last week.
2. The Second reason we are to be girded with truth is to be truthful, genuine and sincere before God, ourselves and with others.
Beth Moore says, The Belt of truth for the Christian is to not live a lie in any part of our lives.  Living free from secret areas of hypocrisy.
Satan LOVES to blackmail Christians who want to keep secrets.  He will toss a us around like a rag doll when we keep things hidden.
Wearing the belt of truth means being raw and honest before God.  Sharing with Him how we are really feeling.  Have you been honest before God in the one area where you need hope so desperately?  Have you poured out your heart to God and confessed that you are angry of frustrated that you have been waiting so long.  Have you told Him and yourself that it's easier just to pack that area away and hide it from the light?
All things become visible when they are exposed by the light, for everything that becomes visible is light Eph. 5:13
Did you know that God knows those secrets and desperately wants you to bring those to Him.  He will not condemn but will welcome you with welcome arms.
You shall know the truth and the truth shall set you free.  John 8:32  Set yourself FREE by being honest.  I know it's scary!
What are the dangers of not wearing the belt?
And do not be conformed to this world, but be transformed by the renewing of your mind, that you may prove what is that good and acceptable and perfect will of God.  Romans 12:2
The world we live in teaches that truth is what we make it—that good and bad are relative and that there are no absolutes, only equally valid opinions. But the Bible teaches that truth is God's Word—that good and bad are defined by Him and that there are eternal and unchangeable absolutes, uninfluenced by opinions.
Paul wrote to the Romans telling them to "not be conformed to this world." Part of that means not buying into a system of belief that says absolute truth is a myth. As Christians, we know both that there is truth and that it is absolute.
If you struggle with knowing and agreeing that God's word is the absolute truth be HONEST before Him and tell Him.  Ask Him to teach you, to lead you into all truth.
These two scriptures talk about the importance of putting on the belt of truth and standing firm.
So that we are no longer children [spiritually immature], tossed back and forth [like ships on a stormy sea] and carried about by every wind of [shifting] doctrine, by the cunning and trickery of [unscrupulous] men, by the deceitful scheming of people ready to do anything [for personal profit]. Eph. 4:14
But he must ask [for wisdom] in faith, without doubting [God's willingness to help], for the one who doubts is like a billowing surge of the sea that is blown about and tossed by the wind.  James 1:6
Let's get practical:
Where in your life are you not being completely honest with God or yourself?  Ask God to show you where.  Then confess that as sin and journal to God your true feelings. If you are struggling tell him.  If you are frustrated, angry, exhausted from the battle tell him.  Use this time to be honest with  yourself and with God.
What area of  your life could benefit from being girded up in truth?  How would your life be different if truth reigned?  Spend some time journaling.
If you think a friend would benefit from this lesson please share it with them.  Sharing is caring. 🙂
You can read week one of the Belt of Truth here.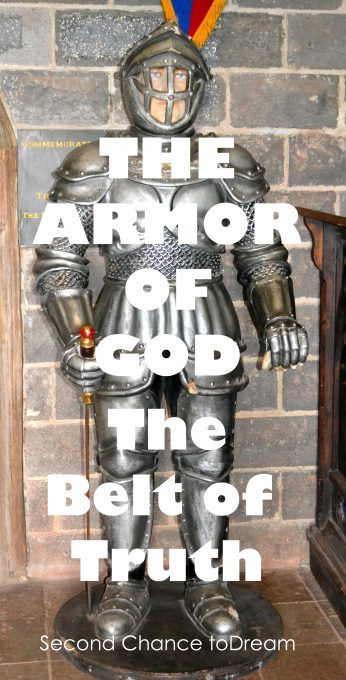 I'd love to have you follow along. You can subscribe to my RSS Feed or sign up to receive dailyEmails delivered to your inbox . You can also follow along viaFacebook, Google + or Twitter.







(Visited 640 times, 1 visits today)