Today were going to talk about The Belt of Truth- the first piece of God's armor.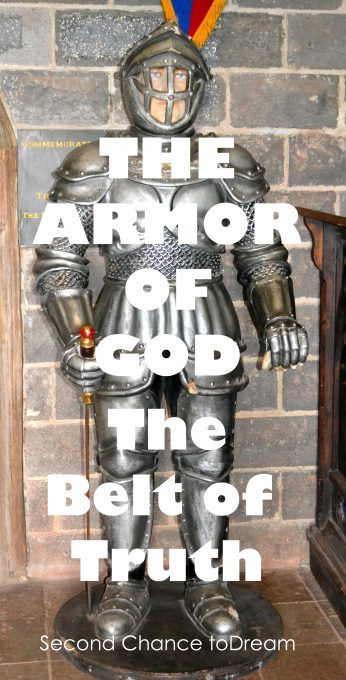 As I was writing this lesson I had the question- why would God start with the belt first? Why not something big like a shield or sword? Why something small.
So stand firm and hold your ground, having tightened the wide band of truth (personal integrity, moral courage) around your waist and having put on the breastplate of righteousness, an upright heart, Eph. 6:14 AMP
What was the purpose and function of a Roman soldier's belt?
The Roman Soldiers Belt was the most important part of the armor. The Belt of the Roman Soldier held the rest of the armor together.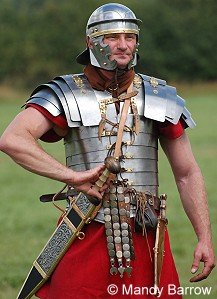 A soldier's belt, was not just for looks, it was an essential piece of military equipment. The belt was crafted of tough leather strips and small brass plates for extra protection.  Wrapping about the loins, this leather belt clung closely to the soldier and shielded some of the most vulnerable areas of the body.
 Also from the belt hung specialized hooks and holders on which to secure the scabbard that contained the sword at the proper angle, the quiver which held lances, and an apparatus on which to rest the large battle shield. Also, on the belt were clips with which to hold the breastplate in its proper place. Supplies of bread, oil and water were also on the belt. In other words, the belt contained everything one would need for battle.
When preparing for battle, a soldier would put on his belt first. The belt was designed to keep other pieces of the soldier's armor in place, including his sword.
 The soldier would also wear a tunic, which was a cloak worn over a short kilt or skirt. Prior to engaging in combat, the soldier would tuck his tunic under his belt, providing maximum freedom of movement for his legs.
What is truth?
The dictionary defines truth as:
the real facts about something: the things that are true
the quality or state of being true
a statement or idea that is true or accepted as true
God defines truth as:
Sanctify them in the truth [set them apart for Your purposes, make them holy]; Your word is truth. John 17:17
What does truth have to do with a belt?
Test all things; hold fast what is good. 1 Thessalonians 5:21
As Christians, we are to test all things and then hold on only to that which is good—the truth—discarding all else. We are to be like the Bereans who "searched the Scriptures daily to find out whether these things were so" Acts 17:11.
Does the belt of truth change because our feelings change?
NO!  We have to hold everything under the light of God's word.
* Our feelings do not always speak truth but yet most of us are led by our feelings in most every decision we make.
What is the purpose for us as Christians to put on the belt?
Ephesians 6:14 KJV Stand therefore, having your loins girt about with truth, and having on the breastplate of righteousness; 
Definition Girt:
to encircle or bind with a belt or band.
to surround; enclose; hem in.
to prepare (oneself) for action: He girded himself for the trial ahead.
to provide, equip, or invest, as with power or strength.
We are to gird ourselves in the word of God.
Jesus said to him, "I am the [only] Way [to God] and the [real] Truth and the [real] Life; no one comes to the Father but through Me.  John 14:6
We aren't Christians without Jesus Christ in our lives. Just as the belt that holds the entire armor together, It is Jesus Christ and only Jesus that is the glue of our lives.
So if Jesus is the glue that holds us together what area in your life needs God's truth today?
But when He, the Spirit of Truth, comes, He will guide you into all the truth [full and complete truth]. For He will not speak on His own initiative, but He will speak whatever He hears [from the Father—the message regarding the Son], and He will disclose to you what is to come [in the future]. John 16:13 AMP
We need to be in the word of God to prepare ourselves for action.
We need to do this not out of guilt and we're bad if we don't. Not out of legalism. We need to do it because it is our life source. We do it because we are in relationship with Christ and He leads us into truth. He tells us how to deal with the situations that come up and we have no clue how to deal with them.  Jesus WANTS us, our hearts and our time because He LOVES us!
We live in a crazy busy world and it's hard to find time to get into the word which is our lifeline.  So here are some ways to help you do that.
 Find an online Bible Study.  I even started the research for you.  Here is a link to online studies I found on Pinterest.
Read a chapter of Proverbs everyday.
Read Psalms according to the date.  Today is the 11th, Read chapter 11, 41, 71, 101, 131.
Read the Bible on your smart phone.  

Download

 

You Version Bible

 App (FREE)  This app is available on the 

iPhone

, iPad, Android, Blackberry, Palm.  Over 100 different

versions

of the Bible in many different languages.  They have wonderful reading

plans 

available.  I LOVE being able to look at different versions of the Bible.
Memorize Scripture-  Use the app 

Bible Memory Verses

 (FREE) 1,000 Bible verses to chose from to memorize in 4 different

versions

of the Bible (ESV, KJV, NASB, NIV)."A word removal tool, flashcard tool, audio record & playback functions, search function and the ability for users to add their own verses." Includes quizzes to allow users to test their knowledge.  

App for iPhone/iPod

.
Make your car a university.  In my town it takes 20-30 min. to get to places I want.  That is almost the time it takes to listen to one sermon.  Get on iTunes and

download 

some sermons onto your phone or burn a CD and listen to it as you run errands.

Join

an Audio book club and listen to a good Christian book while driving or at the beach. Listen to the Bible in the car.  Most Bible apps have audio Bible on them.
Keep a devotional book in your bathroom.  There are so many great devotional books out there.  Read while your blow drying and curling your hair.
Keep a Bible or scriptures you are meditating or memorizing on the kitchen counter.  Glance at it while cooking and cleaning.
Get devotions emailed to you every day.  Crosswalk has a great selection.
Do a devotional book with your kids. This will keep you on track and breathe faith into your children.  There are tons of books out there but here are a few I recommend.

Do a book study with a group of girls.

Get with a girlfriend and hold each other accountable to have

personal

a quiet time or whatever your goal is.  Check in with each other every few days or whatever time you set.  Accountability works wonders for me.
We can't afford to not get in the word daily (again not out of legalism but because it is our lifeline). Let's be intentional.
Do you have a tried and true way to get into the word that you could share with us? Please leave a comment below.
The Belt of Truth Part 2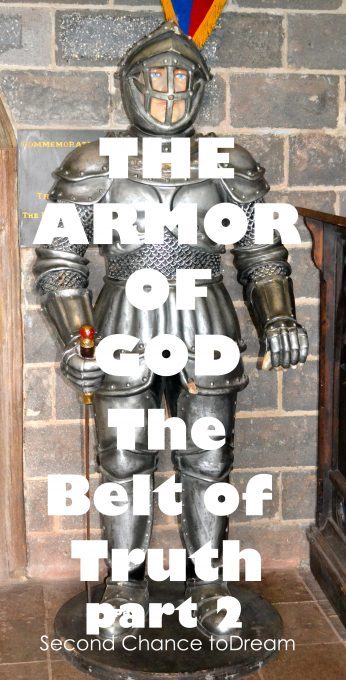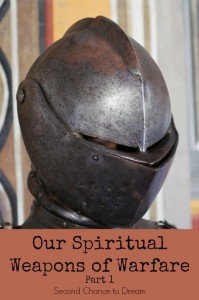 I'd love to have you follow along. You can subscribe to my RSS Feed or sign up to receive dailyEmails delivered to your inbox . You can also follow along viaFacebook, Google + or Twitter.







(Visited 764 times, 1 visits today)