This year in our women's study at church we are doing a study on the Armor of God.  I am helping teach again this year and will be sharing with you our lessons from each week.  I'm very excited about this topic.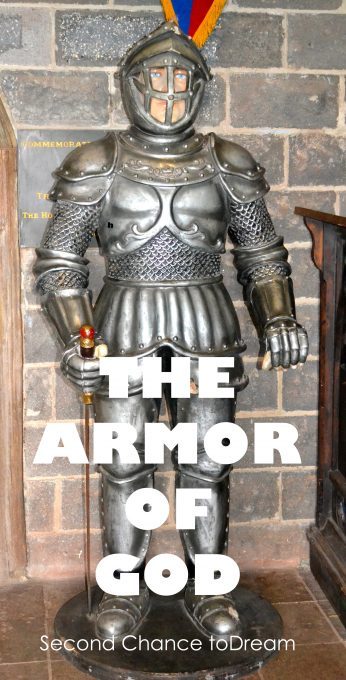 As I look around and analyze my life and the lives of friends and family I see a lot of defeated Christians. I see a lot of hurt and wounded people.  We are weary & tired from the battle; we are worn out.  We LACK VICTORY.   But yet we've been given complete victory as I Cor. 15 says.   "But thanks be to God, who gives us the victory (as conquerors) through our Lord Jesus Christ."
Have you ever seen those whack a moles where the head pops up and you try and pound it and then it's on to the next one and all you do is end up wasting lots of energy whacking the moles.  Or have you seen the plate spinners at the circus?  You see them put the plate on the pole and spin it and go to the next pole and plate and then they do that about 5 times and then rush back to the first plate to keep it from crashing on the floor? That's how I feel I've lived most of my life.
So I asked God WHY?  Why do I live so defeated? Why do I see so many defeated Christians? He led me to a study on the Armor of God.  Now if you've grown up in the church you know what the armor of God is and can label each piece but we don't know the power that each of these pieces give us, so we don't tap into the power.  Our ladies study this year is going to look at each piece of the armor and how each piece helps us in our daily battles and how these pieces give us HOPE to rise above the battle and live the abundant life He came to give.
The passage we will be camping on for this study is:
Eph. 6:11-18 AMP Be strong in the Lord [draw your strength from Him and be empowered through your union with Him] and in the power of His [boundless] might.  11Put on the full armor of God [for His precepts are like the splendid armor of a heavily-armed soldier], so that you may be able to [successfully] stand up against all the schemes and the strategies and the deceits of the devil. For our struggle is not against flesh and blood [contending only with physical opponents], but against the rulers, against the powers, against the world forces of this [present] darkness, against the spiritual forces of wickedness in the heavenly (supernatural) places.  13 Therefore, put on the complete armor of God, so that you will be able to [successfully] resist and stand your ground in the evil day [of danger], and having done everything [that the crisis demands], to stand firm [in your place, fully prepared, immovable, victorious]. 14 So stand firm and hold your ground, having tightened the wide band of truth (personal integrity, moral courage) around your waist and having put on the breastplate of righteousness (an upright heart), 15 and having strapped on your feet the gospel of peace in preparation [to face the enemy with firm-footed stability and the readiness produced by the good news]. 16 Above all, lift up the [protective] shield of faith with which you can extinguish all the flaming arrows of the evil one. 17 And take the helmet of salvation, and the sword of the Spirit, which is the Word of God.18 With all prayer and petition pray [with specific requests] at all times [on every occasion and in every season] in the Spirit, and with this in view, stay alert with all perseverance and petition [interceding in prayer] for all God's people.
We are in a battle!  An intense battle.  A battle that we don't have to be afraid of but definitely need to be aware of and intentional in. If we are in Christ, we are NOT fighting for victory!!!  Thank you Jesus! But we are fighting from a position of victory.  If we are in Christ, Satan no longer has authority over us or the ability to defeat us.   His only means to overcome us is to DECEIVE us.  Come along with me as we learn to put on the armor of God, to reprogram our mind and step into the victory Jesus already gave us.
Look at verse 11:
~Who are we NOT  fighting against?
~Who ARE we fighting against?
~ What is the greatest struggle in your life right now? (marriage, boss, rebellious child, finances)
Did you know that the thing that you listed is NOT the real  problem?  It's NOT!  Everything that is visible in the physical world is directly connected to the wrestling match that is taking place in the heavenlies.  See verse 11 again.  We end up spending endless amounts of energy on finding solutions but the solutions won't be physical.
2 Cor. 10:3-5 For though we walk in the flesh [as mortal men], we are not carrying on our [spiritual] warfare according to the flesh and using the weapons of man. 4 The weapons of our warfare are not physical [weapons of flesh and blood]. Our weapons are divinely powerful for the destruction of fortresses. 5 We are destroying sophisticated arguments and every exalted and proud thing that sets itself up against the [true] knowledge of God, and we are taking every thought and purpose captive to the obedience of Christ,
We have to have God's solutions and fight God's way or we will keep spinning plates.
~Go back to your greatest struggle. What weapons of warfare have you been using to fight this struggle?  Are they fleshly weapons, tongue, emotions, self-sufficiency?  Ask God what weapons He'd like you to use.
Meditate on these things this week.  I'll be back next week with another lesson. Please share with your friends if you think this would be helpful for them.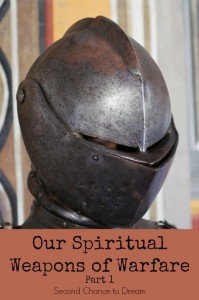 I'd love to have you follow along. You can subscribe to my RSS Feed or sign up to receive dailyEmails delivered to your inbox . You can also follow along viaFacebook, Google + or Twitter.







(Visited 297 times, 1 visits today)