Marriage often takes work and sacrifice on the part of both partners. For many happy couples, the work is filled with joy, and the sacrifice is gladly made. Many more couples, however, find it a struggle to endure life's challenges together while trying to make it through each day juggling regular work and family obligations.
There is nothing wrong with finding yourself in a marriage that may be in need of a little more effort on both spouses' parts. There are relatively simple ways to rekindle the marital bond. The best way is by regrouping so you can establish the common goals you both have for life.
These goals may have been ones which you originally established the moment you fell in love. They might also be goals that you aimed to reach later on in life. Wherever your marriage is right now, you can strengthen its bond by taking the time to dream together more.
Dreaming for Real
Dreaming together is all about having a shared vision. That vision goes deep into the heart and the soul of each partner and it intertwines, creating a bond that is difficult to experience in any other relationship.
Sometimes dreaming is just about dreaming. You can both have an idea or a thought of something you would both like to experience someday, but you never have to go out and make it happen. This might include parasailing over the Great Barrier Reef, cage diving with great white sharks, backpacking through Europe or getting matching tattoos. The 'dream' is not what really matters, it is the idea of letting your imagination reach far and wide, together that strengthens your marital ties. It all has the potential to bring you both a sense of togetherness.
Then again, there are some dreams which you both will actually work together to bring to reality. These dreams can be things like traveling across the country in an RV for a year after retiring, or quitting your day jobs now and opening up a bed and breakfast. A young couple might dream of growing their family through the birth of children, and an older couple might dream of cashing in their savings to purchase the beach condominium they have always dreamed of. You may want to dream of starting your lives together peacefully and working to save enough money to send your children to college or finishing college and embarking on a new career and a new journey in life.
There are many dreams that a couple can have together. The importance of those dreams is not always how soon or how perfectly they come true. The importance lies in having a significant connection with one another in life.
Here are some ways to start strengthening your marital bond again. These apply to both kinds of dreams you have –the kind that you will actually pursue and the kind that you may only fantasize about together.
• Communicate Your Thoughts and Feelings – You both need to express what you are thinking and feeling, but you both need to listen to one another as well. What common values do you have that will propel your dreams forward?
• Feel the Fear and Do It – That may be a cliché, but try your best to be brave about setting off on a new path together. Don't let fear keep a dream that has the potential to become real as "just a dream".
• Write Down Your Goals – Know what you really want to accomplish and set a date on paper. You may need to revise this a few times, but writing things down will keep you both accountable for the promises you continue to make together as you journey through life.
• Create "Dream Dates"- Plan things to do that center around the pursuit of your goal. You might both take a business class, for example, in preparation for owning that bed and breakfast.
Having common goals and pursuits can bring you both closer. You will each notice the other partner's strengths or gifts more. You will both deepen the love you have for one another and have a closer bond as you pursue your life goals.
About the Author
Waverly Hanson is the best-selling author of "How to Divorce-Proof Your Marriage" available on Amazon in print and Kindle formats. She has been assisting individuals and couples with relationship and life transformations for more than 25 years as a therapist, counselor, coach and consultant. Visit her website Marriage Counseling Online to learn more.
You can purchase Waverly's book here:
This is an affiliate link.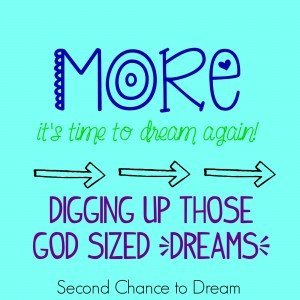 More Series:  Digging up those God Sized Dreams
God's dreams becoming our dreams
God wants to resurrect buried dreams
 Why having a dream is necessary
5 Lies that keep us from dreaming
(Visited 441 times, 1 visits today)