I had an aha moment recently! A big one! Let me share it with you. I know it's hard to share aha moments because they are so personal, so I'll do my best.
My son has a dream to play college basketball. He's had several setbacks in achieving that dream.  This past week he had a BIG one.  One that shook him to the core.  He had a big showcase that he was going to and I could tell he was struggling mentally to stay in the game.
As I was praying for him I felt God share with me that all Carson needed to do was have fun and play basketball like he knew how to and his only job was to trust that God would play basketball though him.  Hmmmm… that sounded way to easy, but so appealing.
So I questioned God.  God is there scripture to back that up.  I like to confirm things I hear with scripture.  Instantly Proverbs 3:5-6  came into my mind.  So I looked it up on my phone and it says:
Proverbs 3:5-6  AMP Trust in and rely confidently on the Lord with all your heart And do not rely on your own insight or understanding. In all your ways know and acknowledge and recognize Him, And He will make your paths straight and smooth removing obstacles that block your way.
OK this goes against everything we are taught. EVERYTHING! We are taught you work hard, you work your butt off. If you want it to happen, you have to make it happen, you don't rely or depend on anyone. Then if you are a Christian  you invite God into the situation if you get stuck.
In the basketball world if you want to play at a higher level you practically have to sell your soul! Can it really be "He will make your paths straight and smooth removing obstacles that block your way if we trust and rely on Him."
It certainly can't be as easy as letting God take over and us resting in Him and moving when He says move, but Isaiah 55:8 "For my thoughts are not your thoughts, neither are your ways my ways," declares the LORD.
If we're Christians a lot of us "KNOW" the verses in our head but we don't know how to make it a reality in our lives.
I like things practical so this got my mind spinning.  If God can play basketball through Carson what areas of my life do I practically NEED God to do the work through me?
Writing this blog post- the voices are screaming they won't get this, they already know this, they'll think your crazy, etc. etc.

I'm sure you know the ugly voices that either get us to SHUT UP or make US try HARDER.
I actually need Jesus to work through me in this whole blog! He's leading me in a new direction and I need to       "Trust in and rely confidently on the Lord with all my heart" knowing that where He leads me is always good and if He calls me He will equip me.
My house is in disarray. We just redid our hardwood floors and I have stuff everywhere. I have  a very dusty kitchen. It's overwhelming. I don't know where to start. But Jesus does.  Does Jesus like to clean houses? Yes he does. I can ask Him to clean my house through me. I can ask Him to direct my every step. I can "rely confidently on the Lord" to make my burden light.
I have lots more that I want to work on but I'll focus on these two right now.
I can't describe to you the peace that I have, knowing He will do the work through me and I just need to rest and trust that He will and then move when He tells me too (like post this blog post). I look forward to Him making paths straight and smooth and removing obstacles that block my way. Thank you Jesus for My Surprisingly Simple but Monumental Aha Moment!
What do you have in your life that you need to give to Jesus so HE can work through you? Is it hard to believe your job is to just trust and follow His lead?
What to do when Chasing your Dream gets HARD?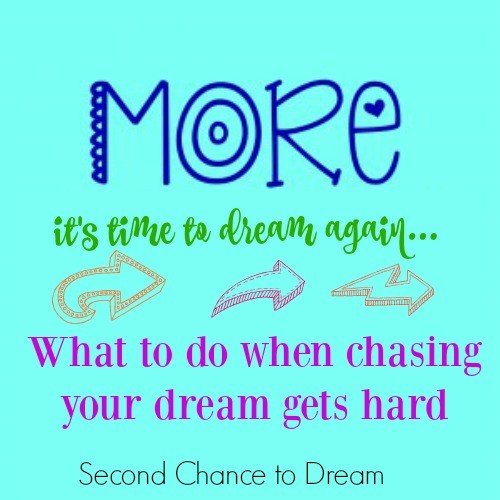 It's Time for a Checkup, a Goal Checkup
I'd love to have you follow along. You can subscribe to my RSS Feed or sign up to receive dailyEmails delivered to your inbox . You can also follow along viaFacebook, Google + or Twitter.







(Visited 477 times, 2 visits today)