With Christmas season fast approaching I wanted to share some tips on 3 Pros and Cons of Online Shopping.
3 PROS AND CONS OF ONLINE SHOPPING YOU MUST KNOW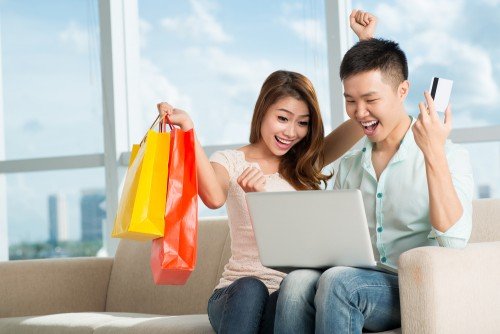 Since online shopping is becoming a very popular trend in these days, you, as a newbie, need to get well informed to avoid any unpleasant surprises and also get an idea that you can use for your benefit. To help you out a little bit, in this article you will find three basic pros and cons of online shopping you must know. Read it carefully and keep that in mind every time you shop on the web. It might help you out a lot more than you initially could even though off!
PROS
Eco-friendliness. In fact, there is a widely known fact that then you are shopping online you do that in an eco-friendly way! It works pretty simply – you just don't use any gas to leave your home and to travel to a store, so there is significantly less CO2 gas in the environment. This is a huge pro of online shopping for sure. Moreover, online you can find many specialized 'green' e-store that sell only ecologically acceptable products. So your green' lifestyle can be even more ecological.
24/7 shopping. Online shopping is also great because you can shop no matter where and no matter when. Simply because online is all day long business that doesn't require working hours at all. So if you suddenly feel the urge to shop even then it is 1 A. M., you can do that online without any struggle. So – that is a perfect way to shop without keeping yourself in shop's work schedule.
Online coupons. Of course, if there are ordinary paper coupons at stores, there must be online coupons for online stores. And since the whole internet is your supermarkets, there are millions of online coupons wandering around waiting for you as well. For the start, check these Kohl's online coupons we recently found at ChameleonJohn.com. With these coupons, you can shop for everything and at any time. And of course, no need to mention, but there are thousands of other brand names that offer coupons, and you can always use them all for free.
CONS
Online fraud.  There shouldn't be much of the surprise to discover that online also have so-called cyber-criminals you should be aware. These criminals can create a fake e-store and get your money without you even noticing it. To avoid that – always shop at verified stores, or look for a particular 'lock' icon near the URL address. That means that e-store is what you think it is, and it is safe to share your personal information there as well.
Inability to try things on.  Of course, this is probably one of the biggest online shopping cons. You can't touch and try on a thing you wish to buy. But you should always keep a measuring tape nearby you! Usually, stores share their products measurements. No matter if that is furniture or clothing. And so, you can always check and compare those with yours. In that way, you will always know what you are getting and be sure to get things fitted right.
Shipping costs.  And, finally, you should be aware that some e-stores need for you to pay for the shipping. But that is not a problem if you are an experienced e-shopper! Check for special 'free delivery' coupons or just spend the exact amount of money store needs to ship your purchased for free. That way you will avoid unplanned fees and save money without any struggle!
Are you an online shopper?  Have you started Christmas shopping yet? I'd love to hear! I bought my first item the other night.
This post  was brought to you by ChameleonJohn.com
(Visited 326 times, 1 visits today)