We just finished our last day of school yesterday, so now it's time to fill out our summer bucket list so we are ready to enjoy every second of summer.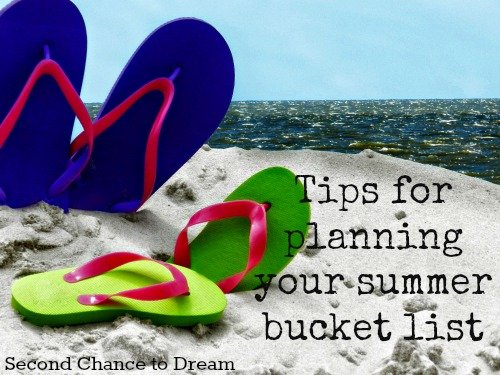 Because our summers are so short in Northern Michigan we have to be very intentional with our time and how we use it.  We have to schedule the things we want to do the most. This takes some thinking and planning.  Here are a few ideas for how to do this:
1.  Get with your family and brainstorm some ideas that they would like to do this summer.  What do you want to do most?  Do you need time to connect as a family?  Do you need to just chill?  Do you need to be careful with how much you spend on activities this summer?  Do you need to incorporate learning ideas to keep your kid's brains from turning to mush?  Do you need to so some service activities?
 I created this summer bucket list printable last year and this might help you think of things you'd really like to do. If not there are a billion summer bucket ideas on Pinterest.
2.   After you've made some decisions about what you would like to do, schedule those activities on a calendar. We try to do one camping trip a month in June, July & August.  So we pick an open weekend and then choose which campground we'd like to go to and then make the reservations. Camping is usually our "big" event for the summer.  We also like to squeeze in days out on a lake with the boat, fishing, and tubing.  These are a little harder to schedule because we don't know the weather but we try and squeeze in at least 3 boating days a month in addition to our camping trips.
Are there any people you want to have over? Get it planned or it most likely won't happen.
Any books you want to read?  Set a goal to read one a month or whatever challenges you.
Any hiking trails you want to hike or rivers you would like to canoe?
Any home improvement projects or yard work you want to accomplish?
Are there any recipes or treats you'd like to try?  Schedule them.
3. Most of all build memories and connect with your family.  Don't get caught up in the busyness of life.  Take time to stop and smell the roses. Enjoy the summer by being intentional!!
What's on your summer bucket list?  Please share!
(Visited 505 times, 1 visits today)