My daughter called me the other day and I asked what she was doing and she said she was getting ready to make some homemade cinnamon sugar doughnuts!  Don't those sound fabulous right now?  So like I often do, I asked her if she would take pictures and show us all how it's done.  She makes it look pretty easy.  Come see how she does it.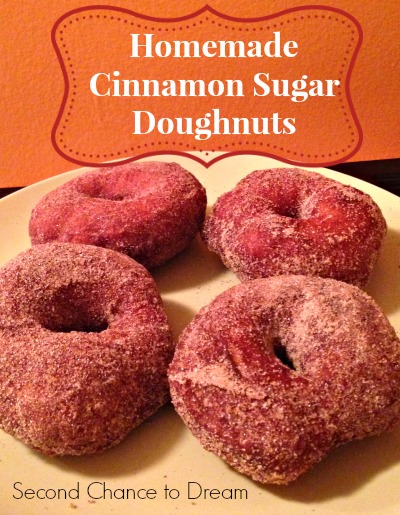 Here's what you'll need:
1 Can of Jumbo Buttermilk Biscuits
Canola Oil
Cinnamon
Sugar
This will make 8 doughnuts.
Open your package of biscuits and make a small hole with your fingers in each of the biscuits as pictured below.  You could also use a cutter  and cut out the middle and make doughnut holes as well.  I just used my fingers.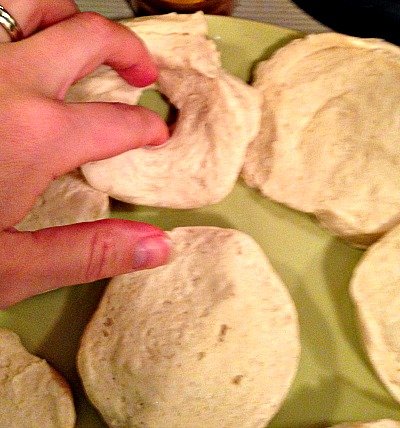 Here are all my doughnuts ready to be cooked.
Fill a frying pan halfway up with canola oil.  Let the oil heat up on medium  This seemed to take a little while. If you turn it on high you will have burnt doughnuts (which I learned from personal experience.) You know the oil is ready when you see bubbles and hear it.  You could also test your oil by pinching off a small piece of dough and placing it into the oil.  If it starts bubbling it's ready.  Once the oil is ready place the doughnuts into the oil.  They will cook very quickly.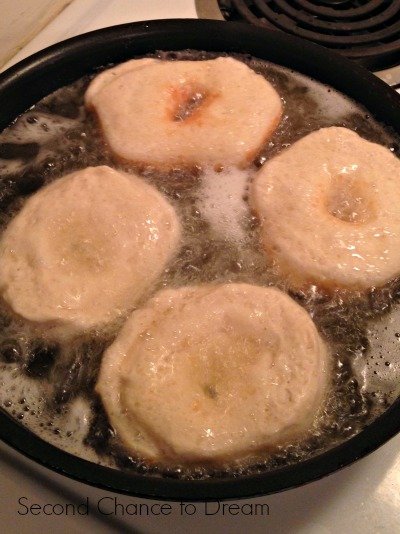 Once they are browned take tongs and flip them to the other side.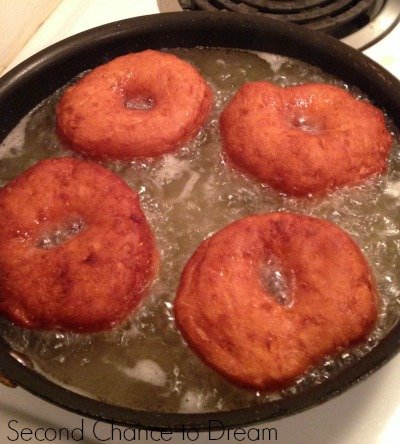 Take the doughnuts out of the oil and place on a paper towel.  Make up a mixture of cinnamon & sugar in a plastic bag.  I used one cup of sugar with several dashes of cinnamon.  Mix them together.  Take 2 doughnuts at a time and place into the bag and gently shake the bag covering the doughnuts.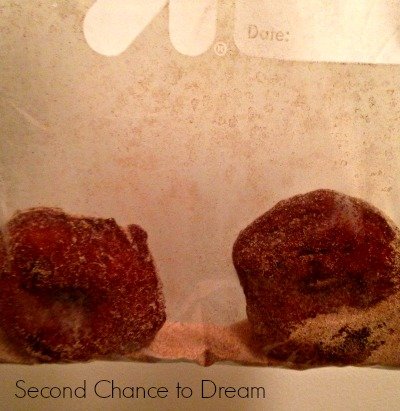 They are now ready to eat and are best served with a glass of hot or cold cider.
Thank you Carissa for sharing this awesome $2.00 recipe with us.   You make it look so easy.  I'm super excited to try these.
Looking for another fall treat? Try these Busy Mom's Apple Pies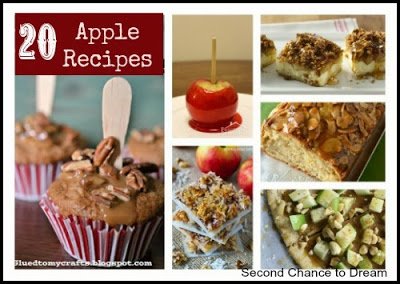 (Visited 299 times, 1 visits today)