I'm excited to have Stephen Reynolds back to share some information with us on the Best Gadgets and Educational Apps for Children. I love to sneak in learning whenever I can and educational apps are a  great way to do that.  Thanks for sharing  your wisdom Stephen.
Best Gadgets and Educational Apps for Children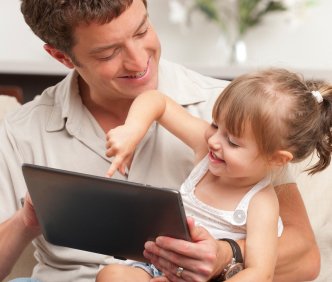 Although the school year is under way, there is still plenty of time to get some of those additional devices and apps to help your child succeed in his or her studies. Teaching reading, writing and arithmetic might have changed over the years, but there are plenty of tools available to make learning easier.
Top Educational Gadgets and Devices for Children
Here is a short list of some of the popular educational devices used by today's learners:
Google Nexus: While many parents scoff at the thought of giving their child a cellphone, they can rest assured that the Google Nexus 5 smartphone is a good choice. Powered by Android 4.4, this 5" phone has a full HD display and a great tool to help with homework. Spy and parental control software are available. And an added bonus, carriers such as T-Mobile offer the best rate plans for and even include some free 4G LTE – easy on the parents' wallets.
Kindle Fire HDX: This popular, reasonably priced tablet, is a huge hit with kids who can listen to music, surf the Web or play games. Prices range from $230 to $400 depending on the style of Kindle purchased.
Sparkup – The Magical Book Reader: Younger children can learn just as easily as older kids especially when they have devices geared especially for them. This book reader allows kids to interact with print books and downloaded digital books.
iTikes Map: This tech-meets-toy concept for young learners works with or without an iPad. The map reads aloud fun facts on different subjects such as the Solar System, dinosaurs, music, world facts and more.
Fun Educational Apps for Children
Stimulating kids'brains is an important part of keeping them healthy. With tablets and smartphones being second nature to most adolescents, it's good to have some educational games for them to play, learn from and stimulate their minds:
Rocket Math HD: Launch your child's interest in math with Rocket Math HD. Choose difficulty levels and math functions. The app includes realistic physics simulation. Create a launch sequence by answering different questions correctly. Available from iTunes.
Charge Your Brain HD: Children will love Charge Your Brain HD, a series of entertaining and fun games that help develop various sections of their brain. Image recognition, mathematic skills and speed of response are a few areas this app targets. Available on iTunes.
Tangram XL: This is a simpler version of the popular Tangram created just for kids. Create as many objects as you can from seven geometric shapes. Available on iTunes or

BrotherSoft Mobile

.
LEGO Junior Create & Cruise: Lego Juniors Create & Cruise is a great Lego app that offers a great mix of fun and educational value too.

Download

from iTunes.
Mind Games: Older children will like this collection of games that help users practice different mental skills. Includes 17 brain-exercising games from memory games to mathematics. A great app to keep your children's minds sharp. Available on Google Play.
Stephen Reynolds is a freelance journalist who covers shopping, entertainment and all things lifestyle. He is also an editor at www.UpwardOnward.com.  Follow him on Twitter at @sreynoldswrites.
(Visited 181 times, 2 visits today)