I have a confession!  I have a VERY HARD time planning menus. Like really hard!  I'm not sure what the issue is, but I resist it like a plague.  So when I found out about eMeals and how they do ALL the hard work I was very interested in checking them out.  Not only do they plan your menus but they make a grocery list for you.  AND it's not weird food!  They have a lot of different food plans to choose from.  Look at all these different meal plans:
Clean Eating
Paleo
Low Fat
Low Carb
Natural & Organic
Portion Control
Gluten-Free
Classic
Vegetarian
Slow Cooker
Mediterranean
OK, here's how it works:
Pick the plan that best fits your family's needs. You can change the plan if your needs change.

Pick the number of people you cook for 2 or 3-6.

Pick the store you shop at most. Store choices are:
Each week they will email you the menu and shopping list and you can print it out and put it in a notebook and use it again and again.  Or if you're like me and don't get that organized, they now have an iPhone ap.  Woohoo! I can easily check the list at the store from my phone if I forget to bring my list with me.
OK, now one question needs to be answered.  I am frugal!  I don't want to pay a lot  for something I could do myself! So how much does it cost for me to have to think a whole lot less?
Here's the cost.  You can choose from:
12-month subscription term at $58
 6-month subscription term at $35
 3-month subscription term at $21.
BUT for the next week you can receive 30% off  by using the code CYBER at checkout! 
I chose the Clean Eating Slow Cooker plan.  I wanted to be able to throw a meal in the crock pot and walk out the door.  Oh I forgot another bonus to eMeals.  They also plan your sides. Can it get any easier???
I wanted to share with you a meal I made for supper last night.  It was a 
super easy, very tasty slow cooker recipe  It's the perfect fall dish:  Slow cooker pork roast with apple and onions.  It took 15 minutes to prep it and 6 hrs. to cook.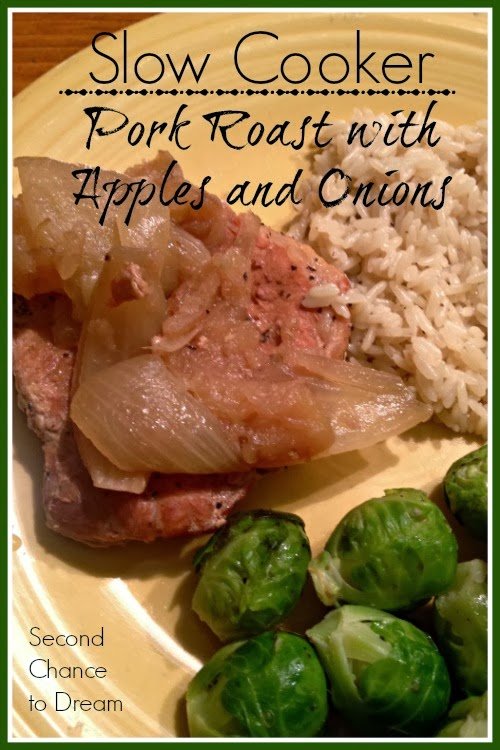 Now, I know the picture below doesn't show a roast but, chops instead.  I didn't have a pork roast, so,  I love the flexibility to be able to use what I have on hand.  I had all the ingredients on hand so again it's not weird hard to find stuff.
Pork Roast with Apples 
and Onions over Brown 
Rice 
Spicy Brussels Sprouts
Prep Cook Total  15 min with 8 hr. cook time
1 tablespoon canola oil
3 lb pork shoulder roast
1¼ teaspoons salt, 1 teaspoon pepper
½ teaspoon white pepper
2 onions, cut into wedges
2 apples, cut into wedges
2 cups chicken broth
2 tablespoons apple cider vinegar
2 cups uncooked brown  rice
½ teaspoon salt, ½ teaspoon pepper
Here's how easy it is:
Heat oil in a large skillet over medium-high heat. Sprinkle roast with 1¼ teaspoons salt, 1 teaspoon pepper, and white pepper. Add roast to the skillet; cook 8 minutes or until browned on all sides.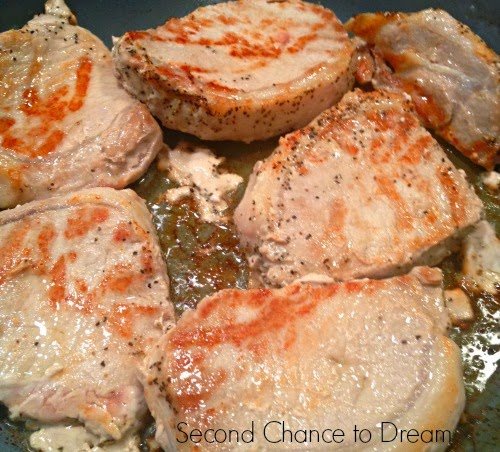 Transfer roast (chops in my case) to a 5- to 7-quart slow cooker. Add wedged onions & apples, chicken broth, and vinegar. Cover and cook on Low 6 hours.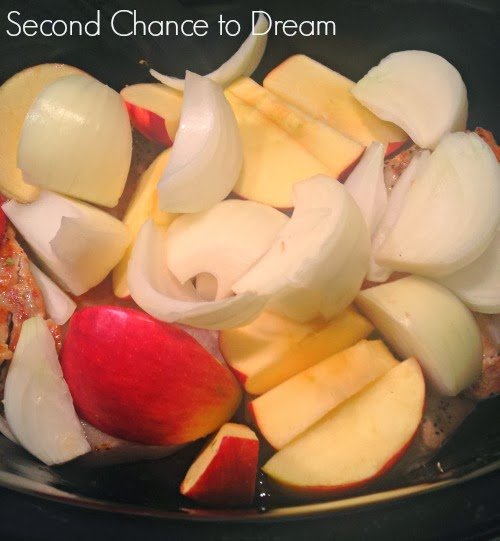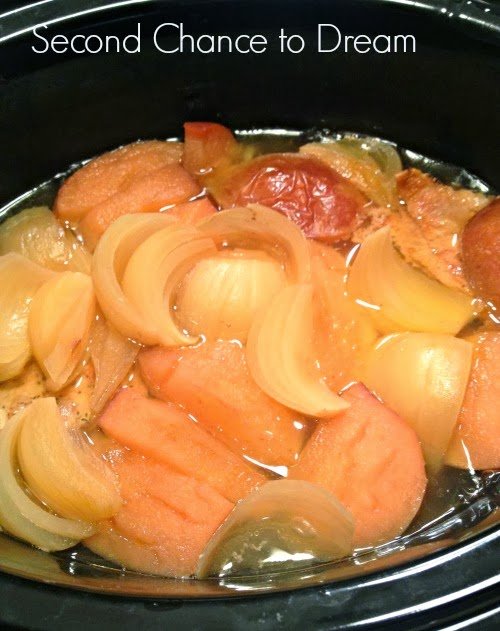 Cook rice according to package directions. Stir in ½ teaspoon salt, ½ teaspoon pepper.
Serve pork roast over rice.
—————————————————————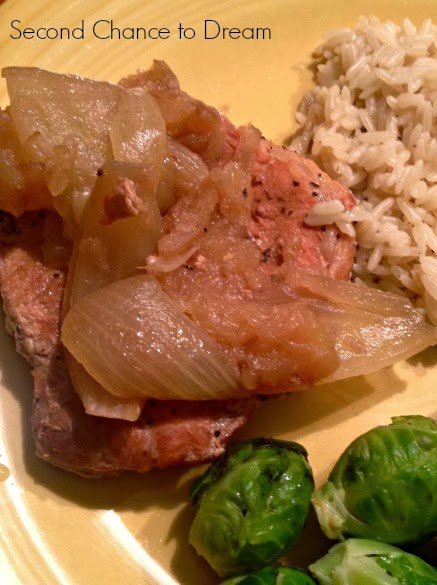 With the slow cooker plan, they often have you cook a roast like this and then save half of it for the meal the next day. So, I'm on to shredded pork tacos tomorrow.  I am all for quick, healthy meals.
I highly encourage you to try it, especially with the holidays coming up. We moms need to give ourselves a break once in a while and not try and do things perfectly.  If you've ever wanted to try it.  Now would be the time with the 30% discount.
Disclaimer:  I did receive a free subscription to share this post, but all opinions are mine.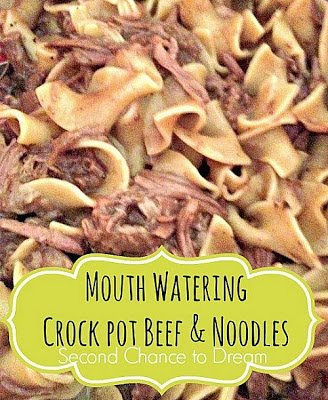 Thanks for stopping by. I'd love to have you follow along and subscribe to my RSS Feed or sign up to receive daily Emails delivered to your inbox. You can also follow along via Facebook, Twitter or 

(Visited 887 times, 7 visits today)