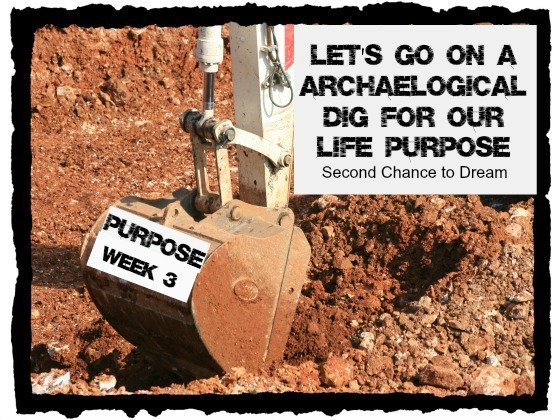 Welcome back! I hope you are spending the time digging, praying and journaling. Remember discovering your life purpose is not a luxury. If you've missed Part 1 or Part 2 make sure you check them out.
Today I want to talk about the 4 tools we will use while we are digging deep!
1.  Your personal definition of success.  How do YOU define success?  Not what your parents define it as or your husband or your boss?  What is your definition?  Success can be measured and defined in many different ways. It can include your health, relationships, finances, and your spiritual life to name a few.  God has planted in each one of us our own definition of success.  These definitions are there to help us live OUR life, not someone else's.  If we are living someone else's life then we are not living God's purpose for us.
2.  Your understanding of your belief system.  What you believe shapes your attitude which shapes your behavior. It's very important to understand what we believe.  Not what someone else wants us to believe but what we actually do believe.  Our beliefs tell us what we hold important.  If we say we believe something but our behavior doesn't show that, something is off.
3.  Your personal alphabet.  Proverbs 31 was written in poetry form.  They took the letters of the Hebrew alphabet and then wrote descriptive words starting with each letter.  We are going to do the same.  We are going to get a piece of paper and write A-Z and then fill in those letters with words that describe us.  Only positive words.  It's really important for us to see who God created us to be and recognize those things in our life.
4.  Your understanding of the world's greatest need.  When in your life have you felt deep gladness and satisfaction? When have you said to your self, "Now this is what life is all about?"    Fill in this blank If there was more _________________ in this world, it would be a much better place.  Each of us will have a different answer and each one of us will express a characteristic of God.  None of us have all of God's characteristics but if we each take one and share it we are making the world more complete.
Let's Dig in:
1.  What's your definition of success?  Include the following categories:
physical, spiritual, mental, emotional, relational, financial.
2.    Spend some time digging and looking at some of your beliefs.  Do you truly believe them?
Here are a few questions to get you thinking.
 How do you feel when you believe that thought (depressed, anxious, etc.)?
 Does that thought bring peace or stress into your life?
 What images do you see when you believe that thought about a past or
future?
 Describe the physical sensations that happen when you believe that
thought.
 How do you treat yourself when you think that thought?
 What addictions/obsessions begin to manifest when you think that
thought? (Alcohol, credit cards, food, the TV remote?)
 Where and at what age did that thought first occur to you?
 Whose business are you in when you think that thought?
 What do you get for holding on to that belief?
 What do you fear would happen if you didn't believe that thought? (Later,
take this list of fears to inquiry.)
3.  Take a sheet of paper and write your ABC's down the side of the paper. Write at least one gift, talent, strength, interest or skill for each letter.  Before you start to take some time and pray and ask God to reveal to you your gifts and talents.  If you get stuck ask for wisdom as to what may be blocking you from seeing them.
4.  What do you think is the world's greatest need?
5.  Ask God if there is anything He specifically wants to show you.
OK, girls!  Go get yourself a cold glass of ice tea and pat your self on the back for all your hard work.  You're doing great!  While you are at it wipe that dirt off your face.  This excavating is down and dirty.

(Visited 450 times, 3 visits today)