On June 23, 2012 Sparkles And A Stove blogger, Kathy typed her first blog post about a gift she made for a someone who had just had a baby. Five people visited that post! 🙂 All friends and family. *Crickets chirping.*
One year, a blog name change, 192 blog posts, and a LOT of learning in crafts, cooking, photography, and editing later the little blog has come a long way. Today more than 5 people visit per post thanks to a wonderful community of readers, fellow bloggers, and people who may be stopping by from a search or Pinterest. There's so much still to learn and more friends to be made in the coming year(s), but now it's time to pause and celebrate and say thank you!
Sparkles And A Stove has paired with some wonderful blog friends and contributors to host our biggest giveaway yet! A giveaway extravaganza with three great prizes up for grabs for three lucky winners!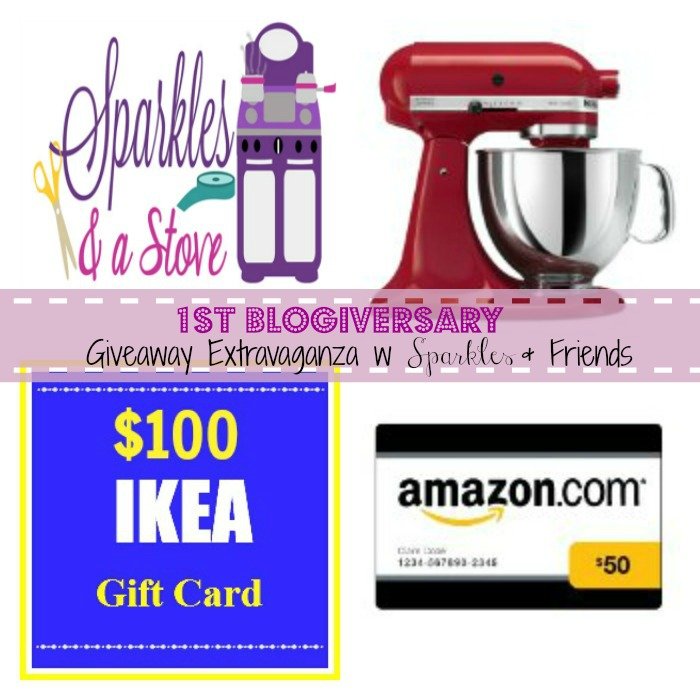 A Kitchen Aid Stand Mixer
$100 Ikea Gift Card
$50 Amazon Gift Card
I am so blessed to be hosting this giveaway to say thank you to this wonderful community with:
If you haven't discovered these amazing ladies yet, please check them out.
OK wishing you some luck- Go Enter!
Thanks for stopping by. I'd love to have you follow along and subscribe to my RSS Feed or sign up to receive daily Emails delivered to your inbox . You can also follow along via Facebook.
(Visited 247 times, 1 visits today)