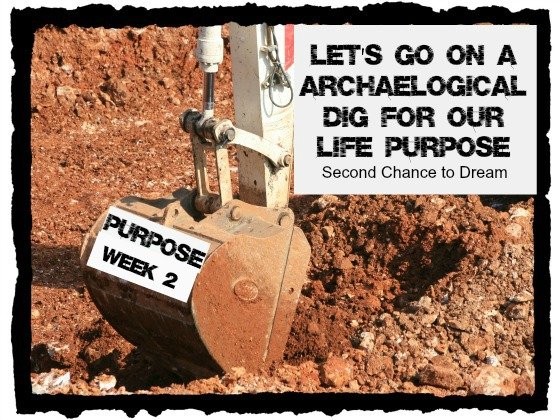 OK, last week we started an archaeological dig to find our life purpose.  We focused on what our life purpose is.  I would like to continue that today and I want to start with what our life purpose is not.
Your purpose is not:
1.  Your identity-  Our identity is being a child of God. My purpose is not my job, or a relationship or what my occupation is. My purpose will never be dependent on relationships.  If my purpose is to be a mother, what happens after the kids leave? If my purpose is my job, what happens if I lose that job?  Neither relationships or careers are our life purposes, but my purpose definitely impacts both of them.  If I make my purpose come from those things I will be disappointed.  My identity is only found in God.  My job is to stay connected to the vine.  John 15:5-8.
2.  Huge or earth-shaking-  My purpose does not have to change the world.  It may be that my purpose sets the stage for others to do their best.  Take for example John the Baptist he had to decrease so that Jesus could increase. If I'm always looking for the huge earth shaking purpose I could be totally missing everything God is trying to show me.
3.  A luxury- Your life purpose is not a luxury that you have to find the time to fit into your life.  Life can be very busy and rushed and we need to know why we are here.  If we don't take the time to unearth our purpose we could become depressed.  I know this first hand all too well!  Knowing our purpose keeps us intentional and knowing that God has a specific reason for us to be here at this time in history.
4.  A spiritual ATM-  Finding our life purpose is not like driving up to an ATM machine sticking our card in and pulling out our purpose.  It takes time, prayer, journaling and some excavating.   Transformation takes time and work..
Let's dig in-
1.  Do you think your life purpose has gotten mixed up with your identity?  Has it caused you any dissatisfaction?
2.  Sometimes I've thought that my purpose has to be grand and glorious or it doesn't really "count".  Do you think you fall into that kind of thinking?
3.  Do you make time to pray and excavate your purpose or do you save it for when life is not so busy?
4.  Are you willing to do the work it takes to find your purpose?
Next week we'll look at tools for digging in!

a Facebook.
(Visited 353 times, 2 visits today)