Have you ever wanted to go on an archaeological dig to find dinosaurs?  Well, today I want us to go on a "life purpose" dig. Each one of us has a life purpose just waiting to be excavated.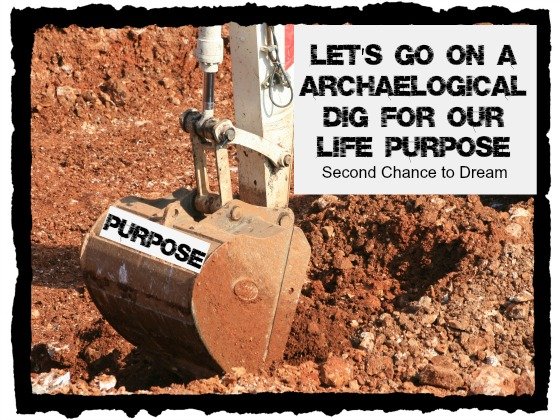 I found a really good book called "Discovering your Divine Assignment" by Chaddock and she had a lot on finding your purpose and I thought I'd share some of my favorite points with you.
Before we start digging let's define purpose.
1. the reason for which something exists or is done, made, used, etc.
2. an intended or desired result; end; aim; goal.
3. determination; resoluteness.
Here are some things to look for as we start to excavate our purpose. Your purpose will:
1. Stretch you out of your comfort zone.  Your God-given purpose will never be something you can do on your own it will always be something you need to do together.
2.  Provide healing for you.  Our purpose is sent to us to heal us, to restore us and to bring empathy to us and then we can share it with others.  Look for one or two words that you long for or need most.  Those might be what brings you healing.
3.  Provide healing to others.  Have you ever been around people who just make you feel better? They bring life and just let you be you! Chances are they are living their purpose.  People will be healed by God through you just being and doing what God created you to do and be.
4. Provide you abundant life.  
Can you think back over your life to a time when you were at your best?
Times when you were in your groove living abundantly. Those were times you were most likely living your purpose.
5. Agree with your heart. 
 Scripture tells us that God writes on our hearts- He inscribes on them His words, His desires, and His intentions.  Jer. 31:33-34, Deut. 30:11-14 
6.  Fits us. Fits us like a well-fitted yoke fits oxen. if a yoke is too loose it will chafe and irritate the oxen if it's too tight it would choke them.  Our purpose is designed just for us!  It's the perfect fit.
7.  Be a confirmation of what we've known all along.  A lot of times we are afraid to name it and but when we do it's like we've known it all along.
1.  Have you ever been asked by God to do something that stretched you out of your comfort zone?  Did God show you anything about yourself?
2.  What needs to be healed in your life so that you can go out and be used by God to heal others?
3.  Think back to a time when life was exciting for you.  How were you showing up then?
4.  How do you respond to the fact that your purpose will fit you?  Do you get hung up with if it's God's purpose it will be hard or uncomfortable or boring?
5.  What have you suspected about yourself all along that might be coming to the surface?  What are some of your strengths?  Write down all that comes to your mind, even if they seem crazy or you feel weird.  You might need to bypass your head and listen to your heart.
OK, whew, that was a lot of work!  I'm dusty and thirsty from digging all that up.  Go find something to reward yourself for all your hard work.  We have to rest up we have a lot of work to do.
(Visited 321 times, 1 visits today)