I HAVE to tell you about this awesome Cyber Monday sale I ran across!!!
I hadn't heard of it but I fell in
LOVE
with it when I found it for a few reasons.
One, because I
LOVE
a great buy!
Two, I
LOVE
doing as much shopping online as possible.
Not a huge fan of fighting the crowds to save some money but
LOVE
a deal.
Three,
Consumer Crafts
carries almost anything you can think of for all your crafting needs! One stop shopping from the comfort of your home.
The reason I'm so excited about finding out about Consumer Crafts is that on Monday November 26th, Cyber Monday
Consumer Crafts
will be offering 30% off their already discounted prices and FREE shipping!!!! Yippee!!! I will definitely be placing an order.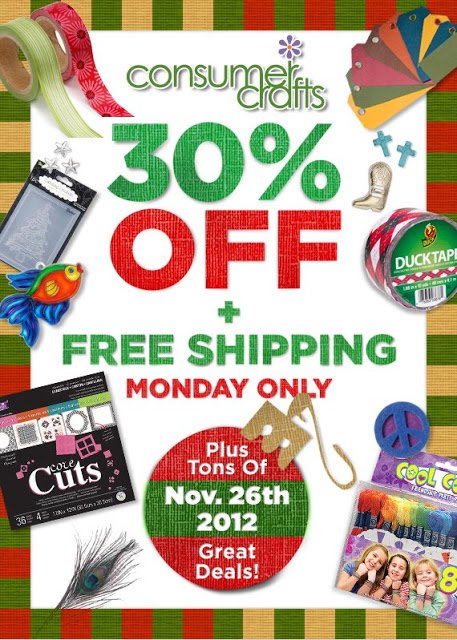 Let me show you what I will be buying. I
LOVE
making gifts for people on my Christmas list and snagging some deals for myself. Here are a few of the things I will be buying:

I will be making herbal vinegar's and herbal oils to give away as a gift. I will put them in mason jars and add a fun label and have a very inexpensive gift. You can find directions for the oils
here
and the vinegar's
here
.

I had fun
doodling on ornaments
. I'd like to make some more for my tree and a few for gifts.
Consumer Crafts
has some glass and ceramic markers as well as blank ornaments. How fun! I could also decorate wine glasses or personalize a plate. There are lots of things you could do with these markers.
I saw this really cool modge podged necklace that I really would like to make for you girlfriends. You can find directions at
Pitter and Glink
. I'm super excited to see
Consumer Crafts
sells the chain and Dimensional Magic. Bonus! I get to get them at 30% off and free shipping.
I love to make a Nativity set every year for Christmas. Most times I keep them but we have made Nativity sets and given them away to my husbands employees. I ran across this Nativity on
Pinterest
and knew I needed to be on the lookout for these wooden people. I was so excited to find them on
Consumer Crafts
and will be making a set of these.
OK, I will stop! You have things to do and I have things to do, but make sure you get over to
Consumer Crafts
and scout out what you'll be buying on Nov. 26th with 30% off and FREE shipping.
Also, follow them on Facebook and Twitter so you can always know when they have a sale going.
Facebook:
http://www.facebook.com/ConsumerCrafts
Twitter:
http://twitter.com/consum
er_crafts
I wrote this post as part of a paid campaign with Consumer Crafts and Blueprint Social. The opinions in this post are my own.

Thanks for stopping by. I'd love to have you follow along and subscribe to my RSS Feed or sign up to receive daily Emails delivered to your inbox . You can also follow along via Facebook.
(Visited 104 times, 1 visits today)