Hi! I'm Adriane, and as my mom mentioned, I'm going to be guest posting a couple of times this week while my parents get a little R&R (I'm totally jealous!!).
A little about me … I LOVE blogs. I love reading them, following them, crafting with them and I've always wanted to have one. So, when my mom told me that she was going to start one, I have to admit, I was a little jealous. But between being a wife, a mom to 2 young girls, a full-time CPA, a part-time MBA student and a Brownie troop leader, I have little time to be a blogger! So, when my mom asked me to fill in while she was gone, I was thrilled!
I decided to share with you a project I just completed that I'm super excited about!
About a year ago, I came across these curtains from
Athropologie
and I absolutely love them! Aren't they beautiful?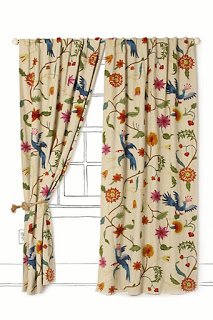 What I didn't love, however, was the price. There was no way $228 a curtain panel was going to fit into my budget. So, I began searching for a DIY solution that I could afford. And this is what I found at Hobby Lobby – for $34.99 per yard. I fell instantly in love and have been dreaming about the fabric ever since.
And this past week (on my post tax-season shopping excursion), I pulled the trigger and bought it! Here's how they turned out …
My curtains before (sorry about the awful picture):
One curtain up: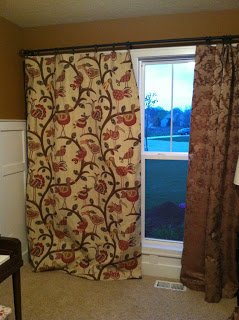 And the final product: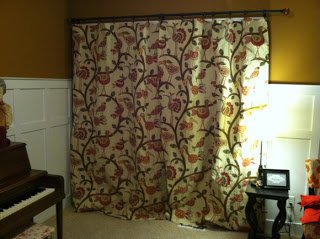 I love them! And I love the price – around $130 for the pair! My husband doesn't and thinks I'm crazy for putting up bird curtains! The sales lady at Hobby Lobby says she's gotten lots of lookers but no buyers. What about you? Would you put up bird curtains?
Thanks for stopping by. I'd love to have you follow along and subscribe to my RSS Feed or sign up to receive daily Emails delivered to your inbox . You can also follow along via Facebook.
(Visited 340 times, 1 visits today)